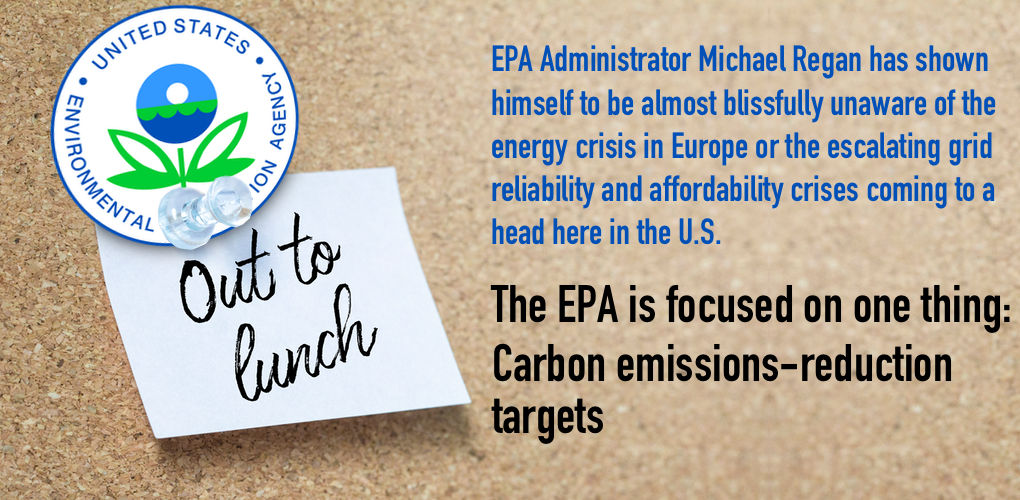 The year is coming to a close, but before we look forward to 2023 it's worth looking back on the stories and themes that shaped the energy conversation in 2022 and coal's role in it. An ongoing global energy crisis continues to upend markets and trade flows. Coal – so often the recipient of premature obituaries – is once again the irreplaceable fuel, touching a new global high for demand. Energy security's renewed prominence is merging with a global realization that the energy transition is running into soaring costs and energy supply shortfalls wherever traditional sources of power are pushed off grids faster than proposed replacements can hope to reliably take their place. The twin energy security and energy affordability crises in Europe are facing stiff competition from mounting energy affordability and grid reliability crises in the U.S. that despite ever-louder warnings from regulators, grid operators and policymakers, and soaring concern from the public and energy-intensive manufacturers, are poised to only get worse. As we reflect on the year that was, here are several posts that defined the energy story of 2022 and tee up the year to come.
EPA IS DETERMINED TO ACCELERATE THE ELECTRICITY AFFORDABILITY CRISIS | 3.16.22

In March, the energy crisis emanating from Europe was sending shockwaves across the global economy and directly to Americans' wallets. But despite a clear new reality with deep concern from policymakers and calls for an energy policy reset to lower costs, ensure dispatchable fuel diversity and insulate Americans from energy shocks, U.S. Environmental Protection Agency Administrator Michael Regan announced he had other ideas. He told attendees at an energy conference in Houston to prepare for a torrent of new regulations designed to accelerate the closure of the coal fleet. As he said, if utilities look at the suite of rulemakings coming their way and, "you get an expedited retirement, that's the best tool for reducing emissions."
THE TRANSITION TO CRISIS | 5.11.22
In May, The Wall Street Journal found that, "from California to Texas to Indiana, electric-grid operators are warning that power-generating capacity is struggling to keep up with demand, a gap that could lead to rolling blackouts during heat waves or other peak periods as soon as this year." The Journal dug into the very warnings regulators, market managers and utilities had been issuing for years, concluding this energy supply crisis is driven by the loss of traditional sources of power and the pivot to renewable energy—a pivot that is proving uneven and poorly managed in the U.S. and abroad. "Every market around the world is trying to deal with the same issue," Brad Jones, interim chief executive of the Electric Reliability Council of Texas, told The Journal. "We're all trying to find ways to utilize as much of our renewable resources as possible…and at the same time make sure that we have enough dispatchable generation to manage reliability."
GLOBAL COAL USE IS ON THE RISE | 8.10.22
While domestic energy policy and soaring inflation dominated summer headlines, how the world was meeting the global energy crisis began to come into focus. The International Energy Agency reported that coal demand was expected to hit a new high in 2023. As Bloomberg's Javier Blas observed, "last year, coal accounted for 27% of the world's primary energy, a couple of percentage points higher than two decades ago, and about the same level as 50 years ago." Prognostications of coal's demise and even rapid retreat aren't materializing. The global energy crisis has pushed the world to reprioritize energy security and to hedge against price volatility and supply chain disruptions. From China to India and even Europe, coal demand is up and so are plans to mine.
EUROPE'S ENERGY CRISIS UNDERSCORES THE NEED FOR FUEL DIVERSITY | 8.24.22
By the close of summer, European power prices were at levels equivalent to more than $1,000 per barrel of oil. Britain's National Health Service warned of a "humanitarian crisis" from the surge in energy prices with millions potentially forced into poverty, a story playing out across the continent. While Russia's invasion of Ukraine was driving the crisis, years of bad policymaking that dismantled Europe's dispatchable fuel diversity for over reliance on natural remains a deeply important part of this ongoing story. A return to coal – or what coal capacity was left – became a centerpiece of drastic measures to cut European gas demand before winter. France, Italy, Austria and the Netherlands all announced plans to reactivate shuttered coal power plants. Germany allowed 21 coal plants to restart or work past planned closing dates. Leading energy experts concluded that turning to coal is the single most impactful thing Europe can do to immediately replace Russian gas.
THE LITTLE ENGINE THAT MIGHT NOT | 9.28.22
A potential rail strike threatened to turn America's supply chain and energy crises into a cascading nightmare. Estimates put the cost of a rail strike at almost $2 billion a day and opened many eyes to the importance of rail to the nation's energy systems and to the mining industry's reliance on reliable and efficient rail service. Mining-related commodities and products represent just under 50% of the tonnage moved by rail. Nearly 70% of U.S. coal production is moved by rail, including coal for U.S. power generation and steel making, as well as for export to the global marketplace and, critically, to our allies in Europe working to pivot away from Russian energy. In 2021, railroads moved 334.4 million short tons – or 3.3 million carloads – of U.S. coal.
CAN THE U.S. LEARN FROM CHINA? | 11.2.22
China refuses to be one thing; it is both the world's undisputed renewable energy leader even as it acknowledges the ongoing need for coal. China is adding 140 gigawatts of renewable capacity in 2022 – more than the rest of the world combined – and is aiming for 1,200 gigawatts of wind and solar generating capacity by 2030. China is also adding coal capacity at a pace equivalent to a new plant a week for years to come. China already produces and uses more coal than the rest of the world combined and is now planning to add another 270 GW of coal capacity by 2025—more capacity than exists in any other nation. To Beijing, this parallel renewable and coal buildout is not a contradiction but rather an energy and climate strategy borne out of perceived necessity and lessons learned from the global energy crisis, namely the missteps of the U.S. and Europe in managing the energy transition. As Bloombergobserved, "China's strategy is designed to avoid the pitfalls that have hobbled parts of the U.S. and Europe, which stopped investing in fossil fuel production and infrastructure before renewables were ready to take over. President Xi Jinping laid out how China's energy transition would differ from the West by following "the principle of building the new before discarding the old."
A VOTE FOR REALISTIC ENERGY POLICY | 11.16.22
In early November, President Biden boasted that "we're going to be shutting these (coal) plants down all across America." The comment was remarkable in its apparent disregard for the loss of high-paying American jobs such a move would cause, the seeming indifference to the record electricity prices Americans are paying and the failure to acknowledge similar policies' role in the ongoing global energy crisis. In national polling of 2,016 voters conducted by Morning Consult, in the wake of the President's comment, 72% of voters said they were concerned that the administration continues to pursue policies that will limit the fuels we use to provide electricity to our country in the midst of a global energy crisis. That concern stretches across all parties with a majority of Democrats (52%), Independents (73%) and Republicans (92%) sharing concern. The reason for the concern: 84% of Americans are worried about U.S. electricity prices, a story worth watching as we begin 2023.