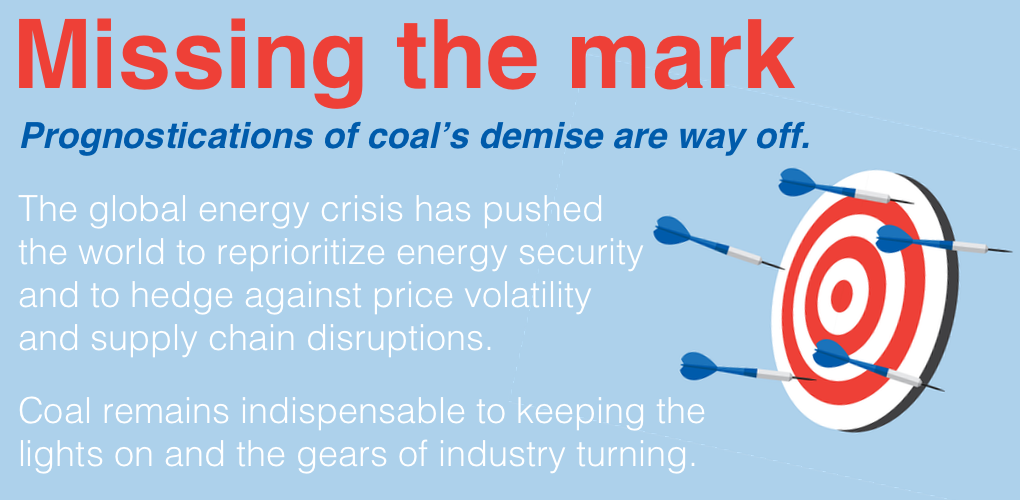 While domestic energy policy continues to dominate headlines, it's important policymakers don't lose perspective on global energy reality. For all the talk of energy transition, the global story is one of energy addition where renewable sources of power are largely being added in addition to existing infrastructure and fuels.
The world can't pump enough oil, global demand for natural gas is voracious and global coal demand is poised to match the all-time-high set in 2013. The International Energy Agency expects coal demand to in fact reach a new high next year. Coal remains the world's dominant fuel for electricity generation.
As much as the energy picture seems to change, it's staying remarkably the same. As Bloomberg's Javier Blas recently observed, "last year, coal accounted for 27% of the world's primary energy, a couple of percentage points higher than two decades ago, and about the same level as 50 years ago."
Prognostications of coal's demise and even rapid retreat have wildly missed the mark. The global energy crisis has pushed the world to reprioritize energy security and to hedge against price volatility and supply chain disruptions. While coal markets have hardly been immune to the chaos of the pandemic and Russia's invasion of Ukraine, coal remains indispensable to keeping the lights on and the gears of industry turning. Global consumers are voting with their wallets.
From China to India and even Europe, coal demand is up and so are plans to mine. According to a report published in 2021, the world's coal producers are planning more than 430 new mines with 2.28 billion tonnes of annual production capacity.
China already consumes and produces more coal than the rest of the world combined and is planning to further ramp up production. China hopes to add another 300 million tons of coal production just this year. China has also approved the construction of 8.63 gigawatts of coal power in the first quarter of the year, nearly half the amount seen in all of 2021. China may be adding renewable generating capacity at a breakneck pace, but China's reliance on coal as the bulwark of its energy system remains unshakable.
Europe too, for all its green ambitions, is now turning back to coal as the reliable, secure bridge to its energy future as it scrambles to disentangle itself from Russian energy. Coal consumption in the European Union is expected to rise by 7% this year on top of last year's 14% jump. France, Italy, Austria and the Netherlands have all announced plans to reactivate shuttered coal power plants. But, as The Washington Postreported, nowhere is the pivot to coal as extensive as in Germany, which is allowing 21 coal plants to restart or work past planned closing dates.
As Vladimir Putin tries to squeeze Europe by cutting off its supply of natural gas, it's coal – including U.S. coal – coming to the rescue. And as leading energy experts have concluded, turning to coal is the single most impactful thing Europe can do to immediately replace Russian gas.
Whether it's for energy affordability, reliability or security, policymakers must recognize that coal is going to remain a centerpiece of the world's energy mix for decades to come. And as the global energy crisis has made abundantly clear, the West must immediately stop pressuring developing nations to forego investing in or relying on coal to meet their own energy needs. If coal can come to the rescue in Germany in 2022, it's certainly good enough to help electrify parts of energy-hungry Africa and Asia.
The U.S. would be wise to build its own energy future and innovation trajectory with the assumption that coal is here to stay and that U.S. leadership to develop advanced coal technologies is an imperative. A replicable, realistic and fair path to global emissions reduction runs through coal, not around it.