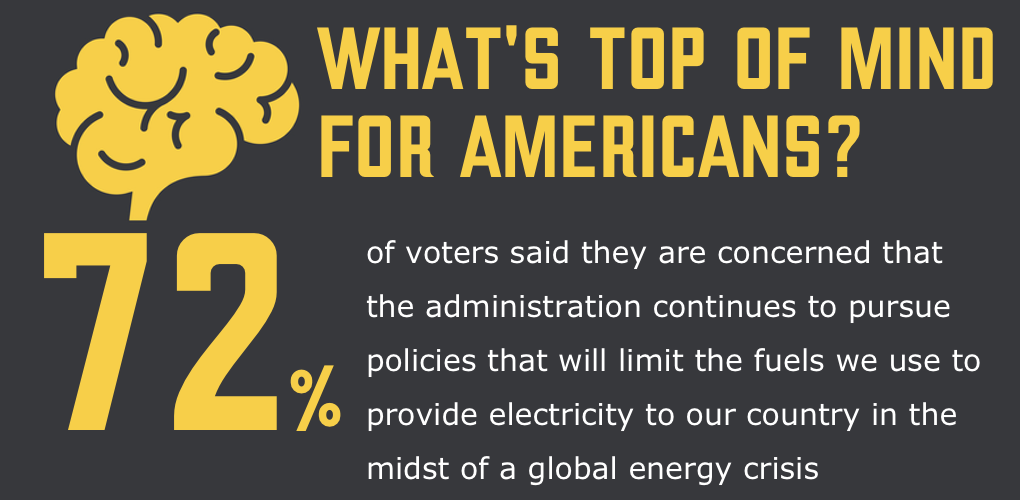 Last week, we covered President Biden's speech made in California in which he boasted that "we're going to be shutting these (coal) plants down all across America."
The comment was remarkable in its apparent disregard for the loss of high-paying American jobs such a move would cause, the seeming indifference to the record electricity prices Americans are paying – prices that will only increase in the near term with the loss of fuel diversity – and the failure to acknowledge similar policies' role in the ongoing global energy crisis.
Given the midterm reminder of the strength and force of an energized voter base, it's worth considering what's on voters' minds when it comes to the President's comments, electricity prices and how our elected officials are responding to the global energy crisis. And looking at the results, the President's team – indeed, all policymakers – should take note.
In national polling of 2,016 voters conducted by Morning Consult for the National Mining Association from Nov. 11-13, reflecting on the President's comment, 72 percent of voters said they are concerned that the administration continues to pursue policies that will limit the fuels we use to provide electricity to our country in the midst of a global energy crisis. That concern stretches across all parties with a majority of Democrats (52 percent), Independents (73 percent) and Republicans (92 percent) sharing concern.
The reason they're so concerned? Eighty-four percent of Americans are concerned about U.S. electricity prices – just 12 percent are not concerned. And that concern is well-founded.
As the President's comments confirm, U.S. policymakers are rushing headfirst towards a natural-gas heavy, unbalanced grid by tearing down capacity before new generation is even permitted, much less built. It's the playbook first put into use by our friends in Europe, the same friends who are now paying more than they ever have before for their electricity, despite the government throwing billions at the problem to try to protect families from crushing bills, as Bloomberg reported.
Last month, the average retail gas price across Europe and Britain was double what it was over the same period last year, even with extensive government subsidies. And this all occurred during a relatively mild weather period, characterized by less natural gas and electricity consumption than when heaters race to keep up with frigid temperatures, as could be the case this winter. The outlook is grim.
Yet here we are, on the very same path. U.S. voters aren't happy and U.S. policymakers have the advantage of knowing where we're headed. It's not too late to late to ensure that the destination isn't off a cliff.