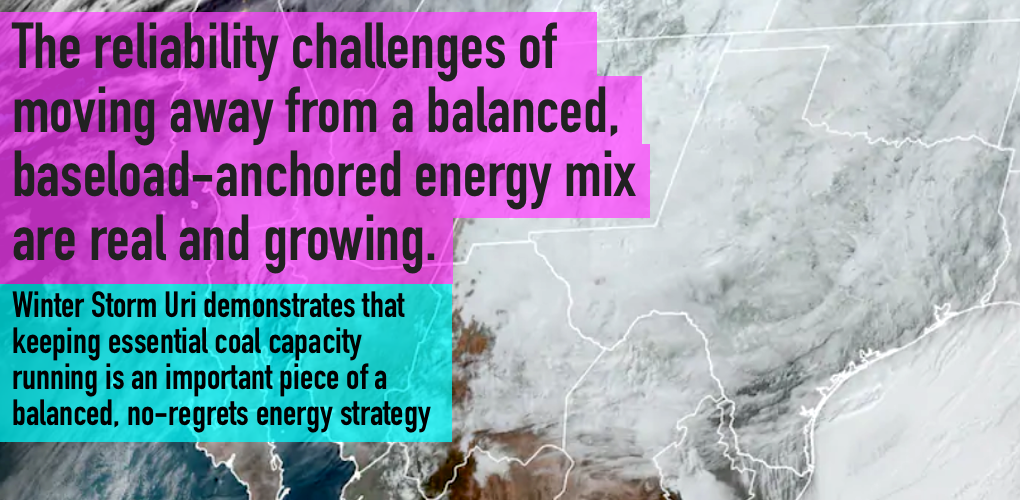 The Texas grid is hanging on by a thread. Historic, freezing temperatures are wreaking havoc across the state. The Electric Reliability Council of Texas (ERCOT) has initiated rolling outages to keep the grid from collapsing. Without a hint of hyperbole, this is a full-blown reliability crisis that appears to be a fuel security crisis.
There's much we don't know at this early stage but ERCOT is reporting that more than 30 GW of capacity is offline. The majority appears to be wind and natural gas generation. Wind turbines are freezing up and gas plants and pipelines are facing their own technical challenges. Surging home heating demand, which takes priority, also means that gas power plants aren't able to access fuel.
Texas' energy-only market has been the center of debate about the right approach to grid reliability for years. Shrinking reserve margins and a series of close calls during peak summer demand raised ever more pressing questions about whether Texas would have the generating capacity it needs when it needed it most. The answer now appears to be no.
Grid reliability is a no-regrets business. And this fuel security crisis is certainly going to leave many grid planners regretting their confidence in their models, their overreliance on just-in-time fuel delivery and their ever-greater reliance on weather-dependent power.
Texas has lost roughly 5,000 MW of critically important coal capacity over the past few years to a market that couldn't recognize the balance, fuel security and reliability it afforded the grid. While coal generation isn't immune to cold weather-related challenges, it is fuel-secure power that would make a world of difference today.
Fuel security problems are hardly unprecedented during frigid weather but the nation's growing reliance on just-in-time fuel delivery is giving them new prominence.
The fuel-security that was for so long baked into the nation's power mix is nearly gone. Recently, 70 percent of the nation's power came from fuel-secure generation (those plants with weeks, even months of fuel on-site); It's now just 30 percent. Again and again, we have been warned that the loss of coal capacity would come with repercussions to the reliability and the resilience of the grid.
In 2014, in PJM, another bout with extreme cold meant gas pipeline capacity there couldn't keep up with demand. In fact, during that turn with the polar vortex, PJM found that 23 percent of the total generator outages (9,300 MW) were due to interruptions of natural gas supply.
And in January of 2018, when extreme cold descended on the eastern part of the country, fuel-secure coal plants came to the rescue again. As electricity demand soared, coal plants supplied 57 percent of the increased generation over the previous month.
On the MISO grid, coal generation continues to step up during bitter cold, carrying the lion's share of demand during bitter temperatures when gas supplies are stretched too thin and wind capacity simply isn't available.
Coming just months after rolling blackouts in California due to a capacity shortfall, the crisis in Texas should shake energy policymakers out of their myopic focus on emissions reduction. The reliability challenges of moving away from a balanced, baseload-anchored energy mix are real and growing. Out of an abundance of caution, we should be pumping the brakes on this pivot, not accelerating it. Keeping essential coal capacity running is an important piece of a balanced, no-regrets energy strategy.