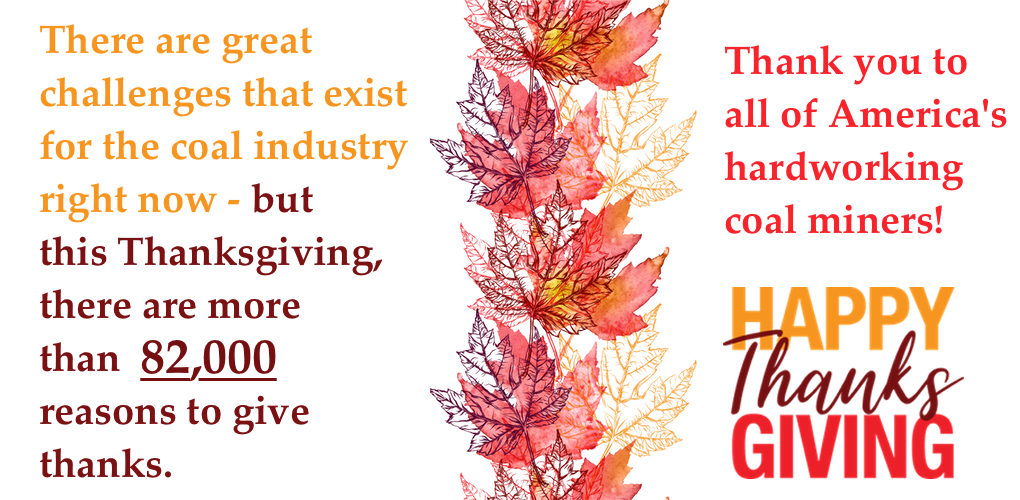 While media continue to look for new and exciting ways to attack this president, one that doesn't hold water is the criticism that, despite his promises, he hasn't delivered anything meaningful for coal country.
To be clear: there are significant challenges facing today's coal industry. Immediate action must be taken to rebalance and restore competition to the markets. And the anticipated PJM Minimum Offer Price Rule (MOPR) could be a good – albeit incomplete – start, restoring integrity to wholesale markets and addressing the threat to grid reliability and resiliency posed by the loss of essential coal capacity.
But there are equally valid reasons why, when mining families gather for their Thanksgiving meals this week, this administration's actions will clearly be on their list of things for which they are thankful.
Under the Obama administration, a perfect storm of a regulatory attack coupled with market factors resulted in a 40 percent drop in coal employment. With employment declines in a near free fall, the Trump administration took charge and stopped the losses, with modest increases in some areas. Direct coal mining jobs remained above 82,000 for each of the first two years of this administration. Not to mention the additional 300,000 indirect jobs supported by coal mining.
Recall that industry was facing the Clean Power Plan, which this administration repealed and replaced. And the Stream Rule, which was also overturned. Taken together, these two rules would have hit the full spectrum for coal, making it nearly impossible to mine coal in much of the U.S. and, even where you could mine it, the regulatory hurdles facing power plants looking to use that coal would have been crippling.
So while there are great challenges that exist for our industry, this Thanksgiving, there are more than 82,000 reasons to give thanks.