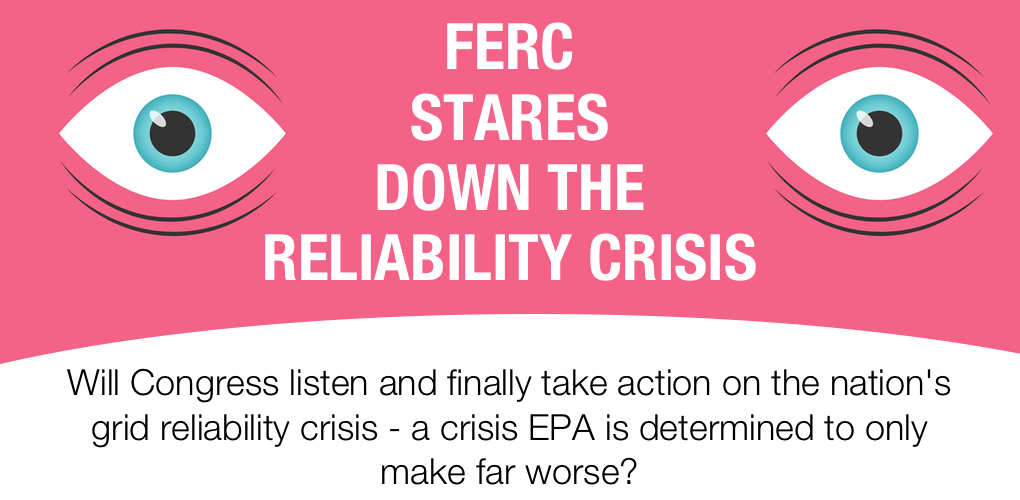 The Federal Energy Regulatory Commission (FERC) sits right at the crossroads of the nation's collapsing grid reliability and the increasingly disorderly energy transition. While FERC commissioners will be the first to tell you they don't have the tiller for the nation's energy policy, they do have a keen sense of whether the nation's electricity markets are up to the task of delivering affordable and reliable energy when and where it's needed.
With the commission headed to an oversight hearing tomorrow in front of the Senate Committee on Energy and Natural Resources, don't be surprised to hear urgent warnings that the nation's electricity supply has been compromised with all indications suggesting an alarmingly bad situation will get worse.
The commission's appearance in front of the committee comes at a critical time. The reliability of the grid is eroding with regional markets facing rapidly accumulating resource adequacy challenges as traditional sources of power – namely coal plants – are pushed off the grid without reliable replacement materializing in their place.
The electricity markets themselves, upended by state energy mandates and enormous market-distorting incentives for wind and solar power, appear woefully ill-equipped to deliver the secure, reliable capacity operators need. Market distortion, now coupled with a blitz of rules from the U.S. Environmental Protection Agency (EPA) designed to accelerate coal plant retirements, is pushing the nation's electricity supply into ever more dangerous territory.
While EPA is – unbelievably – suggesting its rules won't further compromise grid reliability and resource adequacy, utilities, grid operators and regulators are singing a very different tune.
The North American Electric Reliability Corporation (NERC) has again and again made itself clear that the nation's supply of power has never been so stressed. The grid operators too are deeply alarmed with each facing its own unique crisis. From ERCOT and CAISO that have already seen blackouts, to MISO that is teetering on the edge of its own, to ISO New England and its extraordinary fuel security concerns most of the country is now on a crisis footing. Even PJM – the nation's largest grid, once a bulwark of reliability with its robust reserve margin – is warning that it too is rapidly approaching a capacity shortfall as its coal capacity is forced aside while renewable additions aren't coming close to replacing it.
Several members of the Energy and Natural Resources Committee, including Chairman Manchin and Ranking Member Barrasso, have been laser-focused on grid reliability for years and will demand answers about a situation that is inarguably deteriorating. And they can hardly expect reassurance from FERC. Of the four commissioners, half – both James Danly and Mark Christie – have already made it abundantly clear they believe the nation is in deep, deep trouble.
Even before the launch of EPA's newest regulatory blitz, Christie toldBloomberg, traditional sources of power are shutting down "at an unsafe pace" to keep up with the transition to wind and solar. He continued, "The red lights are flashing everywhere. We're not going to have sufficient power supply."
James Danly toldPolitico last year, "My grave, grave fear here is that what's going to have to happen to focus people's attention on the solutions that are necessary to ensure resource adequacy and ensure reliability is going to be some catastrophic event that demands our attention be given to these problems."
It's past time to finally focus on the reliability crisis, heed the warnings and take immediate steps to stop the bleeding. FERC can lead in continuing to raise the alarm but it's up to Congress to hold EPA accountable – ensure it's actually coordinating with FERC, NERC and grid operators on reliability challenges – and present legislative solutions. Devaluing and disassembling the generating capacity that is a reliability backstop before we have reliable replacements up and running is a policy failure we can and must address.