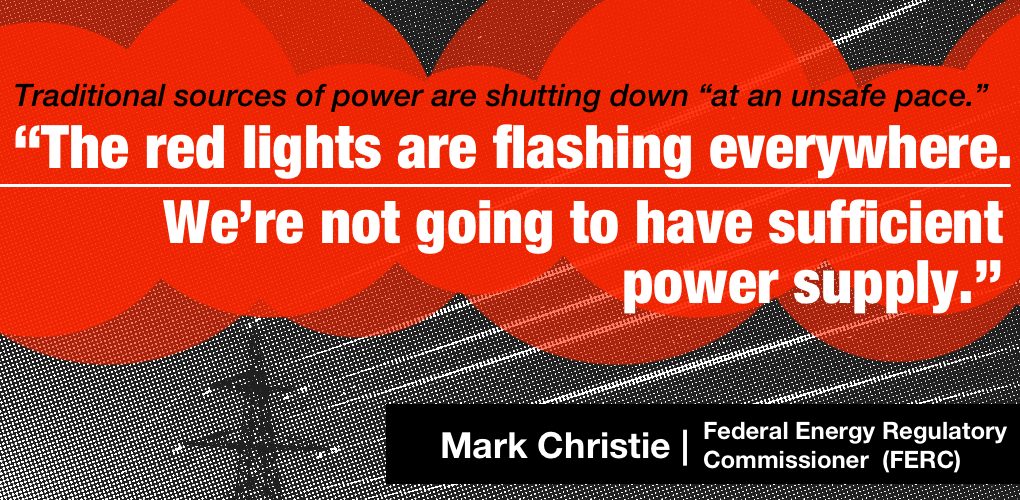 The nation's electricity grid regulators at the North American Electric Reliability Corporation (NERC) must be exasperated. The reliability of the grid is rapidly eroding, driven to the edge by a mismanaged and haphazard energy transition, and they're doing their best to urgently warn anyone who will listen that the nation desperately needs a policy reset they have no control to enact.
For years, NERC's experts have warned of eroding reserve margins, a shrinking supply of power during peak demand and ill-equipped market mechanisms to ensure reliable supply. One warning and assessment has grown more dire than the next. After calling the grid failures in California and Texas "wake up calls" NERC issued an alarming summer reliability assessment to only now follow it with an "unprecedented" winter reliability assessment. As John Moura, director of reliability assessment and performance analysis at NERC explained, "The system hasn't been stressed in this manner in the past and probably, more importantly, it hasn't been as widespread."
Texas, the Northeast, the Midwest and Southeast are all at the highest risk of emergency operating conditions, according to NERC, with the risk of blackouts in New England particularly high. New England's overreliance on natural gas and oversubscribed gas delivery system has left it acutely vulnerable to fuel shortages.
But make no mistake, eroding grid reliability is a national challenge now blanketing much of the country in both summer and winter months. At the heart of the issue is the pace at which reliable, fuel secure generation is coming off the grid without reliable replacement. Intermittent renewable power additions, absent a massive expansion of transmission infrastructure and energy storage – an expansion that hasn't materialized and remains stuck behind towering permitting hurdles – can't fill the gulf left by coal plant retirements. In fact, according to reporting from Bloomberg, as many as 40 planned coal plant retirements have been postponed or scrapped largely due to acute grid reliability challenges where utilities and grid operators have made it clear closing plants would be reckless.
Responding to NERC's unprecedented winter reliability assessment, Jim Matheson, CEO of the National Rural Electric Cooperative Association, said, "As the demand for electricity risks outpacing the available supply during peak winter conditions, consumers face an inconceivable but real threat of rolling blackouts. It doesn't have to be this way. But absent a shift in state and federal energy policy, this is a reality we will face for years to come."
Aggressive action – including a new push from the U.S. Environmental Protection Agency (EPA) – to accelerate coal plant retirements when it's clear the grid desperately needs the fuel security, reliability and fuel diversity provided by coal generation, is precisely the policy in question.
NERC's CEO Jim Robb recently pleaded for energy policy that better recognizes how essential existing dispatchable generation remains to grid reliability. "We need to retain the existing resources as long as we don't have an alternative. That's the issue," he toldPublic Utilities Fortnightly. "My first bit of advice is to… manage the pace of change. The second bit of advice we give is don't underinvest in bridge fuel or the bridge issues to get us from where we are to where we want to go."
His concern and plea was echoed by Federal Energy Regulatory Commissioner (FERC) Mark Christie who recently toldBloomberg, traditional sources of power are shutting down "at an unsafe pace" to keep up with the transition to wind and solar. He continued, "The red lights are flashing everywhere. We're not going to have sufficient power supply."
Whether it's NERC or FERC, grid operators or utilities, alarms keep going off over the state of the nation's power supply. Consumers are paying more than they have in years for a supply of power that is less and less reliable when they need it most. Yet, despite the warnings and clear voter concern, the Biden administration is not only pretending there isn't a problem but is doubling down on policies that will it make far, far worse. It's now up to Congress to bring some much-needed oversight to EPA's reckless plans and ensure the nation's de-facto energy policy isn't dictated by a runaway EPA but by the people tasked with keeping the lights on.