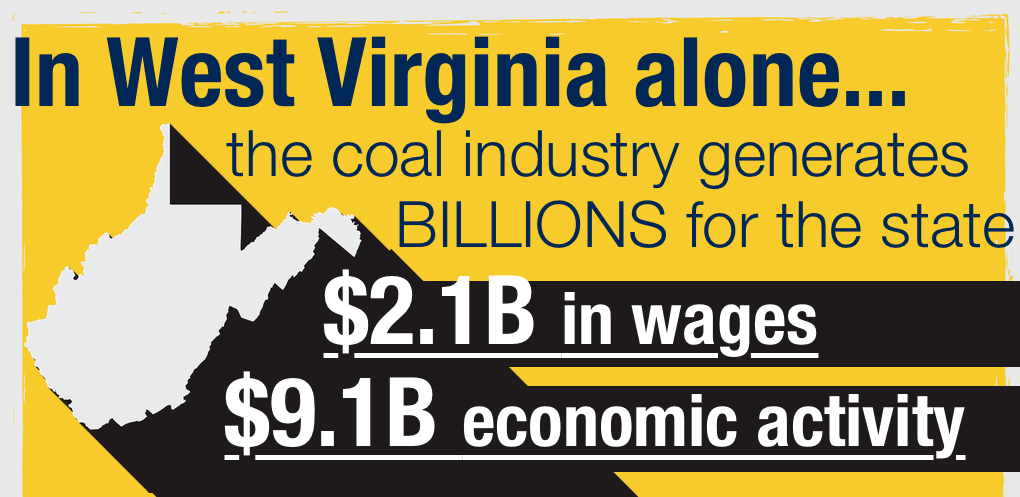 If anyone's taking nominations for misleading reports, we have a leading contender: a recent report that argues that rising electricity prices in West Virginia are the result of the state's reliance on coal power, going as far to imply that coal is an economic burden on the state.
The report is built on the fact that electricity rates in West Virginia have doubled since 2005. But the data used here is incomplete at best. What the report misses is just how low rates were in 2005 and how relatively low they remain. Today's rate of 13.25 cents/KWh is still 12% lower than the national average of 15.12 cents/KWh. Regulatory compliance costs and a global energy crisis have affected energy prices in the state, but coal power remains a deeply stable and affordable source of energy despite U.S. Environmental Protection Agency (EPA) efforts to make it more expensive. In fact, in states where coal continues to meet a third or more of electricity demand, electricity costs are lower than in states that don't. Electricity rates in New England and California, where coal power has been all but eliminated, are nearly double what they are in West Virginia.
Further, the study does not touch the energy security, fuel assurance or grid reliability provided by the coal fleet to the state or its neighbors. West Virginia's coal capacity is a reliability bulwark as the generating capacity around it has become increasingly dependent on the weather or just-in-time fuel delivery. Failures in the electricity marketplace to adequately value what coal delivers to the grid and to appropriately recognize the reliability shortcomings of other energy sources are creating illusions about resource value and what's required to keep the power flowing during periods of peak demand.
Collapsing reserve margins and alarming questions about resource adequacy are now endemic across the country with well-founded concern from reliability regulators that a bad situation is poised to only get worse. If EPA gets its way with its regulatory agenda and the blitz of rulemakings it has targeted for the coal fleet, a self-made crisis is all but inevitable. West Virginia is one of the few states where reliability concerns are given the prominence they clearly deserve.
But perhaps most importantly to West Virginians – far more pertinent than the debate over grid reliability and electricity market design – is the value coal brings to the state. It's a basic and deeply important question: is the coal fleet an economic drag or boost? The answer couldn't be clearer.
In West Virginia alone, in 2019, the coal mining industry spent more than $2.1 billion on wages and generated about $9.1 billion in economic activity according to the West Virginia University Bureau for Business and Economic Research. With coal electricity generation factored in, the economic impact in 2019 totaled nearly $14 billion, supporting nearly 33,000 jobs, or about 17% of the state's total economic output. This is an industry that is all but irreplaceable with the economic benefit it brings the state.
Studies that try to cast West Virginia's use of coal as an economic burden – or the use of coal in other mining states as a burden – are not only detached from reality but they do a great disservice to the deeply important conversation about the challenges and tradeoffs that will come in the energy transition. Pretending that a move away from coal will be either economically beneficial or easy is a tortured interpretation of reality that only hurts, not aids, the important work that needs to happen to get the nation to an affordable, reliable energy future.