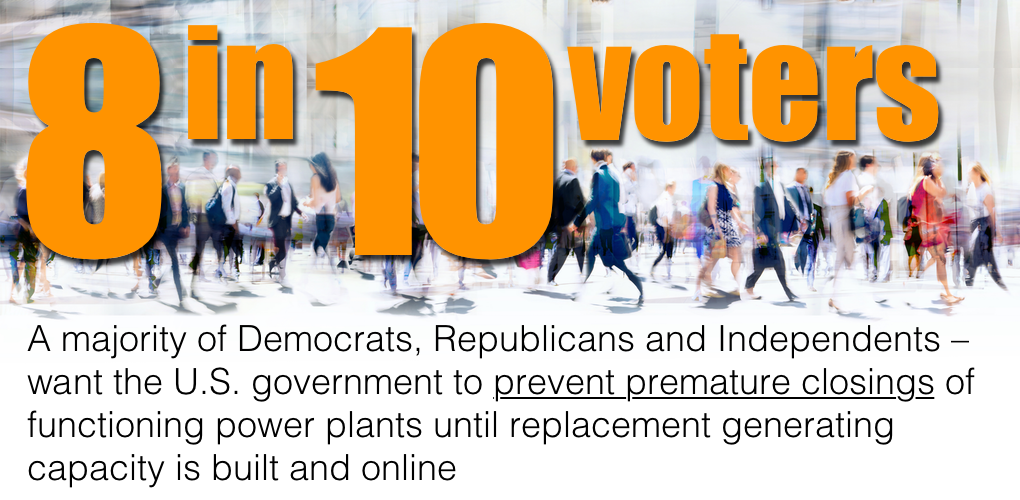 Americans are deeply concerned about the reliability of the nation's power grid and the affordability of their electricity supply. They're so concerned, even frustrated, with warnings over the potential for rolling blackouts – or worse – they now want government action to fix the problem.
According to national polling from Morning Consult, nearly 8 in 10 voters – including a majority of Democrats, Republicans and Independents – want the U.S. government to prevent premature closings of functioning power plants until replacement generating capacity is built and online. The same polling found that nearly 9 in 10 voters are also concerned about rising electricity rates.
While the price at the gas pump has often been an outsized issue come election day, the reliability of the nation's power grid and the soaring cost of electricity are gaining new electoral prominence. That's certainly already true in Texas, and as this poll indicates, it's increasingly true elsewhere. Where rolling blackouts – or even the regular threat of them – go, so does voter frustration with the institutions that are supposed to provide electricity families can count on but increasingly can't.
"Americans are deeply concerned that they are paying far more for a supply of electricity that is less reliable than ever before. With grid reliability deteriorating, energy inflation soaring and the threat of blackouts now a reality for tens-of-millions of Americans, it's time for an energy policy reset," said Rich Nolan, National Mining Association president and CEO.
Voters are wising up to what reliability experts and grid regulators have been saying for years: the rapid loss of baseload generation is a challenge we must stop downplaying.
Solving the Problem Requires Admitting There is One

From California to Texas, the Midwest and even New England, grids are in crisis, in need of fixes that market managers and regulators are ill-equipped to solve. The rapid loss of coal generation and the inability to stand up reliable alternatives is a problem haunting regional grids across the country. It's also a problem camouflaged by an unwillingness to grapple with reality.
That unwillingness is multifaceted. Pretending that transmission infrastructure will be sited and built far faster than it can be is a major contributing factor. Or that grid-scale energy storage is a cure-all to intermittency challenges when – at least for the foreseeable future – it's simply not. As the North American Electric Reliability Corporation warned, relying on capacity-based estimates to determine resource adequacy without an honest assessment of whether that capacity will be available when it's needed most is at the heart of the problem.
"As we move forward, we need to know that when you put a solar panel or a wind turbine up, it's not the same as a thermal resource," said John Bear, Chief Executive Officer for the Midcontinent Independent System Operator, the grid operator for much of the Midwest.
Getting to our energy future is not going to be easy. Disassembling the current bridge to get there before the new infrastructure is built and tested is proving just as problematic as it sounds. And despite eroding reliability and voters wanting to keep existing dispatchable power plants running, they're getting just the opposite. The U.S. Environmental Protection Agency's aggressive regulatory agenda – as close as the country has to any central planning for the nation's electricity mix – is poised to accelerate coal plant closures. A bad situation is on the precipice of getting far worse.
Europe Turns to Coal

But as bleak as the reliability situation appears, energy policy resets do happen. And if they can happen in places where rational energy policy is as elusive as Big Foot, they can certainly happen here.
Facing dire energy security concerns and soaring energy prices from Russia's natural gas blackmail, Germany is turning back to its coal fleet to reduce gas consumption and ensure adequate energy supplies in the months ahead.
Robert Habeck, Germany's economy minister, a leader of the environmentalist Green Party, announced that Germany is pursuing a return to "coal-fired power plants for a transitional period" in order to reduce gas consumption for electricity production. "We are setting up a gas substitute reserve on call," he said.
While Germany had imported half its hard coal supplies from Russia, the German Association of Coal Importers believes they can be swiftly replaced. "Russian coal can be completely replaced by other countries in a few months. Especially from the U.S., Colombia and South Africa," Alexander Bethe, board chairman of the Association of Coal Importers, said in a statement.
U.S. thermal coal exports to Europe were already up 300% in April – the most recent data available – and are likely to continue their pivot to Europe from Asia in the months ahead. The Dutch and the Austrians are also turning to coal to reduce their reliance on Russian gas. Austria is reopening a mothballed power station and the Dutch are lifting all restrictions on coal power plants that had been limited to just a third of full capacity.
If pragmatism can win in Europe, it can win here, too. American voters know what they want. Now policymakers have to act.