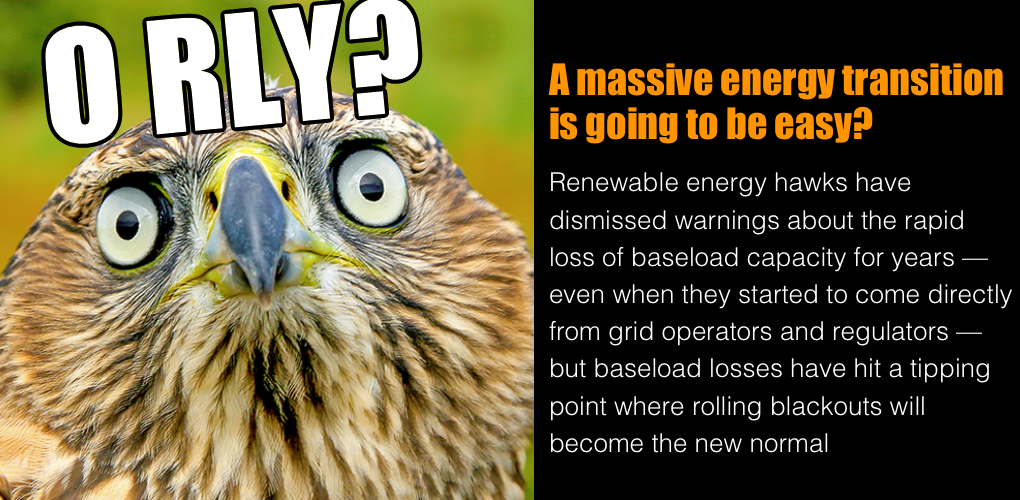 Warnings of blackouts this summer are quickly becoming a dangerous reality for much of the country
In the Midwest, the Midcontinent Independent System Operator (MISO), which manages the region's grid, issued a warning of tight capacity conditions on June 13 as the grid struggles to keep up with soaring demand from a heatwave. Utilities were left with the unenviable task of warning customers of the very real possibility of rolling blackouts should demand eclipse available supply.
The Utilities District of Western Indiana (UDWI), a rural electric cooperative in MISO territory, was very clear about a leading cause for the unprecedented blackouts: the premature retirement of much-needed coal capacity. UDWI wrote, "the shortage is due in part to the closing of coal-fired generation plants across the country, and the high demand for power."
UDWI's attempt to shed light on a new phenomenon for its customers is a direct reference to a warning from MISO issued just weeks before following an alarming power capacity auction. In one MISO region, capacity prices jumped 50-fold. The auction was a flashing danger sign that there simply is no longer enough dispatchable capacity on the grid to ensure adequate supply when demand peaks, exactly what you don't want with temperatures hitting triple digits.
MISO's predicament is not unique. From one coast to the other, in summer months and winter, the electric grid is teetering on the edge of catastrophe.
For years, warnings have piled up over the threat posed by the rapid loss of baseload capacity. While those warnings were flatly dismissed by renewable hawks – even when they started to come directly from grid operators and regulators – the losses seem to have now reached a tipping point. Promises of an easy energy transition are crumbling in real time.
While it's hard for Americans to keep track of every crisis now gripping the country, grid unreliability is increasingly in the public consciousness as energy conservation notices and warnings of rolling blackouts become the new normal. But while the public, utilities, grid operators and regulators are expressing growing concern over a rapidly deteriorating situation, policy to right the ship doesn't exist.
In fact, if you're looking for federal policy to address the loss of dispatchable power, you're going to find just the opposite. The Biden administration's de-facto energy policy is to subsidize intermittent generation and regulate traditional, dispatchable sources of power into retirement.
The EPA Retirement Agenda

Environmental Protection Agency (EPA) Administrator Michael Regan remains steadfast in his commitment to use every tool at his disposal to force more coal capacity off the grid. Even in the face of rising concern over reliability and affordability – with power prices expected to jump more than 200% in some states this summer – Administrator Regan isn't backing down, he's doubling down.
Citing the full suite of rulemakings he has lined up for the coal fleet, he told attendees at an energy conference in March that, "the industry gets to take a look at this suite of rules all at once and say, 'Is it worth doubling down on investments in this current facility or operation, or should we look at the cost and say no, it's time to pivot…' If some of these facilities decide that it's not worth investing in [control technologies] and you get an expedited retirement, that's the best tool for reducing greenhouse gas emissions."
The administrator left little room for interpretation. His agenda is to drive the coal fleet off the grid and let someone else worry about the potential consequences. And, as regional grids struggle to find dispatchable capacity, the consequences are shaping up to be grave.
Consider the potential impact of just one of EPA's suite of rulemakings. EPA is finalizing the federal rules for the disposal of coal combustion residuals (CCR). The new rules were announced last fall and were immediately met with serious concerns about feasibility. This January, 59 power plants – providing power to millions of homes and businesses – requested extensions for compliance with grid operators offering dire warnings of what the proposed rules could mean for reliability. One of those operators was MISO.
MISO's comments to EPA zeroed in on five power plants and explained that, "the loss [due to closure] of any significant portion of the 3.1 GW from the five generators considered… would push resource adequacy coverage of regional demand into dangerous territory." MISO added, "there is very little excess generating capacity (or none at all) to cover demand for electricity, plus the required reserve margin, in the immediate future."
MISO was as clear as it could be about the danger of EPA's plans. Whether or not EPA is listening, as resource adequacy in MISO has already slipped into dangerous territory, remains to be seen. But don't get your hopes up. The CCR rules were only the appetizer to EPA's regulatory feast.

It's unclear what will force the Biden administration to change course. Blackouts in California weren't enough to force a national policy reset. The near collapse of the Texas grid and loss of hundreds of lives still didn't do it. The energy crisis in Europe, greatly exacerbated by dysfunctional management of the energy transition, still hasn't resonated.

There will be another grid catastrophe here—the writing is on the wall. When are we going to recognize that we must stop disassembling the energy infrastructure we have – and that works – before we have reliable, affordable alternatives in place?