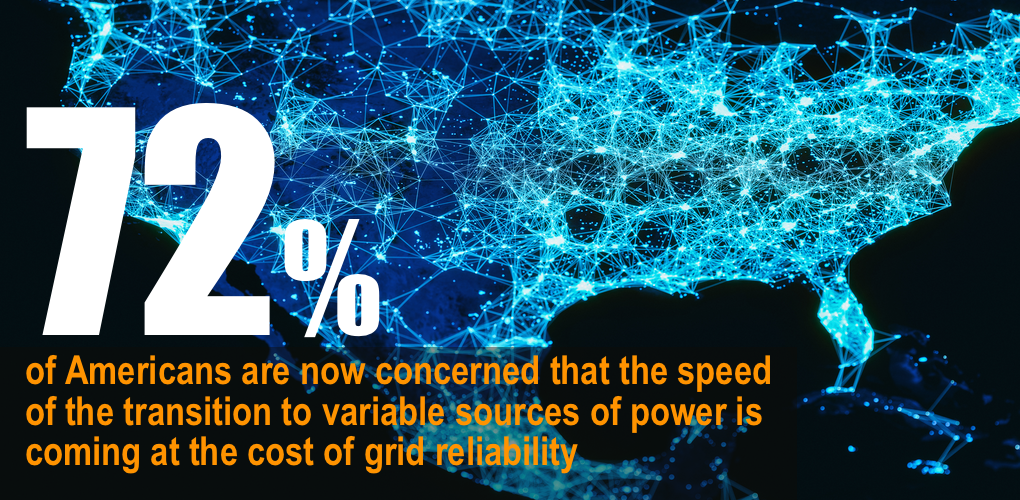 In the wake of headline-grabbing blackouts in California and Texas and all-too-regular electricity conservation warnings in states across the country, seventy-two percent of Americans are now concerned that the speed of the transition to variable sources of power is coming at the cost of grid reliability, according to new polling from Morning Consult.
These concerns are well founded. Grid operators, utilities and even regulators have warned that the challenges of integrating variable renewable power while managing more extreme weather are already stressing the grid. In a recent report, the North American Electric Reliability Corp. (NERC) found that, in 2020, utility load shedding spiked, the beginning of a trend headed firmly in the wrong direction following the catastrophic blackouts that gripped Texas in February and the rolling blackouts that hit parts of the West this summer.
In report after report, NERC has steadily warned of ever-growing reliability challenges. In a reliability assessment that was released this spring, NERC went so far as to correctly warn that capacity shortfalls this summer were "almost inevitable." Speaking to that assessment and the challenges now facing grid operators and utilities, NERC CEO Jim Robb observed, "The events of this past year and the outlook for summer is a stark reminder that in our hurry to develop a cleaner resource base, reliability and energy adequacy has to be taken into consideration." He continued, "I know that operators and planners are working very, very hard to preserve reliability, but they're continually asked to do so and manage your grid under more and more challenging conditions."
Along with NERC, grid operators are also deeply concerned with maintaining reliability as more and more wind and solar power is pushed onto the bulk power system while fuel-secure resources that underpin grid resilience are being forced into early retirement.
For example, the Midcontinent Independent System Operator (MISO), which runs the grid across much of the Midwest and parts of Canada, testified before Congress that "maintaining reliability at the 40% renewable level becomes significantly more complex." Adding, "today, we face more frequent and less-predictable occurrences of tight operating conditions on the electric grid compared to just a few years ago, and the challenges continue to grow."
MISO's concerns have been echoed by ISO-New England, the grid operator for the Northeast. In a report on fuel security, examining whether wholesale electricity markets provide adequate financial incentives to maintain both fuel security and reliability, the central conclusion was that, "in many situations, the answer is 'no'."
Maintain Fuel-Secure Power as a Reliability Insurance Policy
Americans don't have to read regulator and grid operator reports to recognize that the speed in which some are proposing the energy transition happen poses immense challenges to the reliable delivery of power. In fact, Americans aren't just worried about reliability, they want action to ensure reliability isn't sacrificed in the transition ahead.
The same Morning Consult poll that showed soaring concern over reliability, also found that 63 percent of Americans believe that policymakers should proceed with caution and maintain traditional sources of power as a grid reliability insurance policy. When considering the threat of cyberattacks, 60 percent of Americans support policymakers providing a fuel security incentive to power plants that keep weeks or even months of fuel on site.
Reacting to the clear signals from the poll, Rich Nolan, president and CEO of the National Mining Association, said, "If the United States wants to chart a replicable path forward for the energy transition, it can't mean jeopardizing grid reliability." He continued, "rather than establishing aspirational timelines for a transition, policymakers should proceed with caution, providing incentives to maintain dispatchable, fuel-secure sources of power, such as coal and nuclear power plants, that can serve as a reliability insurance policy while the infrastructure and energy technologies of tomorrow are brought to scale. The security and reliability offered by a diverse mix of fuels can't be taken for granted."
Concern over grid reliability will only grow. Sales of backup generators continue to climb. New cars are even being marketed as generators for a future when the power won't stay on. If policymakers do take reliability for granted, and the security provided by the fuel-secure generation that has for so long underpinned it, voters will be sure to let them know.