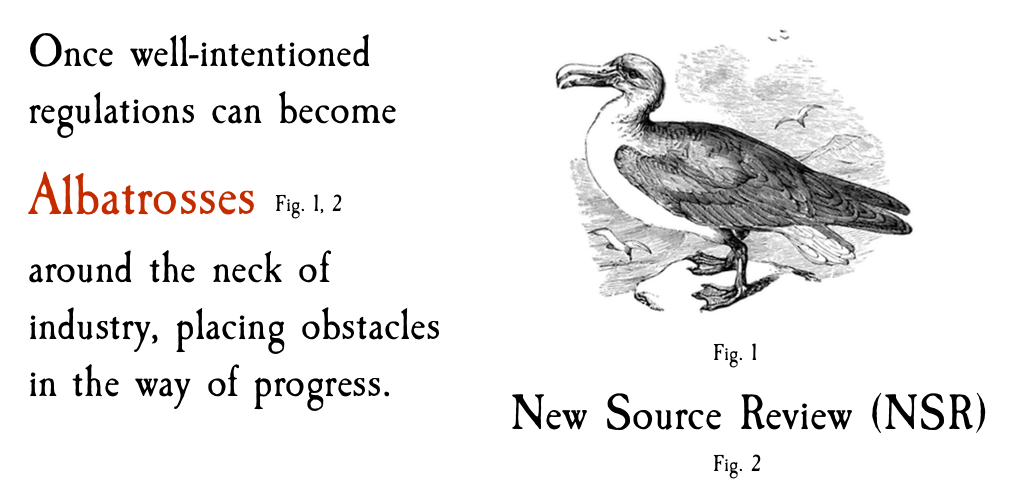 Does anyone, anywhere have anything good to say about red tape? As is so often the case, once well-intentioned regulations can become albatrosses around the neck of industry, placing obstacles in the way of progress. That's certainly the case with the Environmental Protection Agency's (EPA) New Source Review (NSR) program.
Thankfully, Senator John Barrasso has introduced the Growing American Innovation Now (GAIN) Act to bring much-needed, commonsense reform to NSR. Cosponsored by Senate Majority Leader Mitch McConnell and Senators Mike Braun, Shelley Moore Capito and Rand Paul, the GAIN Act would reduce a major impediment to improving the efficiency of existing power plants and manufacturing facilities.
As it now exists, efficiency modifications trigger the burdensome and expensive process of NSR, a protracted and costly permit process that discourages energy producers and manufacturers from modernizing their facilities. The GAIN Act offers an obvious answer to an obvious question: why penalize operators for trying to improve the efficiency of their operations and in turn improve the environmental performance of their facilities?
In praise of Senator Barrasso's legislation, Rich Nolan, president and CEO of the National Mining Association, said it "brings needed reform by reshaping the regulations to encourage, rather than deter, projects that improve energy efficiency, reduce hourly emissions and enhance grid reliability." He continued, "this legislation will help ensure that NSR will no longer stand in the way of upgrades that will improve environmental performance at coal-fueled power plants."
Technology and efficiency upgrades are the low-hanging fruit of environmental progress. Smart regulation encourages them instead of standing in their way. A more efficient coal plant that produces more megawatts of electricity, using less fuel, not only produces less emissions, but it does so more cost-effectively for consumers.
While the GAIN Act is an important step forward, administrative reforms from the EPA are also needed to comprehensively address the longstanding impediments to improvements that the NSR regulations currently block. Making these changes, and encouraging technology upgrades at existing power plants, not only makes sense, it's precisely what voters tell us they want.
Seventy percent of respondents in a recent Morning Consult poll supported an all-of-the-above energy strategy that includes renewables, nuclear power, natural gas and coal. They also support action to upgrade the nation's coal fleet.
Too many coal plants have already been lost to early retirement. These losses have come from the compounding effects of regulatory overreach under the last administration and a cocktail of historically low natural gas prices coupled with market-distorting renewable mandates and subsidies. Yet, while 40 percent of the coal fleet has been pushed off the grid since 2010, the remaining plants continue to provide the foundation for the reliability, resiliency and affordability of the grid. Keeping this critical, fuel-secure, baseload capacity running – and reducing barriers to efficiency improvements – is essential to maintaining the balance and optionality of the nation's power supply.
With winter on the horizon, and in some states already here, we are reminded of the irreplaceable role coal power plays in keeping the lights on and homes warm during bitter cold when other sources of power can't. It's vital we not only better value the remaining coal fleet but take steps to ensure it can provide the essential power the grid demands when consumers need it most.