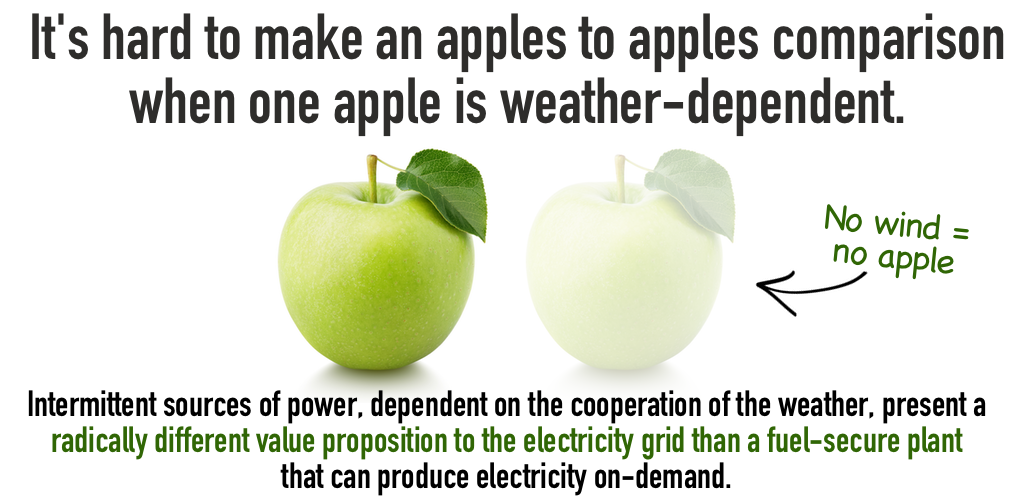 A new study being pushed by renewables advocates deserves note – but not for the reason its backers claim. It is noteworthy in that it is the perfect example of just how dysfunctional our electricity markets actually are and how uninformed the energy debate has become.
The study, titled "The Coal Cost Crossover," suggests that new local wind and solar power (within 35 miles of existing coal plants) could replace approximately 74 percent of the U.S. coal fleet at an immediate savings to consumers. The findings have grabbed headlines. They're also a fairytale.
Before we dive into the problems with the study, consider a question. If given a choice of two uitilties: one that provides electricity 24-7, and one that provides electricity some of the time, without any guarantee into when the electricity would be available, which one would you choose? The choice is obvious, but the way electricity markets are currently structured, logic has been turned on its head.
Let's dig in.
The Problems:
If this new study were to stop at the conclusion that wind and solar power are more cost competitive than ever, it would have rested on solid footing. Instead, the authors took a giant leap and tried comparing the cost of electricity of new wind and solar projects to the cost of electricity from existing coal plants. That's a deeply flawed approach that misses the heart of the story.
Even putting aside tax credits, subsidies and mandates for wind and solar power (subsidies totaled $9.5 billion for wind and solar in 2017 to produce just 7 percent of U.S. energy), trying to make an apples to apples comparison of the electricity generated from renewable sources of power to dispatchable, baseload coal power simply does not work. It completely overlooks the gulf in the value of electricity produced by these sources of electricity.
Intermittent sources of power, dependent on the cooperation of the weather, present a radically different value proposition to the electricity grid than a fuel-secure plant that can produce electricity on-demand. A responsible study would compare the value these sources of power provide to the grid – through that lens, there is no comparison.
One source of electricity is the very foundation for reliable and resilient power. Dispatchable, baseload coal plants underpin the system. On the other hand, intermittent wind and solar power stress it. It's like comparing a car that works only when it wants to, when the conditions allow, to a car that works when you want and need it to. Which is more valuable?
The authors of the study were able to game their conclusions about wind and solar being up to the task of replacing coal generation by only looking at the annual quantity of energy produced by existing plants.  They did not examine wind and solar's need for backup, the very real limitations of energy storage or the problems – not benefits – that come when more and more renewable energy is added to the grid. Nor did they discuss the dramatic seasonal changes in wind and solar output that can last for weeks or months, compared with the best grid-scale batteries that can provide just four hours of backup.
Because the study only looked at replacement through the lens of hours of annual generation, it greatly overvalued excess solar capacity produced in summer months (that often must be curtailed) or excess wind capacity produced at night, while ignoring a lack of renewable generation when it's needed most. Our recent brush with the polar vortex is case in point.
In a throwaway line, the authors did hint at the limitations of their work. They wrote, "the quantity of energy replacement is only compared in terms of annual generation and doesn't capture the time-based value of energy and grid services for a dispatchable (if not always so flexible) coal plant." This is quite a caveat. They continue: "The crossover between new renewable and coal running costs is just one important part of shutting down existing coal plants – replacing coal plants with new wind and solar energy is much more complex in practice." Emphasis added.
Unfortunately, studies like this one do make headlines and they reinforce a very real problem. We are discounting the gargantuan task of providing reliable, resilient and secure electricity. If we don't better value baseload, dispatchable power, we're going to be in real trouble. There's ample and ever-growing evidence we already are.