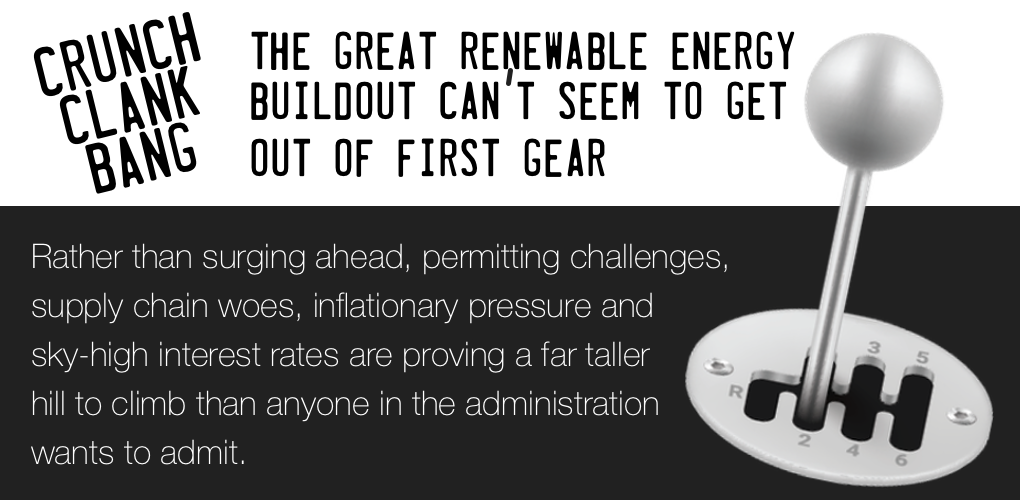 With the perilous state of the nation's electricity supply increasingly in the spotlight, the Biden administration has attempted to justify its regulatory blitz on the coal and gas fleets by pointing to what it hopes will be a lightning-fast renewable energy buildout. According to the administration's narrative, the Inflation Reduction Act (IRA) and its largess to the renewable sector are a cure-all for the grid's woes, filling power supply gaps and slashing the cost of regulatory compliance. But that narrative is quickly falling apart.
Rather than surging ahead, the great buildout can't seem to get out of first gear. Permitting challenges abound. And where policy support was supposed to be some kind of silver bullet, supply chain challenges, inflationary pressure and sky-high interest rates are proving a far taller hill to climb than anyone in the administration wants to admit.
The abysmally slow addition of new interstate transmission has been well documented with few signs of improvement. And the problems only begin with transmission. From solar to offshore wind, challenges abound.
As The Wall Street Journalobserved, "soaring inflation has seen materials and services costs rise while higher interest rates mean financing costs have surged, sending project costs spiraling out of control and forcing developers to renegotiate or exit contracts as projects are no longer profitable."
Consider the administration's flagship effort to add 30 GW of offshore wind capacity by 2030. Danish renewable energy developer Orsted, the world's leading offshore wind developer, recently lost a quarter of its market value after writing off $2.3 billion on three wind projects it's pursuing off the U.S. east coast. The economics are so challenging, even with the IRA's massive tax incentives and Orsted's deep experience, the company has warned it may have to cut its losses and walk away. Orsted's challenges are hardly unique.
Norway's Equinor and Britain's BP, also developing three wind farms off the east coast, said in June that they will need to renegotiate the power prices they signed onto or their projects simply won't get financing. Banks are balking at rising costs. Another developer even went so far as to pay $48 million to back out of an offshore wind-power deal in Massachusetts. Between rising interest rates and supply chain challenges, project economics have been turned upside down.
How grim is the situation? In New York, large offshore wind developers are asking for an average 48% price adjustment in their contracts to cover rising costs. The Alliance for Clean Energy NY, which promotes the development of renewables in the state, is also requesting an average 64% price increase on 86 solar and wind projects.
The bottom line is that the promised wind and solar buildout – and associated transmission – just isn't materializing at nearly the speed the Biden administration needs or at the cost it hoped. The Clean Power Association, which represents wind and solar developers, recently found that the current pace of wind and solar installations would provide just 30% of what is required to reach a net-zero power grid by 2035, the administration's much-promoted goal.
If that's the reality, shouldn't the Biden administration's regulatory agenda get in step with it? It better, and fast. A failure to recognize the limitations of how quickly, affordably and effectively renewable capacity can be added to the grid is extraordinarily dangerous. And failure to recognize the importance of existing coal and gas power plants to keeping the lights on and homes cool is doubly so.