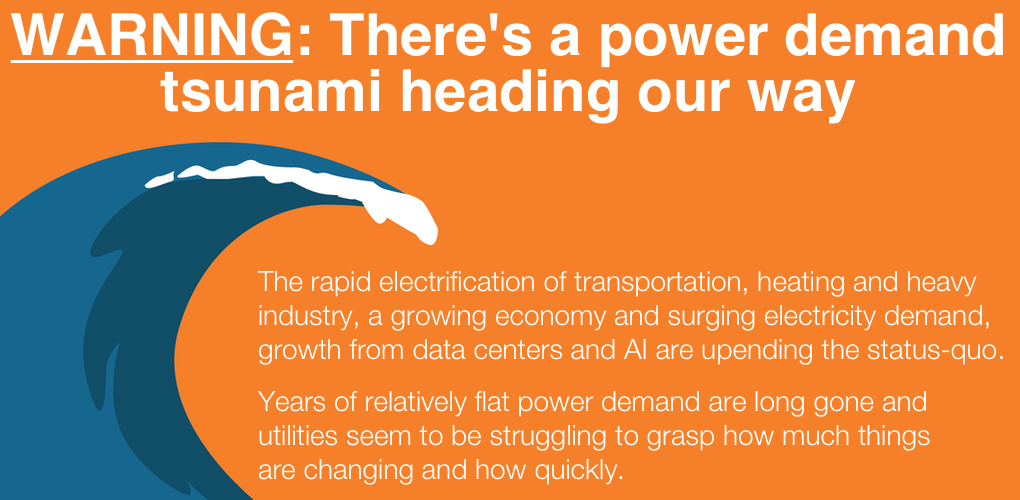 Electricity demand records are falling daily. In Texas, the state's grid operator has reported 10 new all-time highs in demand this summer with another new peak expected this week. In the Southwest Power Pool, which runs the grid in parts of 15 states, power demand hit an all-time high on Monday. And the operator that manages the grid for much of the Midwest is expecting a record for power demand later this week
Heat is certainly driving these spikes but there are other titanic forces at play driving power demand ever-higher and putting ever-greater stress on a system that is already being run on the margins. Rapid electrification of transportation, heating and heavy industry, a growing economy and surging electricity demand growth from data centers and AI are upending the status-quo. Years of relatively flat power demand are long gone. We've entered a new era. And, remarkably, utilities seem to be struggling to grasp how much things are changing and how quickly.
As the Wall Street Journal recently reported, futurists are all but begging utilities to drastically scale up their planning for the power demand tsunami now on the horizon. Elon Musk recently told utility executives that he projects power demand to triple by 2045, predicting an electricity shortage in just two years. "I can't emphasize enough: we need more electricity," Musk said. "However much electricity you think you need, more than that is needed."
Musk's projections are far ahead of industry consensus but being right about the future is what he has built his career on. Utilities, for their part, do expect power demand to increase. PG&E in California expects electricity demand will rise 70% in the next 20 years, which, the company notes, would be unprecedented. Researchers at the National Renewable Energy Laboratory expect the country will need to double its generating capacity by 2050. And recently New York's grid operator, NYISO, reported that electricity demand in the state will more than double by 2050 and that New York will need to more than triple installed generating capacity by 2040. There is wide acceptance demand is going to surge. The debate isn't over if but simply how much. And there's good reason to believe Musk may well be right.
"Insatiable energy beasts"

Musk sits at the intersection of both electrification of transportation with Tesla, where he hopes to sell 20 million EVs annually by 2030, and big data and the explosive growth of artificial intelligence. While the EV revolution feels increasingly tangible, with automakers pouring billions into battery factories and rolling out new EV models by the week, the energy ramifications of the AI revolution remain largely a mystery, out of sight and consequently out of mind. They shouldn't be.
Deep Jariwala, a researcher at the University of Pennsylvania, recently explained that, as computing becomes more elaborate and data-intensive, "two things begin to scale up exponentially: the need for more memory storage and the need for more energy."
In 2018, computers consumed roughly 1-2% of the global electricity supply. In 2020, computing demand reached 4–6%. By 2030, computing is expected to consume 8-21% of global electricity. "It should be clear that we have an 800-pound gorilla in the room; our computers and other devices are becoming insatiable energy beasts," Jariwala said.
Only Musk can tell you just how much power demand he expects to come from computing and AI in the next two decades but it's clearly far beyond what anyone in the utility industry is contemplating.
The power demand question adds another layer of complexity to the mind-bogglingly difficult task of navigating the road to our energy future. With so much now riding on a reliable and affordable supply of electricity – and power demand already soaring – we need to reevaluate the value of the energy assets and infrastructure we already have. Responsible policymaking will reinforce the reliability of power supply and electricity grid, not undermine it.