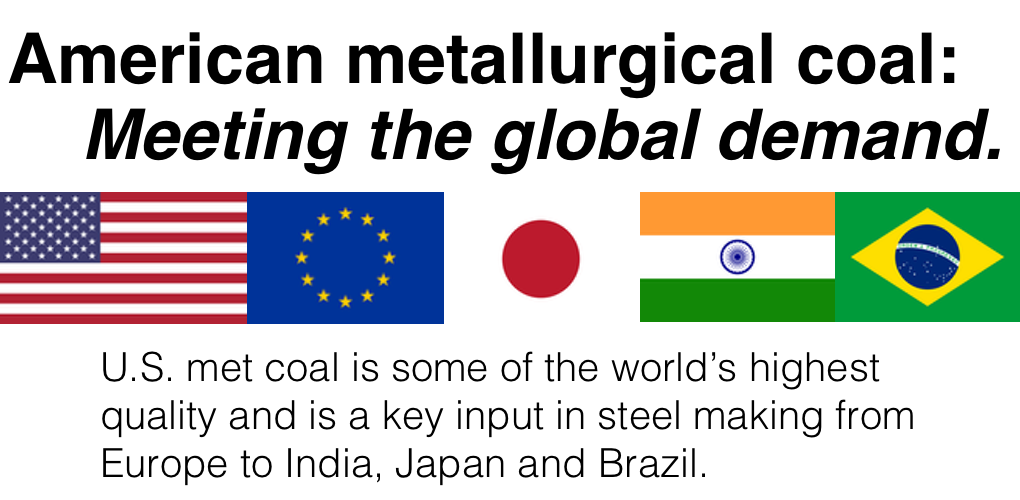 How important is American coal to the global energy mix? Consider that in 2022 U.S. coal exports went to 71 countries and U.S. coal played a critical role in helping Europe pivot away from Russian energy, filling yawning supply gaps during the worst energy crisis since the 1970s.
The U.S. exported 84.8 million short tons (MMst) of coal last year with exports to Europe nearly doubling from 2021. In 2022, the five countries that accounted for the largest share of U.S. exports were India, the Netherlands, Japan, Brazil and South Korea with India receiving the largest share – for the 6th year in a row – at 15.5 MMst. Germany, too, ramped up imports as it leaned on its coal fleet as an energy security backstop.
While thermal coal used for power generation jumps to mind when considering energy security, thermal exports accounted for 45% of the tonnage leaving U.S. ports. Metallurgical coal used to produce the world's raw steel made up 55% of exports. U.S. met coal is some of the world's highest quality and is a key input in steel making from Europe to India, Japan and even Brazil.
America's 170-plus met mines are a critical piece of the global manufacturing supply chain, providing key inputs for the steel needed for bridges and highways, accelerating urbanization and even the breakneck deployment of wind and solar power as well the transmission needed to connect it to demand centers. Just one high-voltage transmission tower requires about 40,000 to 60,000 pounds of steel. Each new megawatt of solar power requires between 35 to 45 tons of steel and each new megawatt of wind power requires 120 to 180 tons of steel, with massive offshore wind turbines requiring even more. What's required for that steel? Significant amounts of met coal.
We are living in the most energy and materials-intensive period in history and coal remains a workhorse in meeting that demand. In fact, global coal demand reached an all-time high in 2022 and could surpass it again this year. During the first quarter of 2023, U.S. coal exports were already up 17.2% over the fourth quarter of 2022.
While mines and miners are on the frontline of producing U.S. coal, coal exports can't happen without the logistics networks that underpin trade flows. Efficient rail and barge service and coal exports terminals are the commercial arteries that move American materials and energy to the global marketplace. It's an important reminder that if we want American commerce to succeed, we have to continue to invest in our transportation infrastructure, notably our water infrastructure that includes our essential ports, waterways and navigation systems.
Demand for American materials, energy and manufactured goods continues to grow. The U.S. coal industry is ready to meet robust overseas demand, providing the materials to build the cities, infrastructure and energy systems of tomorrow and providing the energy to ensure our trade partners have the reliable and responsibly produced coal that underpins their energy security.