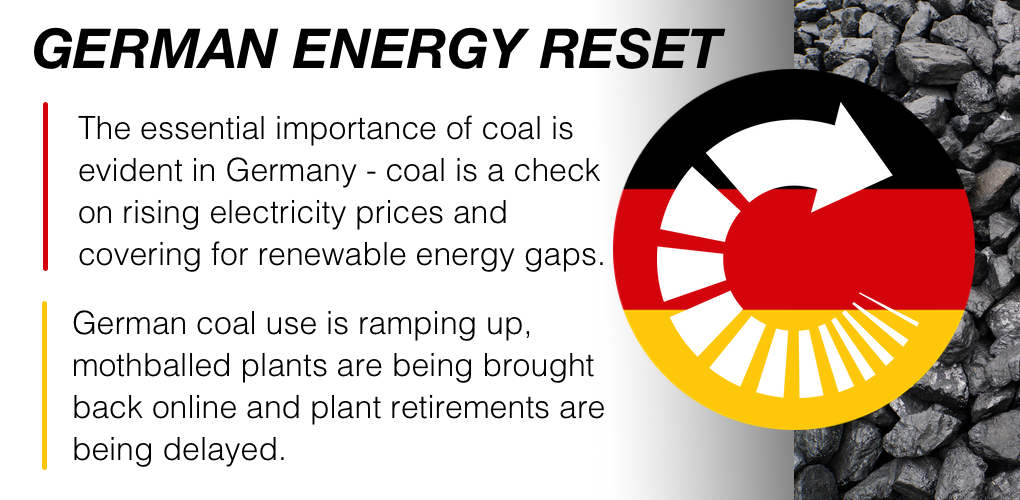 The worst fears of an out-of-control energy crisis in Europe this winter appear not to be coming to fruition, and coal power and U.S. imports have played a significant role in shoring up European energy supplies and getting our allies through the storm.
Coal has been particularly important for Germany. Before Russia's invasion of Ukraine, Germany relied on Russia for 55% of its natural gas supply and 40% of its coal supply. Replacing that much energy – particularly Russian gas – has meant an all-hands-on-deck approach.
Germany has ramped up its use of coal, bringing mothballed plants back online and delaying retirement dates for others. German coal consumption has hit a six-year high and coal imports are expected to continue to rise. Even as natural gas prices have moderated, coal remains essential to checking German electricity prices and filling the sometimes-yawning gaps left by renewable energy during uncooperative weather. During one windless streak in November, coal generation met more than 40% of Germany's power demand.
Germany's pivot back to coal appears to have legs. Guillaume Perret, principal at a leading energy consultancy, told Bloomberg, "Coal is coming back as a baseload generator. We think it will be less seasonal than it has been – with more coal-burning in summer, spring and autumn, as long as coal remains so much in the money versus gas and there remains a gas shortage."
With the gas supply situation in Europe expected to be even worse next year, and with nuclear power outages in France straining Europe's grid, German coal generation might well grow in importance in the months ahead. That's certainly the take from Germany coal importers.
"There is no way around coal as a pillar of energy supply"

Alexander Bethe, Chairman of the German coal importers association, recently said coal needs to be recognized as a back-up option for years to come, not just for one or two winters. Bethe said, "there is no way around coal as a pillar of energy supply."
Germany has ramped up coal use – while also replacing Russian coal – by turning to the global marketplace, particularly American producers. According to the German importers, traders have found new focal points: the United States, South Africa and Colombia. According to the U.S. Energy Information Administration, U.S. coal exports to Europe through the third quarter of 2022 were up 50% year over year, with exports directly to Germany up 80%.
U.S. coal producers have responded to Europe's energy needs even as they navigated acute labor challenges, soaring production costs and crippling logistics challenges ranging from ongoing rail service problems to drought conditions hampering barge traffic on the Mississippi and Ohio rivers as well as reduced handling capacity at key export terminals.
While the coal solution has been glaringly missing in the Biden administration's efforts to see Europe through this crisis, no such taboo exists across the Atlantic. Europe has embraced pragmatism and is weathering the storm because of it.
With the war in Ukraine entering its second year and the energy crisis likely poised to grow more challenging, not less, it's past time for the U.S. government to work with American coal producers to address the obstacles standing in the way of bringing more production to market and ensuring our allies have the coal they need when they need it the most. European energy security and the European fortitude to see Ukraine defeat Russia may very well count on it.