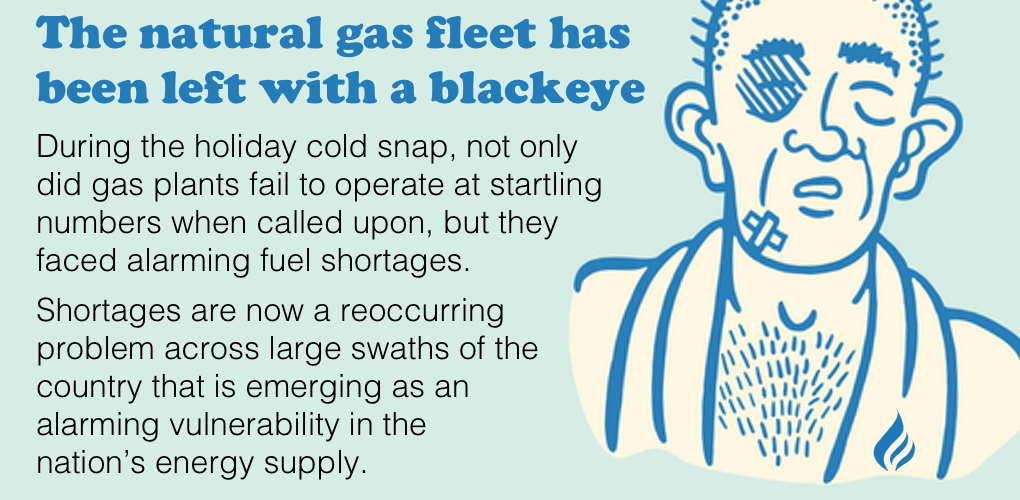 As we're coming to learn, the bitter cold that forced rolling outages in parts of the Carolinas and Tennessee over Christmas also pushed neighboring grids right to the very edge. While the lights didn't go out on the PJM, MISO and ERCOT grids, grid operators were at times left scrambling. And now, after-action reports are shedding some much-needed light on the perilous state of the nation's grid reliability.
While no fuel source came through the bitter cold unscathed – mechanical challenges in the frigid temperatures took plants of all kinds offline – the natural gas fleet has been left with a blackeye. Not only did gas plants fail to operate at startling numbers when called upon, but they faced alarming fuel shortages, a now reoccurring problem across large swaths of the country that is emerging as an alarming vulnerability in the nation's energy supply.
PJM, which serves more than 65 million people from New Jersey to Illinois, saw 23% of its generating fleet shutdown on Dec. 24. Natural gas plants accounted for 70% — or 32 gigawatts – of the nearly 46 gigawatts of outages. While coal plants also faced challenges, 37% of the grid's gas fleet failed, far outpacing outages from any other fuel source. According to PJM, a significant percentage of plant failures came from fuel supply problems.
This isn't the first time PJM has faced gas supply problems from bitter cold but it's a problem growing more pronounced as the gas fleet accounts for an ever-larger share of the grid's dispatchable generation. In January of 2018, during another polar vortex event, half of the total PJM natural gas capacity was not available to supply peak demand. And in February of 2014, during another cold snap, PJM found that 23% of total generator outages were due to interruptions of natural gas supply. In both 2018 and 2014, it was coal generation that came to the rescue, ramping up power supply when gas couldn't.
The data tells a clear story about the need for dispatchable fuel diversity, for ensuring both electricity markets and the nation's regulatory agenda recognize the ongoing importance of the coal fleet. Unfortunately, both electricity markets and regulators – at the state and federal levels – are aiming to accelerate coal plant retirements when we should be working diligently to ensure we can maintain the fuel diversity and fuel security enabled by coal generation.
The Gas Failure Stretched to MISO and ERCOT

The gas fleet's problems have hardly been confined to PJM. MISO, which oversees the grid in 15 midwestern states, was also able to keep the lights on over Christmas of this year but lost almost 50 gigawatts of generating capacity over several days, leading operators to take emergency steps to maintain reliability. Nearly half the plant failures were natural gas plants with gas supply a notable challenge. "We actually saw a lot of our gas generators ran out of gas for the evening peak" on Dec. 23, said Jason Howard, MISO's director of operations risk management.
Texas, too, has yet to solve the gas supply challenges that crippled its grid during February of 2021. During that crisis, the state's gas production tumbled by some 11 billion cubic feet. Over a five-day period, the state's gas processing capacity fell by 84%. More than half of the drop in production and processing came before the first power cuts lefts millions in the dark, a clear sign that the gas system failing was the first domino to fall for the grid failure to come.
Texas' gas system remains alarming vulnerable. This December, with the same storm that wreaked havoc over MISO and PJM, Texas' gas processing capacity fell 34% over a two-day period, once again threatening fuel supply to the state's generators.
As the gas industry angles for an even larger share of the nation's dispatchable power supply, there should be deep concern that the gas system failures we've seen are only a prelude to what could be coming.
We cannot continue to dismiss the warnings of grid reliability experts and regulators about the state of the nation's grid reliability, of the ongoing threats of blackouts and the extraordinary costs coming for consumers. And perhaps the worst thing we can do is pretend a renewable future is some panacea for the challenges facing grid operators. The intermittency of wind and solar power and the limited capacity of energy storage to fill the gulfs in renewable generation are enormous challenges that will only exacerbate the grid crisis we face today.
Maintaining dispatchable fuel diversity is an imperative as we chart a path towards our energy future. Asking consumers to pay more and more for a supply of power that is unavailable when they need it most is simply unacceptable.