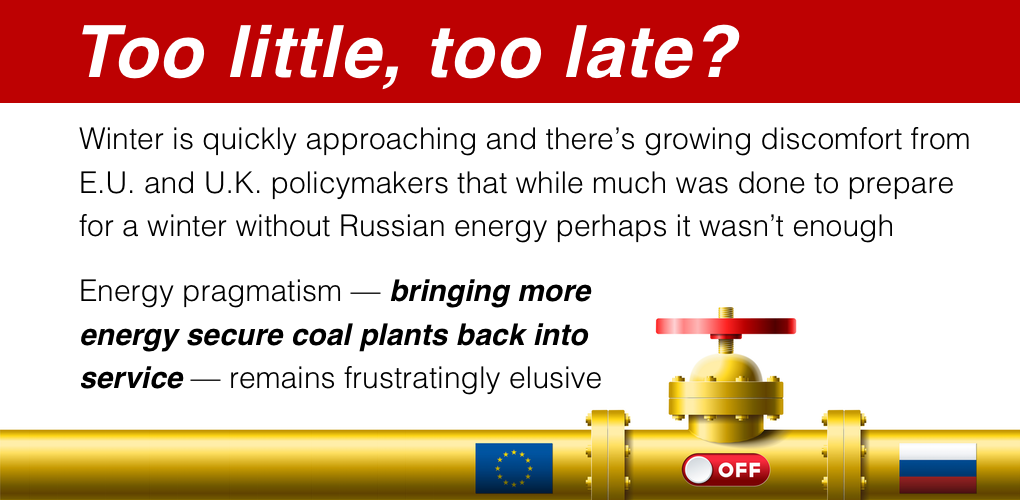 The months of warnings about energy rationing and the threat of blackouts in Europe are about to be put to the test. Winter is quickly approaching and there's growing discomfort from policymakers that while much was done to prepare for a winter without Russian energy perhaps it was too little, too late.
The European Union and the United Kingdom are both preparing for power cuts and blackouts. Much of Europe will be at the mercy of the weather with a colder than average winter making gas and power shortfalls a near certainty.
There is no debate that much has been accomplished in the pivot away from Russian energy – Europe's gas storage is now at 90% and Russian gas now only meets 7% of Europe's needs, down from 41% at the start of the war – but there's also the sobering reality that this winter isn't the tallest hurdle. According to EU Energy Commissioner Kadri Simson, "next winter will be even more difficult," as Europe tries to refill its gas storage with no Russian flows.
Despite facing an extraordinary energy crisis, Europe remains curiously several steps away from a full energy mobilization. Some coal plants have been turned back on and closure dates have been extended, but the pivot to coal and the half-hearted reembrace of nuclear power have hardly been the aggressive all-out effort many energy experts thought foundational for shoring up Europe's energy security. Germany, for example, is still debating the future of three nuclear power plants set for retirement. Britain is keeping limited coal capacity in reserve instead of ramping up coal generation to take pressure off gas supplies.
For all the hand wringing, pragmatism remains frustratingly elusive. More can be done but it's simply not.
This stubborn complacency isn't just a potential economy wrecker – with heavy industry already collapsing across the continent from crippling energy prices – but also a glaring security vulnerability, especially after the apparent sabotage of Baltic gas pipelines. Europe's continued overreliance on gas and gas infrastructure is a painfully easy and tempting target for a cornered and resentful Vladimir Putin.
Parking on the Gas Bridge

If Europe can muddle through this winter, it will be a lucky roll of the dice. And if the wheels come off, it will be utterly predictable and the product of, at best, incomplete policy and, at worst, gross negligence.
Unfortunately, energy policy negligence is having a Transatlantic moment. Europe's folly – the insistence on deconstructing dispatchable fuel diversity in favor of a dangerous overreliance on natural gas bridging to a promised, if ever more realistically elusive, renewable future – is the precise path the U.S. is stumbling down.
In fact, the Biden administration – now tasked with steering the nation through this global energy crisis – is doubling down on dismantling the nation's dispatchable fuel diversity, using the U.S. Environmental Protection Agency (EPA) as an attack dog to force utilities to accelerate coal plant retirements. While grid experts and transmission operators warn about alarming reliability consequences from EPA's agenda, and consumers are already hurting from deepening exposure to soaring natural gas prices, there's not the faintest attempt from the administration to change course.
It's remarkable intransigence even as the administration acknowledges that the pivot to renewable energy is incumbent on sweeping changes in how we permit energy infrastructure, changes that have not arrived and may not arrive for the foreseeable future. The renewable utopia the Biden administration promises is growing more distant while the administration's regulatory agenda is all but guaranteeing that the time spent on an increasingly shaky and expensive gas bridge to the future grows ever longer.
There's an obvious alternative here. Pragmatism acknowledges the value and security provided by the fuel diversity underpinned by the coal fleet. These well operating, fuel-secure plants have a deeply important role to play in responsibly getting us where we're headed. But they can only play that part if we stop treating them as a problem and recognize them as an invaluable tool.
Perhaps blackouts and energy rationing in Europe, and the public outcry sure to come, will force the policy reevaluation the Biden administration has so far failed to embrace? With the temperature dropping, we're soon to find out.