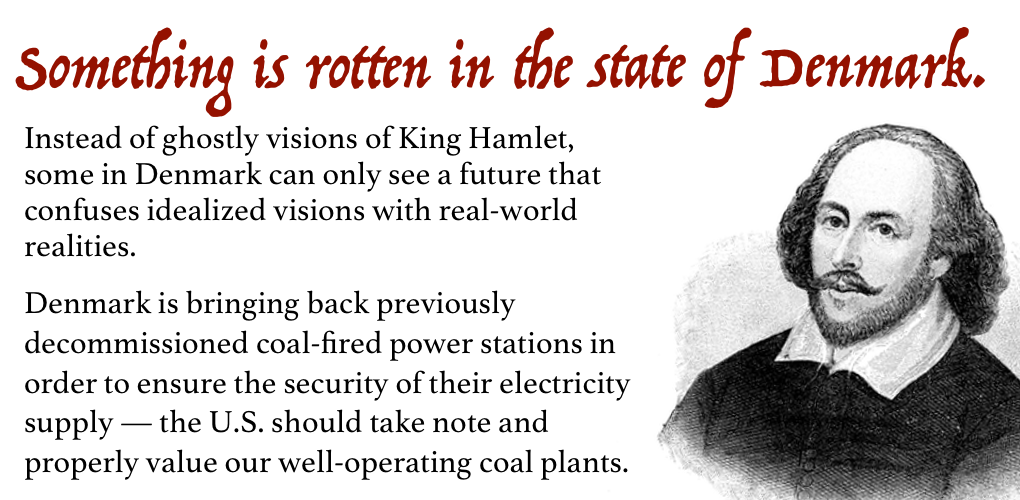 It's getting cold out there. And across energy-strapped Europe, government officials are taking note
Last week, Danish authorities ordered one of its electricity providers to continue and resume operations of power station units that use coal and oil for fuel.
And while the move is absolutely what needs to be done to keep the lights on and act responsibly with its customers' needs in mind, the provider – Ørsted – seems more concerned with public relations than power generation.
In announcing the move, Mads Nipper, Group President and CEO of Ørsted, said, "In order to ensure the security of the electricity supply, the Danish authorities have today ordered us to continue as well as resume operations at some of our oil- and coal-fired power stations."
So, to be clear, it seems that absent such an order, Ørsted – which brands itself as "A Renewable Energy Company That Takes Action" – would have… well… not taken action.
Let's deconstruct the problem.
Everywhere you look in Ørsted's materials, they prioritize a focus on becoming carbon neutral and their "vision of a world that runs entirely on green energy." But they seem to have confused an idealized vision with real-world reality. The fact that they are having to bring plants back online that were previously decommissioned is a prime example of a utility closing well-operating and much-needed coal plants before replacement generation has been built or brought online.
Further, bringing decommissioned plants back online is not a simple flip of the switch. As Ørsted notes, it "will be facing a number of technical and staffing issues that will have to be solved. Maintenance will have to be carried out at all three units to prepare them for operation during the required period. In addition, it takes highly specialised workers to operate a power station, and they must be trained in operating the specific power station."
While many would love to blame Europe's energy woes on Putin, Europe's energy crisis is approaching its third winter, and cold weather electricity capacity warnings in Europe are now commonplace every time brisk weather approaches.
In sum, they're in a pickle entirely of their own making.
Sound familiar? Here in the U.S., we've watched Europe stumble through the energy transition with all of the grace of an elephant on ice skates and yet our energy policy decisions are following the same disastrous blueprint.
Environmental Protection Agency Administrator Michael Regan has consistently discussed a comprehensive "suite of regulations" designed to compel power plants to move away from fossil fuels – namely coal – in favor of renewables. And nowhere in this relentless pursuit of a fossil-fuel-free-future does he mention the importance of credible reliability studies as part of that action. In fact, his office seems to be ignoring them.
In comments around its rule regarding the disposal of coal combustion residuals – which is expected in final form this month – nearly 60 power plants requested extensions for compliance, with many warning about the repercussions of the proposed rule on reliability.
In reading through comments from regional grid operators, they highlight the flaws with this kind of regulation-before-reality approach. In the Midwest, operators note that the rule "does not address the challenge, and impacts, of maintaining resource adequacy for the power grid" and highlight "the potential for distinct reliability challenges resulting from the rule's implementation". And heading south, the refrain is much the same, with the grid authority noting it "is concerned that the loss of thermal capacity due to the (rule) mandates could have catastrophic consequences for the electric grid" (see comments from ERCOT).
We don't have to look at the headlines from Europe to know what lies ahead for electricity reliability in the U.S. if policymakers continue to ignore the warning signs – our own electricity authorities have told us time and again.
As we pull out our sweaters and prepare for winter, it's important to note that it's not too late for smart, reliability-focused policy that is grounded in reality to prevail.