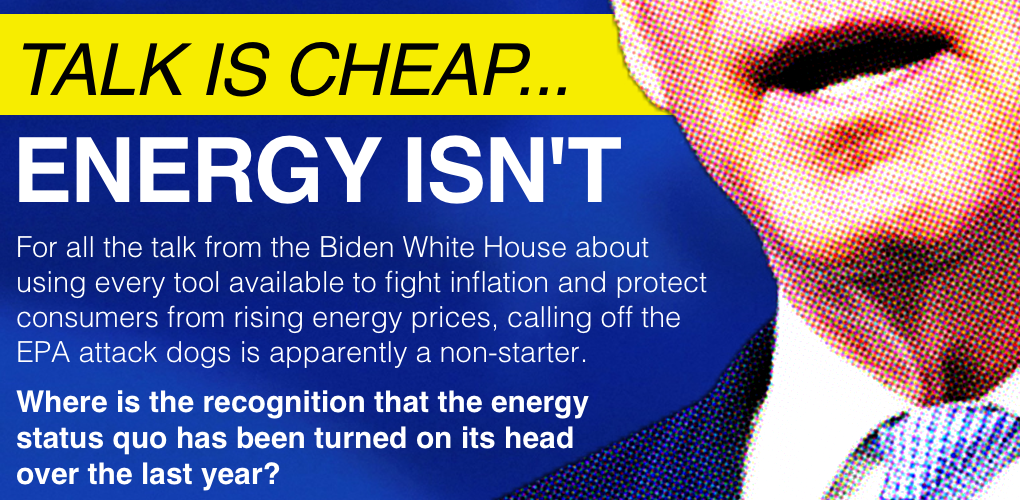 What changes over the course of four years? Not much if you compare President Biden's Environmental Protection Agency (EPA) to its predecessor from the Obama era. Team Biden came into office determined to pick up right where the Obama EPA had left off, hellbent on using every tool available to dismantle the domestic coal fleet. EPA administrator Regan hasn't tried to hide it, even boasting of a "suite" of rulemakings his staff is going to use to push the utility industry to accelerate plant retirements.
We now know – thanks to reporting from E&E News – that the EPA was briefing the White House about this strategy as early as February of 2021, almost immediately after the inauguration. The plan was to hedge against legal questions about EPA authority to remake the nation's fuel mix through a carbon-cutting program like the Clean Power Plan and rather stretch a range of existing authorities to impose rules so aggressive and costly power plant owners would be forced to close plants rather than try and comply with environmental controls.
In a sane world, it's just the type of plan that would be a relic of a different time. A time stamp, if you will, of a world before a global energy crisis, soaring natural gas prices, energy-driven inflation and collapsing grid reliability. Yet, the EPA has not waivered. There isn't even a hint of a rethink. No, that plan – laid out in a remarkably different world and energy reality – is now in full swing.
From the Coal Combustion Residuals Rule to the Cross-State Air Pollution Rule (CSAPR), EPA is aggressively pursuing its anti-coal agenda with dozens of near-immediate plant closures on the horizon. By the agency's own calculations, the CSAPR proposal alone would result in more power plant retirements than any previous EPA regulation.
Fighting Inflation?

For all the talk from the Biden White House about fighting inflation and protecting consumers from rising energy prices, calling off the EPA attack dogs is apparently a non-starter. Where is the recognition that the energy status quo has been turned on its head over the last year?
Cheap natural gas that defined the first decade of the shale era is gone. Natural gas prices surged to 14-year highs this summer and remain more than double what they were at the beginning of the pandemic. Thanks to record liquified natural gas exports, the U.S. gas market is now influenced by prices overseas – a new dynamic that's here to stay, especially with Europe still struggling to pivot away from Russian energy.
While the Europeans have embraced some energy pragmatism by reopening shuttered coal plants, extending the lives of others and ramping up coal generation to help navigate the rough seas ahead, the same energy policy rethink is glaringly absent here. Admittedly, the crisis Europe faces is sharper but the pain felt by U.S. consumers – especially those who were already struggling to pay utility bills before surging inflation – is severe. More than 20 million American households are behind on their utility bills, a number likely to only grow in the months ahead.
"Too Fast and Down the Wrong Path"

Eroding grid reliability is also reason enough for a policy pivot. It's now abundantly clear that the haphazard approach we're currently taking to the energy transition is at best irresponsible. Regional grids across the country are now facing capacity shortfalls with the threat of blackouts now a deep concern this winter in New England after California and Texas barely skirted through peak summer demand.
Forcing essential coal capacity off the grid – especially at the speed and scale EPA is proposing – is the exact opposite of what the nation's energy systems need. The nation's reliability experts are deeply concerned. John Moura, director of reliability assessment and performance analysis at the North American Electricity Reliability Corporation (NERC), has said, "there's clear, objective, conclusive data indicating that the pace of our great transformation is a bit out of sync with the underlying realities and the physics of the system."
Utilities are also speaking up. Recently, David Tudor, chief executive of Associated Electric Cooperative Inc., which supplies power to 51 rural distribution cooperatives serving 2 million people in Missouri, Iowa and Oklahoma, told Missouri regulators that closing coal plants is "dumb." He continued, "Our view is that most of the utilities in the United States are going too fast and going down the wrong path."
"It's not that we're not willing" to shut down coal plants, he said. "We're just saying it's dumb, and we don't do dumb things. I don't see any reason to get rid of something that works if we don't have something to replace it." Tudor explained that the pace of coal retirements is out-of-sync with additions of reliable alternatives, pointing to ongoing permitting and siting issues throttling the addition of wind and solar power and the enabling transmission infrastructure to serve it.
He warned of troubling reliability issues, saying, "We see a significant problem occurring sometime between now and 2028… I don't want to be in front of Congress explaining why people died because we shut down coal plants."
The explaining shouldn't be needed at all, but EPA will need to answer those questions if they come. It's past time for the Biden administration to recognize the U.S. needs a new path forward that puts energy affordability and grid reliability first. The obstinance to refuse to embrace pragmatism and change course is negligence of the worst kind.