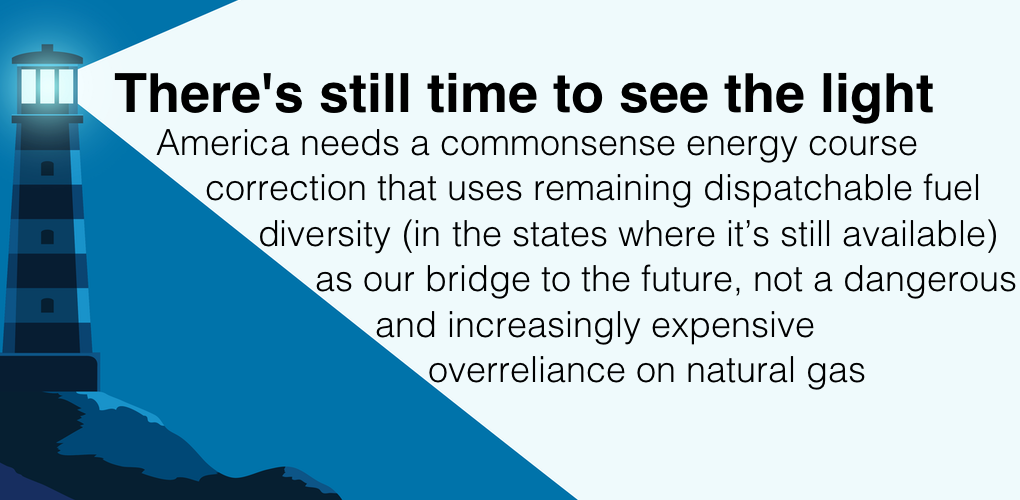 Dispatchable fuel diversity has long provided a shield to electricity consumers from fuel price spikes. But that optionality is eroding in much of the U.S. – or is already gone – as the coal fleet is pushed off the grid. Years of warnings about the potential pain to consumers should natural gas prices spike, and coal no longer be available as an alternative, have become a brutally expensive reality
U.S. natural gas prices have surged, quadrupling in just two years and spiking to a 14-year high this summer. The era of dirt-cheap U.S. gas is over and consumers are now locked into a far more expensive future.
As E&E Newsobserved, while natural gas has been described as a bridge to the energy future, "The U.S. is now stuck in the middle of that bridge, unable to tap the full promise of clean energy, nor turn back to coal after a decade of power plant retirements. The result is an inflexible dependence on gas, regardless of how much it costs."
With U.S. coal generating capacity nearly halved in a decade, and logistics challenges hampering coal delivery to the remaining fleet, utilities aren't able to ramp up coal power even with natural gas prices soaring. They're instead trying to build up coal stocks and conserve for the winter ahead. Coal plants are used as a reliability backstop during bitter cold, often providing the lion's share of power when gas supplies are diverted to heating.
While natural gas prices and electricity markets are sending neon-bright signals to use less gas, there isn't an alternative, and electricity prices are now on a steep upward trajectory. The U.S. consumer-price index for electricity in August climbed 15.8% from August 2021, the biggest such 12-month increase in 40 years.
Wholesale electricity prices in states most dependent on natural gas are racing upwards even faster and higher. In New England and New York, which have eliminated their coal fleets and are struggling to bring renewable capacity online, electricity prices are projected to jump 96 percent and 124 percent, respectively.
These kinds of price spikes are just the type of burden smart policy can help avoid. But if the missteps that have led New England and New York to their overreliance on gas seem like an anomaly, or something policymakers are learning from and working to navigate around, think again. The loss of dispatchable fuel diversity – the rush away from coal to either greater reliance on gas or to a renewable future that hasn't yet arrived – is only accelerating.
From Bad to Worse

The U.S. Environmental Protection Agency (EPA) is charging forward with fervor into an energy affordability and reliability disaster with a regulatory agenda intent on supercharging coal plant closures. EPA Administrator Michael Regan has boasted about bringing a "suite" of regulations down upon on the utility industry that will provide, "a future of tremendous economic pressure" on coal plants.
Much of the remaining fleet could be forced off the grid nearly overnight—far faster than comparable renewable generation and the required expansion of the nation's transmission infrastructure can be stood up in its place. Even putting aside the extraordinary threat such an outcome would have on the nation's grid reliability, the result will be ever-greater reliance on an overstretched natural gas system and exploding costs for consumers.
The window is closing for a commonsense course correction that uses remaining dispatchable fuel diversity – in the states where it's still available – as our bridge to the future, not a dangerous and increasingly expensive overreliance on natural gas. As the nation grapples with the dual challenges of eroding grid reliability and soaring energy costs, maintaining the remaining coal fleet, and pushing back against EPA's regulatory agenda, is just the place to start to ensure today's challenges don't become tomorrow's self-inflicted nightmare.