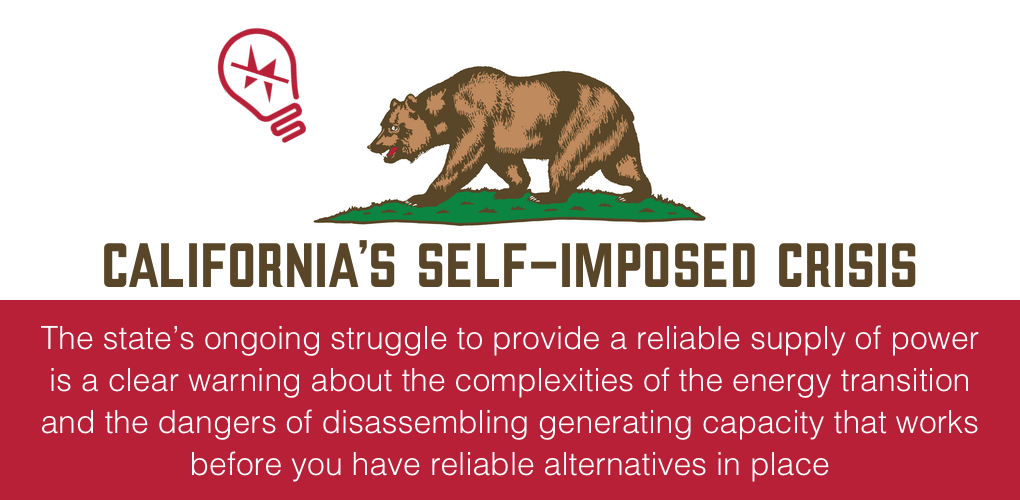 Will California – the global tech capital – plunge into darkness? Broiling heat has once again pushed California's shaky grid to the limit. Record power demand has threatened to eclipse available supply with utilities, the grid operator and the governor all pleading for citizens and businesses to curb demand to keep rolling blackouts at bay.
Just two summers ago hundreds of thousands of Californians were left in the dark. Despite aggressive efforts to fortify the grid, the situation remains perilous. At one point Tuesday morning, the state's grid operator projected California could fall 5,000 MW short of needed capacity by early evening.
California's ongoing struggle to provide a reliable supply of power has too many dynamics at play to be chalked up to a single cause, but the overarching story is a clear warning about the complexities of the energy transition and the dangers of disassembling generating capacity that works before you have reliable alternatives in place.
The state's self-imposed sprint to a net-zero future has created enormous challenges. While power demand is growing, California simply doesn't have the tools it once did to manage peak power demand. As The Sacramento Beereported, "California's power portfolio has changed considerably in the past 15 years, creating new areas of vulnerability. In particular, California's increasing reliance on solar power and other renewable sources has made the grid susceptible to blackouts in the early evening, when solar panels go dark but the weather stays hot."
Following the rolling blackouts of 2020, a California Assemblyman remarked, "today we have a grid that is increasingly expensive, unreliable and unavailable when the people of California need it the most." That biting description unfortunately remains as accurate today as it was then. The grid remains a mess while California's notoriously expensive electricity has only jumped further in price. Pacific Gas and Electric, the state's largest utility, told customers to expect bills to be 20 percent higher this summer than last.
California continues to invest in and add variable generating capacity that simply is of no use when the sun sets and power demand remains sky-high during baking heat. Worse still, those variable capacity additions are pushing aside the dispatchable capacity needed to keep the lights on.
New grid-scale battery additions are beginning to help but are hardly a cure-all. Not only do they provide just a few hours of energy storage, they also aren't providing the reliability buffer some proponents hoped. In fact, during this week's crisis, they started selling power to respond to price signals instead of maximizing reliability. In other words, the batteries were discharging power during peak solar production because it was profitable, only to be dead during peak demand in the evening when solar generation was no longer available.
Proceed with Caution

The North American Electricity Reliability Corporation (NERC) has again and again warned that California – and now much of the country – is at growing risk of blackouts and grid unreliability. In NERC's view, the pace of the national transition – and certainly California's ultra-aggressive approach – is simply out-of-sync with the on-the-ground reality of what it takes to keep the lights on.
NERC CEO Jim Robb recently pleaded for a more prudent approach that better recognizes how essential existing dispatchable generation remains to grid reliability. "We need to retain the existing resources as long as we don't have an alternative. That's the issue," he told Public Utilities Fortnightly. "My first bit of advice is to… manage the pace of change. The second bit of advice we give is don't underinvest in bridge fuel or the bridge issues to get us from where we are to where we want to go."
And there's the rub. Despite warnings from regulators and ever-mounting evidence of a national grid crisis, very little is being done to ensure the fuel sources and generating capacity that underpin grid reliability aren't pushed off the grid. In fact, the recently passed Inflation Reduction Act and a suite of U.S. Environmental Protection Agency regulations targeting the coal fleet are poised to make the grid crisis far worse.
California has done us all a great service. It has time and again labeled itself an energy pioneer, but the path it has trailblazed comes with a giant "do not enter" sign that needs its own spot in the Hollywood hills. We know clearly what won't work, what's irresponsible. If we're to avoid some of California's worst mistakes, we must maintain a robust bridge to the future to underpin grid reliability. That begins with ensuring that existing dispatchable capacity isn't pushed aside by bad policy and a regulatory agenda untethered from on-the-ground reality.