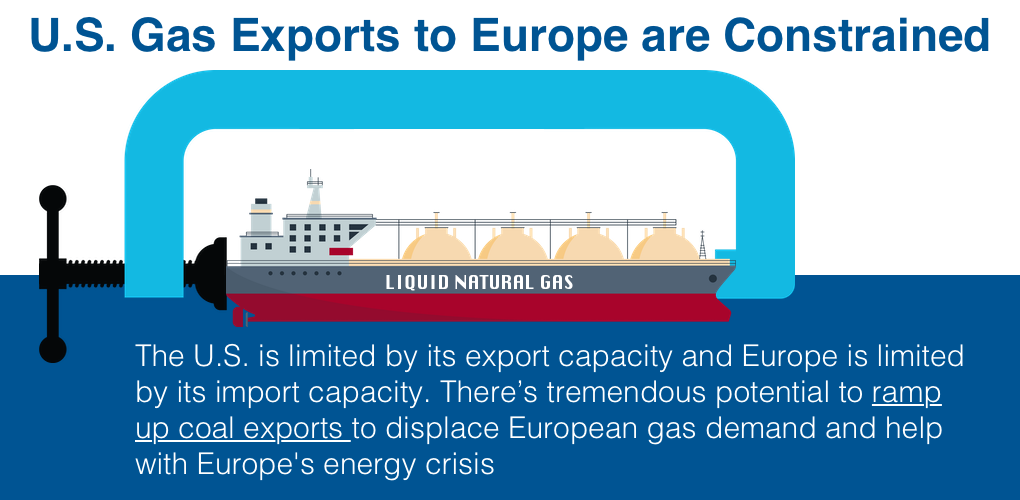 The European energy crisis continues to deepen, and European leaders are now scrambling to break the link between the cost of natural gas and the price of electricity. Natural gas prices are 12 times higher than at the start of 2021 and power prices have exploded in tandem. The cost to consumers is enormous and there's mounting concern that despite paying through the nose, Europe won't be able to keep the lights on and homes warm this winter.
The U.S. has signaled a redoubling of efforts to help our allies weather the storm. "We're concerned about potential energy shortages in Europe as the winter approaches," National Security Council spokesman John Kirby said Monday. "This is something we're going to stay focused on as the fall turns to winter, and we'll be latched up with allies and partners to try to do what we can to alleviate any shortages coming through."
"Do what we can" is interesting phrasing. While the U.S. formed a task force with the E.U. in March to help diversify Europe's LNG supplies and has promised to surge U.S. gas to Europe, little or nothing has been said about coal. And that's a glaring missed opportunity since energy experts in Europe and the U.S. point to coal as critically important to helping Europe slash its gas demand.
In fact, experts at Princeton found in a recent analysis that "the most important near-term role for the United States in any plan to eliminate Europe's reliance on Russia gas is as a supplier of coal." They also found that securing the needed supply for Europe – an amount equivalent to 3-6 percent of the global thermal coal trade – "will likely depend on concerted action by the United States and other European allies." That concerted effort simply has not materialized.
Energy Ventures Analysis, a leading energy consultancy, expects European coal demand to rise 40 percent this year compared to 2021. The Europeans are scrambling to reopen shuttered coal capacity and ramp up supply. U.S. thermal coal exports to Europe have doubled through the first half of this year, mainly flowing out of the Illinois Basin through the port of New Orleans, but this uptick – complemented by increased imports from South America, South Africa and other producing regions – simply does not match the surge needed to plug the enormous holes made by the pivot away from Russian energy.
As the Princeton team rightly observed, markets alone can't address this enormous energy security challenge. While further U.S. gas exports are constrained by available export capacity, and the import capacity in Europe, the potential to ramp up coal exports to displace European gas demand is far greater.
A Proposed Path Forward

The U.S. and our European allies should immediately stand up a coal task force and work to develop a suite of solutions to get increased U.S. coal production to Europe with the same urgency that they have worked to mobilize capital and reorient gas trade flows. There's not a moment to lose because while the potential exists, there are considerable chokepoints that need government action to clear.
Should the Biden administration put taboos aside, embrace pragmatism and lean into the coal solution, it could take immediate steps to alleviate logistics pinch points in U.S. railways, giving priority to U.S. coal (just as the Germans have already done), help expand port handling capacity, tackle labor shortages and ensure capital is available to U.S. producers to expand production.
While domestic producers are trying to respond to strong market signals, the loss of capacity during the sharp downturn of the pandemic, coupled with eroding long-term domestic demand – exacerbated by misguided energy and regulatory policy – has constrained the ability of producers to get more coal to market when it's desperately needed. The industry needs certainty to further expand production, help alleviate tight domestic market conditions and ramp up supply to Europe. The U.S. government has the tools to provide that certainty. It's past time to think creatively.