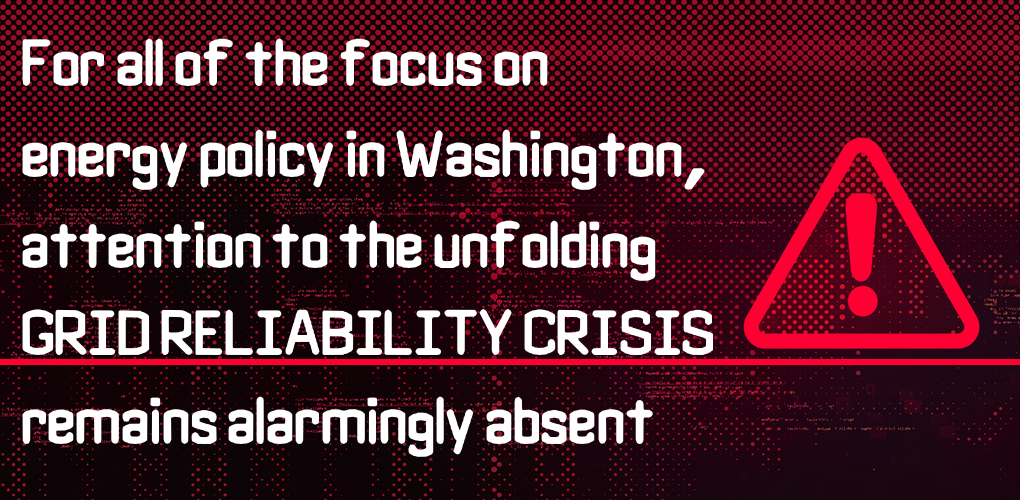 For all of the focus on energy policy in Washington, attention to the unfolding grid reliability crisis remains alarmingly absent. In fact, some of the principal causes of the crisis are receiving fresh reinforcement while substantive efforts to address the forces weakening the nation's supply of power have yet to materialize.
Even as grid regulators and independent system operators continue to raise the alarm over eroding reliability performance, little is happening to address its root causes. Even worse, the newly proposed Inflation Reduction Act extends and expands existing renewable electricity tax credits. The inevitable result will be to accelerate coal plant closures in favor of intermittent power sources, even as new reliability warnings, collapsing reserve margins and rolling blackouts become endemic. Reliable, dispatchable generation is coming off the grid far faster than reliable alternatives are replacing it.
John Moura, director of reliability assessment and performance analysis at the North American Electricity Reliability Corporation (NERC), recently said, "there's clear, objective, conclusive data indicating that the pace of our great transformation is a bit out of sync with the underlying realities and the physics of the system."
Simply accelerating intermittent capacity deployment isn't a solution. In fact, it's likely to exacerbate the problem as long as market reform to better value the dispatchable, fuel-secure capacity that does the heavy lifting during periods of peak demand remains glaringly absent. Further coal plant retirements – potentially supercharged by the U.S. Environmental Protection Agency's (EPA) regulatory agenda – could push the grid reliability challenge from alarming to catastrophic.
EPA Administrator Regan is lining up a suite of regulations to apply pressure on plant owners. From the Coal Combustion Residuals Rule to the Cross-State Air Pollution Rule (CSAPR), the effect will be dozens of near-immediate plant closures. In recent comments, utilities and even some labor unions noted to EPA that by the agency's own calculations, the CSAPR proposal alone would result in more power plant retirements than any previous EPA regulation.
For the regulators charged with maintaining reliability, a bad situation seems on the verge of unraveling. When the Federal Energy Regulatory Commission (FERC) was presented with findings that roughly two-thirds of the country faces heightened risks of power outages this summer, Commissioner James Danly pressed the need for reform, saying, "I don't think that our markets are creating the correct pricing to ensure the orderly entry and exit of the resources that are required."
This was not his first warning over market failure to adequately recognize the limitations of intermittent capacity and the need for better market mechanisms to keep dispatchable generation operating. Last year, he wrote, "another increasingly serious problem is that intermittent resources largely are planned for, operated, and compensated as if they provide reliability benefits that they, in fact, are incapable of providing. Thus the term 'intermittent.' The bulk power markets should treat intermittent resources as they actually perform, not as we hope them to."
NERC has also been clear about what's needed. Markets must be reformed to ensure existing, dispatchable generation can be maintained even as intermittent capacity is added to the grid. According to NERC, maintaining reliability in the decade ahead must include developing policies that "maintain a sustainable and diverse generation mix." NERC has been particularly vocal about the need to move away from capacity-based estimates to calculate resource adequacy. In other words, as Commissioner Danly eloquently wrote, treat intermittent resources as they actually perform, not as we hope them to.
The clock continues to tick. Rational energy policy must grapple with the unfolding reliability crisis driven by the haphazard and even reckless way we're taking apart the nation's dispatchable generation. The energy transition is glaringly in need of a steady hand to ensure we can maintain the foundation of our reliable supply of power as we work to build the grid of tomorrow. Disassembling what works – as we are doing now – far faster than we're implementing reliable alternatives is a disaster of our own making.