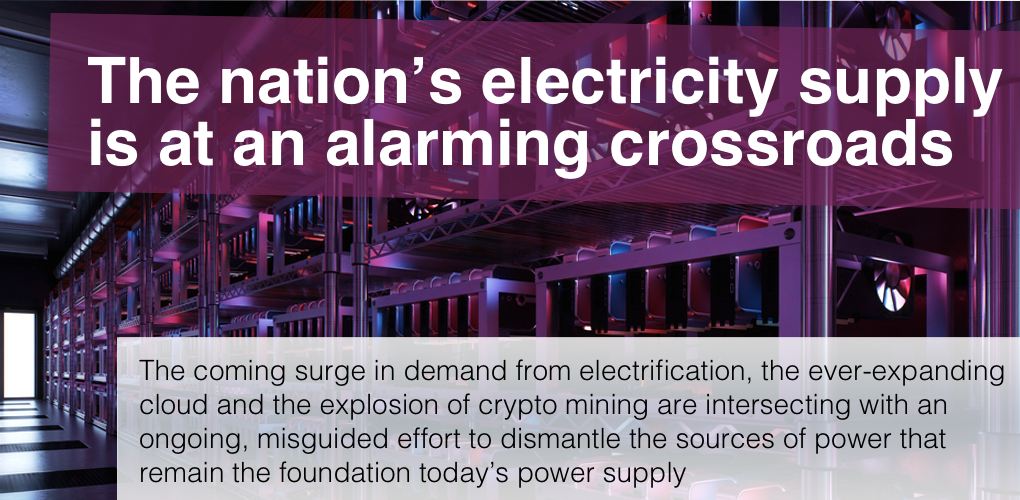 A new energy era is here. The shale gas glut and years of flat power demand have come to an abrupt end. Those two constants of the past decade have been replaced by soaring gas prices and the return of rising power demand driven by the data revolution and electrification.
Natural gas prices are four times what they were pre-pandemic, and with gas demand stronger than ever, buoyed by ever-rising exports, price relief is nowhere to be seen. Power demand, too, is already beginning to surge in some regions of the country where economic activity is hottest. Increasingly rapid electric vehicle (EV) adoption and almost unbelievable power demand from data centers and crypto mining are wind in the sails of rapid change for the power sector.
The new dynamics of this nascent energy era are putting a spotlight on the expanding challenges of the energy transition. Maintaining reliable and affordable power in the face of upended commodity markets, the inherent complexity of relying on intermittent sources of power, and the return of rising electricity demand will be more difficult than ever.
Rising Demand from Electrification

The Biden administration has made its intentions about a rapid pivot to EVs clear, aiming for 50% of car sales to be electric by the close of the decade. Billions for battery manufacturing, charging networks and adoption incentives, coupled with stronger than expected consumer demand, have suddenly made that lofty goal seem potentially within reach. Waitlists for new EV-models like the Ford F-150 and Tesla Cybertruck, as well as tens-of-billions in industry investment, have put to bed questions about if an electric future will happen and instead left utilities scrambling to figure out how fast.
Efforts are underway to grapple with what electrification will mean for the grid. A senior modeling engineer at the National Renewable Energy Laboratory told the Federal Energy Regulatory Commission that electrification will require "a doubling of generation capacity in all regions by 2050."
A doubling of generating capacity in less than 30 years is astonishing. In some regions, where EV adoption is moving fastest, it could come far sooner. Yet, despite these titanic predictions, electrification-driven power demand is just one piece of this new growth era. Big data and crypto are wildcards already propelling tremendous load growth in some states.
The Big Data and Crypto Wildcard

Mark Mills, author and fellow at the Manhattan Institute, observed in 2020 that, "more square feet of data centers have been built in the past five years than during the entire prior decade." He also found that the number of hyperscale data centers – buildings that cover one million square feet or more, equivalent to hyper-tall skyscrapers – is exploding. While there are just 50 hyper-tall buildings in the world, there are now 500 and counting hyperscale data centers drawing power demand greater than 6,000 skyscrapers.
The explosion of cloud traffic and the datacenters to service it, with their voracious energy appetite, is being driven by the relentless expansion of AI, video streaming and virtual reality, as well as an ever-more connected and data-hungry global population. None of these demand drivers are showing any signs of letting up.
If the energy impact of the explosion of big data has been eye-opening, the energy consumption of crypto mining and its overnight impact has left experts' struggling to keep up.
Consider the electricity demand projected for just the Texas grid from crypto. The Texas grid operator, the Electricity Reliability Council of Texas, expects 6 GW of new power demand from crypto miners by mid-2023, the equivalent of what's needed for 1.2 million homes. And as Bloomberg reported, it's "the tip of the iceberg." Crypto miners representing 17 GW of demand have inquired about plugging into Texas' grid – akin to the power load of two and a half New York Cities. Adding that much crypto mining to the grid would increase peak demand on the system by 20%. Experts are rightfully concerned.
Texas was, after all, home to the worst grid failure in recent memory in February 2021 when millions of Texans suffered a days-long blackout during freezing temperatures that left 246 people dead and did billions of dollars in damage.
The reliability and affordability of the nation's electricity supply is at an alarming crossroads. The coming surge in power demand from electrification and the dual phenomenon of the ever-expanding cloud and the explosion of crypto mining are intersecting with an ongoing, misguided effort to dismantle the sources of power that remain the foundation for today's power supply. With shrinking reserve margins and growing demand, there's even less room for error.
With the complexities of the energy transition now compounded with unprecedented potential demand growth, soaring natural gas prices and a global energy crisis, policymakers – and regulators – need to reexamine the role the nation's coal fleet can play in getting us to our energy future. It's increasingly clear that dismantling foundational pieces of today's grid before having reliable, affordable alternatives in place is a disaster of our own making we absolutely can and should avoid.