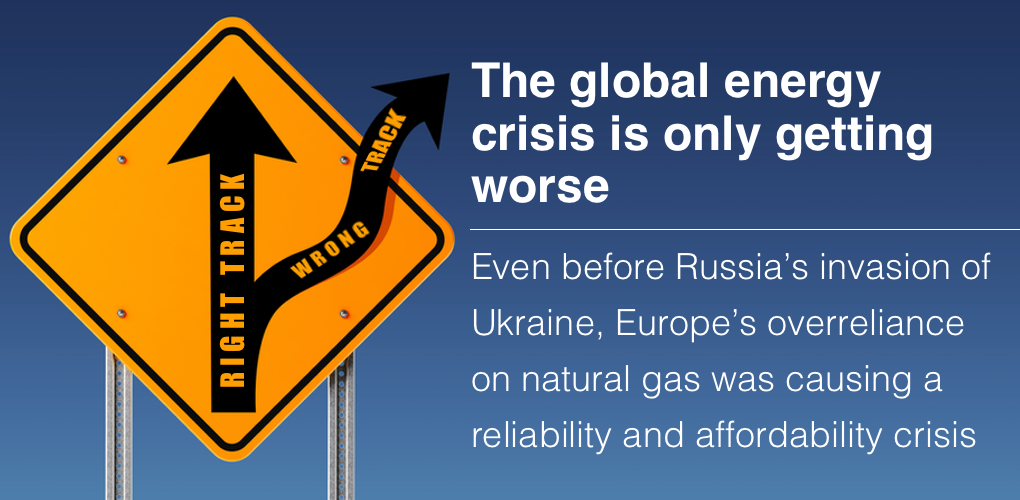 Just when you think the global energy crisis has reached rock bottom, it seems to find new depths. March will go down in the record books as the most expensive month for power prices in European history. And while the acute nature of the current pain stems from Russia's weaponization of its energy resources, it's important to recall that Europe's energy woes started well before the tragedy we're seeing unfold in Ukraine.
Last week, new research found that the number of Brits who live in fuel poverty will double this year following a decision to increase the country's energy price cap by 54%, the effect of which will be a more than $900 jump in energy bills per household this year.
With all signs flashing red that the UK's electricity strategy is putting outsized burdens on its citizens, instead of changing course, a spokesman for the prime minister doubled down and reiterated its plans to do away with utilizing coal for electricity by next October.
In Germany – another country that has shunned coal in favor of a deep natural gas dependency – the situation is equally concerning. As tensions with Russia continue to put the country's main source of natural gas at risk, Germany's regulator is reportedly planning for the possibility of imposing gas rations. Reuters reported over the weekend that Germans are racing for supplies of wood and coal even as temperatures are warming because the future of natural gas availability is murky and, as one German is quoted, "People want security, because freezing isn't fun."
Those are the inevitable results of fuel targeting – removing well-operating, fuel secure assets in favor of overreliance on any one fuel. Those consequences must also be considered as we plan for global solutions to make progress on emissions reductions.
The Intergovernmental Panel on Climate Change (IPCC) this week released another report calling for "immediate and deep emissions reductions across all sectors." While the report makes the repeated case for fuel targeting that is a signature of the IPCC, barely a page goes by in this 3,600+ page report without a mention of the need for carbon capture and storage (CCS). And it's clear that CCS needs vastly more support.
The world's electric grids are transitioning to include more renewables and are doing so at a rapid place. Last week, climate think tank Ember released a report finding that solar and wind generation grew to more than 10% of global electricity generation last year. At the same time, however, electricity demand across the globe skyrocketed from 2020 to 2021 – which the report notes is the equivalent of adding a new India to the world's electricity demand. The new installation of renewables is energy addition, not replacement. And as the situation in Europe shows, there is no denying the overwhelming importance of fossil fuels to keeping energy affordable and reliable as more renewables are added to the mix.
These are facts that must inform conversations around climate and must be incorporated into U.S. planning for the future of our grid. We've seen what failed policy looks like and need not repeat missteps. Coal has a critical role to play in helping navigate a responsible energy transition that doesn't sacrifice affordability, reliability or security. Targeting the fuels that are still keeping the lights on in much of the world, with no plan for what happens when the wind stops blowing, the sun stops shining and natural gas prices are sky high, is a road map for the exorbitant energy prices we are now seeing, stalled manufacturing, and warnings of fuel rations or blackouts.
Despite the naysayers who stand firmly opposed to CCS, it remains an active and vibrant part of the climate conversation because the world simply can't achieve vast emissions reductions without it. Indeed, the International Energy Agency's Executive Director Fatih Birol has called carbon capture the "most vital" technology to reducing emissions and a wide range of energy experts agree.
U.S. innovation will be absolutely essential to building a realistic, achievable path to globally replicable and effective emissions reduction while ensuring the world has the tools and the diverse fuels it needs to maintain affordable and reliable energy. Advancing and deploying CCS technologies at scale for the fuels and processes that are the irreplaceable foundation for the global economy is an imperative.