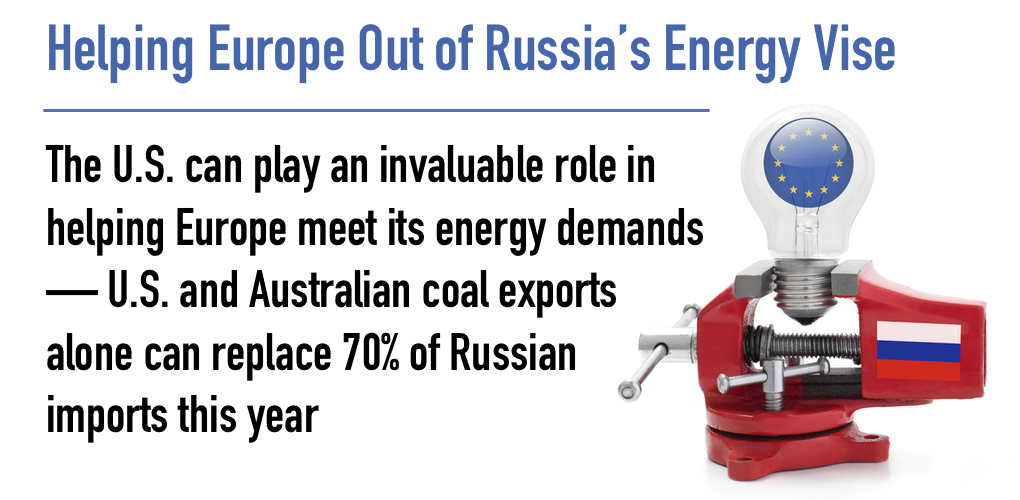 Just a week ago, sanctioning Russian energy seemed out of reach. Not anymore. On Tuesday, President Biden announced a ban on imports of Russian oil, natural gas and coal to the U.S. The United Kingdom is phasing out Russian oil imports this year and moving to ban Russian gas. And the European Union – alarmingly beholden to Russian energy – is announcing radical plans to slash its import dependence. Seemingly overnight, energy security has come racing back to the forefront of the global energy conversation in a way not seen since the oil crises of the 1970s.
While media attention has largely focused on the U.S. import ban and what it's likely to mean for U.S. consumers at the gas pump, the main stage remains Europe's reliance on Russian energy and what the U.S. can do to help defang Russia's energy weapon.
Russia doesn't have to turn off the supply of energy to Europe to cause excruciating pain. The threat of doing so in an already tight market is sending European energy prices to eye-watering heights. Oil is receiving the most attention state-side but it's the price of electricity and natural gas in Europe driving the crisis.
According to Bloomberg, "Short-term power prices on Monday surged above 550 euros ($597.46) per megawatt hour in some countries, or 1,000% higher than pre-crisis levels…. The cost of natural gas in the wholesale market rose to a record of 345 euros per megawatt hour. A year ago, the same gas sold for as little as 15 euros."
Helping Europe Out of Russia's Energy Vise

After spending the last decade deepening its reliance on Russian energy, Europe is now trying to de-Russify its supply nearly overnight. The E.U. hopes to cut its imports of Russian gas by two thirds by next winter. Russian gas imports make up 40% of Europe's supply. This about face is going to be an extraordinary undertaking.
Europe's plan is to double down on the pivot to renewable energy and efficiency but it's a plan now tempered with pragmatism and the recognition of the invaluable role coal can play in keeping the lights on. The European Commission's Executive Vice President Frans Timmermans – known as the E.U.'s Green Deal chief – has endorsed using coal as an alternative to Russian gas. "There are no taboos in this situation," he said.
Unfortunately, Europe also meets half of its coal demand with Russian coal. The hole Europe has dug for itself is deep, but the U.S. can play an invaluable role in helping Europe extricate itself from Russia's energy vise. According to one estimate from Euracoal, a trade group for Europe's coal industry, U.S. and Australian coal exports alone can replace 70% of Russian imports this year.
Responding to President Biden's announcement of the ban on Russian energy imports, the National Mining's Association's president and CEO Rich Nolan said, "Russia's invasion of Ukraine has been a wakeup call about the need to reprioritize fuel security and diversity…. As the nation with the world's largest coal reserves, the U.S. can – and should – play a critical role in helping meet Europe's energy and steelmaking needs in the months and years ahead." He continued, "Private industry and policymakers should work hand-in-hand to ramp up domestic production and tackle supply chain barriers that stand in the way, including challenges with our nation's railways and ports… we must stop underinvesting in and targeting the fuels that remain the foundation of the global energy system, and prioritize affordable, reliable and secure energy."
Pursue Energy Abundance

U.S. coal – along with U.S. natural gas – are likely to be essential to ensuring Europe has the fuel it needs while denying Russia the economic resources to wage war. High global prices will drive coal and gas cargoes to Europe but there's work the administration and Congress can do to help tackle supply chain challenges and ensure additional production gets to market. The era of treating American coal, oil and gas producers as adversaries must come to an end.
The world desperately needs supplies of these fuels that meet 80% of global energy consumption and it needs production and supply from responsible sources.
Ceding the oil, gas and coal marketplace to geopolitical rivals, petrostates and bad actors was never responsible energy policy. We must ditch the tired, dangerous politics of keep-it-in-the ground thinking and reembrace U.S. energy abundance of all kinds. We must be capable of pursuing an energy transition that ensures adequate supplies of the energy resources our economy and national security are built upon while also working to develop and deploy the energy technologies of tomorrow. The sooner we recognize these ideas aren't in conflict but rather complements, the better off American energy policy will be.