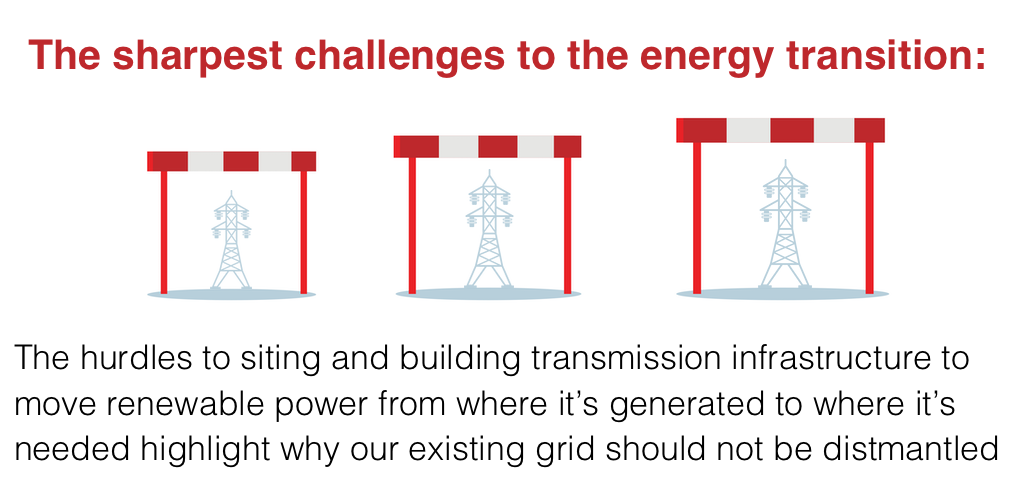 A new study designed to show that a future in Texas without coal is within reach in fact shows just the opposite. Like other studies and models before it, renewable boosters have an interesting propensity to bury the lede. In this case, a study about Texas' vast wind and solar potential in fact highlights one of the sharpest challenges to the energy transition: the hurdles to siting and building transmission infrastructure to move renewable power from where it's generated to where it's needed.
Having windy and sunny conditions, and having them occur in a complimentary fashion, is well and good but the leap from having those conditions to providing affordable and reliable power is a vast one. That's why a study titled, "Wind, solar could replace coal power in Texas," produces reporting like this from Fortune: "But there is a big catch: The state's energy grid is a mess, and it is standing in the way of a faster transition… without an extensive and up-to-date network of transmission lines to connect the electricity generated at these farms to cities, Texas's energy transition will have to wait."
Despite Congress' efforts to address transmission permitting challenges and bottlenecks in last year's infrastructure bill, the obstacles to solving the transmission challenge remain immense.
Even in Texas, where energy infrastructure is ubiquitous, building new transmission lines is happening on a glacial timescale. Take the Southern Cross transmission line in Texas, heralded as a rare transmission success story. The 400-mile, $2 billion power line that will connect Texas to the Southeast is on track to begin construction next year with the hope of entering service in 2026. Should the line actually be completed (hardly a sure thing), it will have taken 17 years from its inception to get there.
Opposition to building new transmission or even siting renewable projects has become such a glaring challenge it's all but derailing the pivot to renewable power in some regions of the country like New England. "I'm really worried about how difficult we've made it in New England to build anything," Cheryl LaFleur, a former member of the Federal Energy Regulatory Commission who now chairs ISO New England's board of directors, toldThe Boston Globe. "If we're going to use more renewables, we actually have to site them and build them…."
Computer Models vs. On-the-Ground Reality

Reports like this one out of Texas can generate sensational headlines, but they're part of a brand of irresponsible promotion that is leading to bad energy policy and exacerbating the nation's reliability crisis. There's overindulgence in what is possible in a computer model or in a lab and then there's the on-the-ground reality for those faced with keeping the lights on.
If policymakers and grid operators – and hopefully a few academics – have learned anything from the reliability crises in Texas and California and the energy security challenges now squeezing Europe, it's that taking apart existing energy infrastructure before the grid of tomorrow is ready or feasible is a terrible mistake.
There needs to be matter-of-fact recognition that ever greater reliance on variable power is adding stress and complexity to the grid that shouldn't be downplayed or dismissed. As Tom Fallgren, vice president of generation at Public Service Company of New Mexico, recently toldThe Wall Street Journal, "We used to do resource planning on a spreadsheet. It used to be very simple. The math is just astronomically more complicated today."
Utilities, grid operators and regulators are increasingly worried about grid reliability and a lack of focus on it. Curt Morgan, CEO of Vistra Corp., which operates the nation's largest fleet of merchant power plants and has a considerable footprint in Texas, told The Wall Street Journal, "Everything is tied to having electricity, and yet we're not focusing on the reliability of the grid. That's absurd, and that's frightening. There's such an emotional drive to get where we want to get on climate change, which I understand, but we can't throw out the idea of having a reliable grid."
And a reliable grid – in Texas and dozens of other states – continues to count on the fuel security and reliability provided by coal generation. The ongoing fallacy that coal generation can be easily pushed aside or easily replaced with variable power seems to be a driving force behind why our reliability challenges are getting worse, not better. Variable sources of power, dependent on the cooperation of the weather, present a radically different value proposition than a fuel-secure plant that can produce electricity on-demand.
There's a logical and responsible way to approach the energy transition that recognizes the complexities of siting and managing a renewable-heavy energy system. Trying to dismantle the grid and energy infrastructure that works before we're even close to having the needed solutions – be they technology, market structures or infrastructure solutions – to replace it is a mistake we must not continue to make. The coal fleet is a reliability backstop we should build upon, not fritter away.