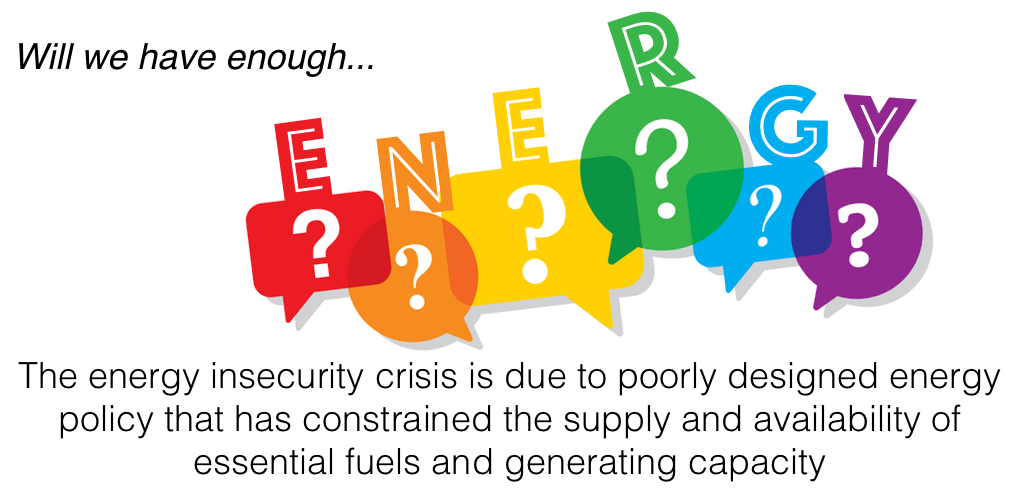 As the global energy crisis marches on, Europe and the U.S. seem to be in a nightmarish game of one-upmanship over who can produce the most dire warnings over energy-induced inflation, energy insecurity and blackouts.
The North American Energy Reliability Corporation is warning that much of the U.S. will face unprecedented reliability challenges this winter, with some grids facing significant shortfalls in available capacity during spells of bitter cold. Europe's current reality foreshadows an equally dark winter ahead.
Italy's economic development minister, Giancarlo Giorgetti, warns, "Given the current energy supply system, a blackout cannot be ruled out." Jeremy Weir, CEO of Swiss commodity trader Trafigura, predicts that current supplies of natural gas won't be able to get Europe through cold snaps, saying, "We haven't got enough gas at the moment, quite frankly. We're not storing for the winter period. So hence there is a real concern that … if we have a cold winter, that we could have rolling blackouts in Europe." And in Austria, Defense Minister Klaudia Tanner has been warning for weeks that blackouts are coming and for citizens to be prepared. "The question is not whether a blackout will come, but rather when," she said.
The margin for energy error in Europe and the U.S. continues to shrink. Will the wind cooperate? Will the Russians deliver promised gas? Will the U.S. natural gas delivery system hold up during a deep freeze? The answers to all these questions – and dozens more – are at best unsatisfactory and often deeply discomforting.
As this crisis deepens, it's growing increasingly difficult to argue that this newfound energy insecurity is due to anything but poorly designed energy policy that has constrained the supply and availability of essential fuels and generating capacity while demand for them remains as strong as ever.
Pain for Consumers, Devastation for Western Coal Communities
While there's an emerging recognition from level-headed policymakers that supply-constraining climate policy – rather than a focus on innovation and driving down the cost of low-carbon alternatives – is a recipe for disaster, the reconciliation bill under consideration in the Senate is full of provisions that make the same mistakes.
Consider the anti-mining provisions that appear to be little more than a tax on production and consumers. These measures, which include the establishment of new severance fees, the repeal of the Department of the Interior's discretion to offer royalty relief or deferred bonus payments, and the halving of lease terms for coal production on federal land, are wildly out of sync with a moment calling for more reliable, affordable domestic energy production.
The damage inflicted on the nation's energy security and affordability by these misguided provisions will hurt all consumers but they're likely to devastate rural mining communities and the tribes that depend on the economic engine of coal production on federal lands.
The federal coal leasing program has delivered more than $9 billion in federal, state and local revenues over the last decade, and provides some of the very best jobs in places that desperately need them. Coal wages are between 150% and 200% of the average wages across all sectors in states with federal coal production. Beyond the mines, federal coal production has created and sustained tens of thousands of high-wage jobs in other sectors including transportation, construction, equipment manufacturing, mining services and power generation.
Tribal lands that rely heavily on federal coal leasing will be hit particularly hard unless changes are made to the reconciliation bill. Writing to Senator Joe Manchin, the Crow Tribe and the National Tribal Energy Association explained that, "in Montana and especially on the Crow reservation, thousands of coal jobs help drive our communities, and further taxes on these activities will push our lands and our peoples into further hardship…. The Crow Nation is rich with coal, and yet our unemployment is almost 70%. We don't need new taxes, we need less tax burden on our resources."
The last thing Americans need is new energy taxes. The worst thing for mining communities are provisions designed to destroy the competitiveness of federal coal production. Navigating this energy crisis and Building Back Better can't happen if we're determined to reduce domestic energy production and dismantle our energy-producing communities.