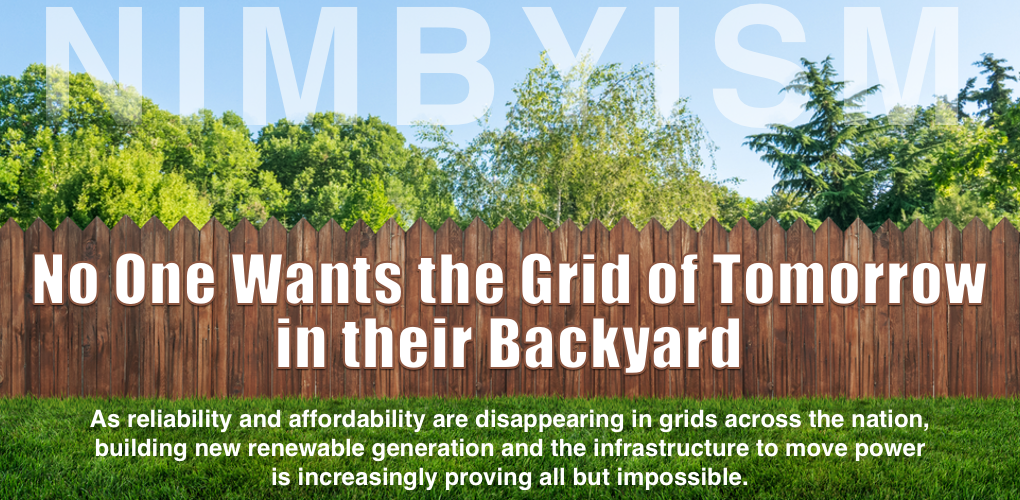 With overwhelming evidence accumulating from Texas and California, New England and Europe, it's becoming evident that dispatchable fuel diversity and robust capacity reserve margins are essential to navigating the energy transition.
Even as real-life challenges abound, these cornerstones of reliability and affordability are disappearing in grids across the U.S. States and utilities continue to dismantle, or pledge to decommission, well operating coal capacity at the exact moment the market is telling us its needed more than ever. America's de facto energy policy is deconstructing our energy system and grid far faster than we can build the grid of tomorrow.
From Texas to Maine, from the West coast to the East coast, in red states and blue, building new renewable generation and the infrastructure to move power to demand centers is increasingly meeting stiff resistance or proving all but impossible.

"Good luck Getting Others Through"

The Southern Cross transmission line in Texas – a rare, potential transmission success story – frames the challenge. The 400-mile, $2 billion power line that will connect Texas to the Southeast is on track to begin construction in 2023 with the hope of entering service in 2026. Should the line actually be completed, it will have taken 17 years from its inception to get there.
In Maine, a critical $1 billion transmission line designed to move hydropower from Canada to Massachusetts was just voted down by a state referendum. The project was first proposed in 2017 after a previous proposal through New Hampshire was blocked by local opposition. The developer, Avangrid, has already spent $400 million clearing land and installing poles for the project after securing federal and state permits. "If this type of project can't get through, good luck getting others through," Dennis Arriola, Avangrid's CEO said in an interview this year.
In fact, others aren't getting through. A recent report found that transmission investment rose from $17.7 billion in 2013 to about $22.4 billion in 2018, while the miles of new transmission lines completed declined from a peak of 4,500 miles in 2013 to 1,300 in 2018.
The Maine project had vocal and highly visible support from backers including Maine Democratic Gov. Janet Mills and U.S. Energy Secretary Jennifer Granholm. But it was soundly defeated at the ballot box, extending a deeply troubling trend: even in areas that poll strongest in favor of renewable power, siting renewable projects and infrastructure is a steeply uphill battle.
"Don't change a thing until I die"

Senator Bernie Sanders' Vermont is case in point. Opposition to utility-scale renewable projects is so strong the pipeline of potential projects has completely dried up. An article for the Sierra Club's in-house magazine observed that, in 2012, Vermont had at least a dozen wind projects in development. Today, there are none. No industrial-scale wind or solar projects are underway anywhere in the state.
"I love Vermont dearly and admire its conservation ethic," Bill McKibben, leading voice of the keep-it-in-the-ground movement, told the magazine. "But there are moments, faced with a global crisis, when it feels like the state motto should be 'Don't change a thing until I die.'"
As the magazine summed up, the wind turbines, solar panels and transmission lines of a renewable future must go somewhere, "but many communities—including those full of avowed liberals and environmentalists—are working hard to make sure they go somewhere else."
As the U.S. charts its energy future, we must acknowledge on-the-ground realities. The system costs and challenges associated with integrating large amounts of wind and solar power remain immense. Perhaps none are larger than the prospect of trying to build tens-of-thousands of miles of high-voltage transmission lines, hundreds-of-thousands of acres of solar panels and thousands of wind turbines where they are not wanted. That's the political as well as technical reality. Pretending otherwise – creating policy that cuts off existing, affordable generating capacity before anything exists to replace it – is policy malpractice American consumers simply can't afford.