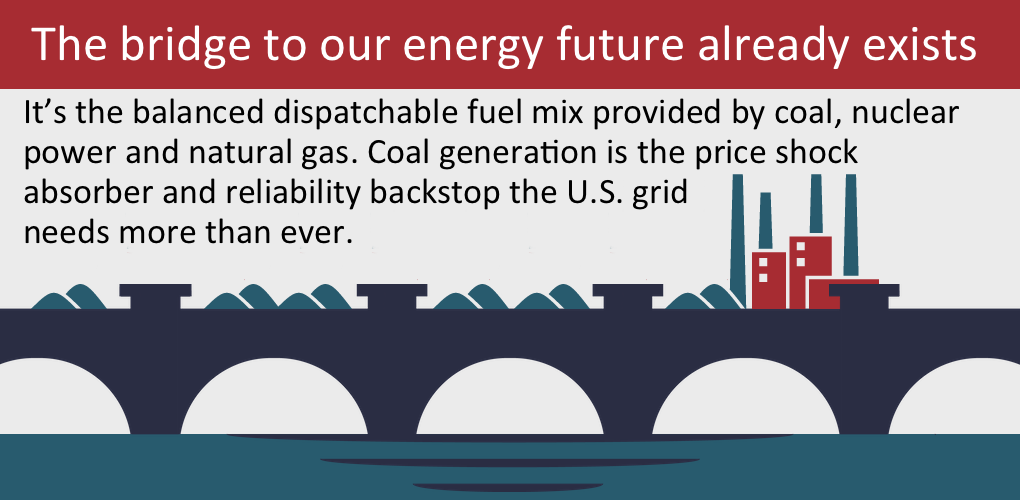 It's a good thing for American energy consumers that John Kerry doesn't set domestic energy policy. While he believes the U.S. won't be using coal by 2030, coal is proving just how essential it remains to the nation's energy security as well as the reliability and the affordability of our energy supply
Not only are soaring natural gas prices pushing utilities to coal, with coal generation expected to jump 22% this year, but U.S. coal producers have all but sold every ton of coal they will produce next year with many signing new, long-term contracts with customers. Demand for coal is red hot and as the world grapples with an ongoing energy crisis and energy-driven inflation, the essential role coal plays in our energy mix is getting a fresh, well-deserved look.

Dispatchable Fuel Diversity Matters
The optionality that comes with fuel switching in response to market conditions is one of the great strengths of the U.S. energy system, shielding consumers from commodity price shocks. While special envoy Kerry is supposed to take a global view of energy – or at the very least show some awareness of what's happening – he seems oddly unaware of one of the obvious lessons learned from Europe's energy shock: dismantling dispatchable fuel diversity without planning for what takes its place is a recipe for disaster.
The U.K.'s accelerated pivot away from coal and overexposure to cripplingly high natural gas prices is case in point. As Helen Thompson, a professor of political economy at the University of Cambridge, commented, "There are no solutions to this crisis, only politically nightmarish choices around hard realities… Energy consumption cannot be deferred until the future arrives. It can only occur at high prices or be rationed by the state."
The variability of renewable power and the challenges posed by integrating it onto the grid – that range from the technical to those posed by permitting and nimbyism – can't be discounted. Nor should we discount or downplay the return of natural gas price volatility and the increasing exposure of U.S. natural gas prices to global market pressures.
Energy-driven inflation and energy affordability this winter have become top issues for the Biden administration. U.S. inflation has surged 6.2%, the largest annual increase in 30 years. And there is more pain to come. Home heating costs are going to jump this winter and will be sharpest in the Northeast where overreliance on natural gas for heating and power generation has consumers locked into higher bills with no alternative.
Natural gas, used to heat almost half of U.S. households, has nearly doubled in price in a year. Heating oil and propane prices have also jumped. The U.S. Energy Information Administration has warned that a colder than normal winter could mean that those who heat with natural gas could see their bills jump 50%.
Mark Wolfe, executive director of a group representing state officials administering aid to low-income households, told The New York Times that those living paycheck to paycheck, or just trying to save, aren't going to be comforted by explanations about a global energy shock. When mid-winter bills start arriving, "the public's going to get angry." The burden of higher prices this winter will fall hardest on those who can least afford to carry it. Nearly 30% of those surveyed by the Census Bureau have reported reducing or forgoing household expenses to pay an energy bill in the last year. Soaring prices this winter couldn't come at a worse time.
Picking the Wrong Bridge

While the unique circumstances of the pandemic and the whiplash recovery in global energy demand have been drivers for the energy shock, a near-doubling of natural gas prices in the U.S. and the return of natural gas price volatility is also a story about a fundamental change in the marketplace. The incredible rise of U.S. natural gas exports means the U.S. gas market is increasingly influenced by global prices and demand.
U.S. gas exports now top 20% of daily domestic gas production and hit a record in March when they reached 19.2 billion cubic feet per day, up more than 70% since the start of the pandemic.
As the Wall Street Journal reported, "Utilities from the Pacific Northwest to New England have filed regulatory requests to raise rates for natural gas this winter, citing a supply squeeze as a result of higher global demand." And it's not just natural gas rates. Higher gas prices are also upending electricity prices in regions of the country most heavily dependent on natural gas generation. In New England, wholesale electricity prices are already up 50%.
With global gas demand set to continue to expand by an estimated 3.4% annually through 2035, after already jumping 30% in the past decade, appetite for U.S. gas exports will grow, providing further upward pressure on U.S. gas prices. Just this month, two Chinese energy majors signed long-term deals, to import U.S. gas via the Gulf Coast.
The multi-billion-dollar question for U.S. consumers is will domestic natural gas producers respond to these market signals? So far, after a decade of poor returns, the answer appears to be no. The shale industry's newfound capital discipline will likely mean higher prices for the foreseeable future – a particularly troubling development for a fuel that some have dubbed our "bridge" to the other side of the energy transition.
The bridge the U.S. should take is the affordability, reliability and security offered by dispatchable fuel diversity, not ever-growing overreliance on natural gas. The grid crisis in Texas this past February was an eye-opener about the need for balance and the vulnerabilities embedded into the natural gas delivery system. The myth of natural gas as a reliability panacea was shattered. As the chief energy officer at the University of Houston said about the crisis, "The natural-gas story is a case of systemic failure." And the points of failure in the natural gas system have yet to be adequately addressed.
The bridge to our energy future already exists. It's the balanced dispatchable fuel mix provided by coal, nuclear power and natural gas. Keeping existing nuclear plants operating is essential. And so too is keeping essential coal capacity operating to provide the price shock absorber and reliability backstop the U.S. grid needs more than ever.
Pretending that coal should be quickly replaced, or can be, isn't energy reality. It betrays not only a startling misunderstanding of the critical role coal continues to play in the U.S. but a failure to grasp the role the U.S. must play in providing the technology solutions needed for replicable, global emissions reduction. If the U.S. wants to lead on climate, recognizing the ongoing importance of coal at home and especially abroad is a good place to start.