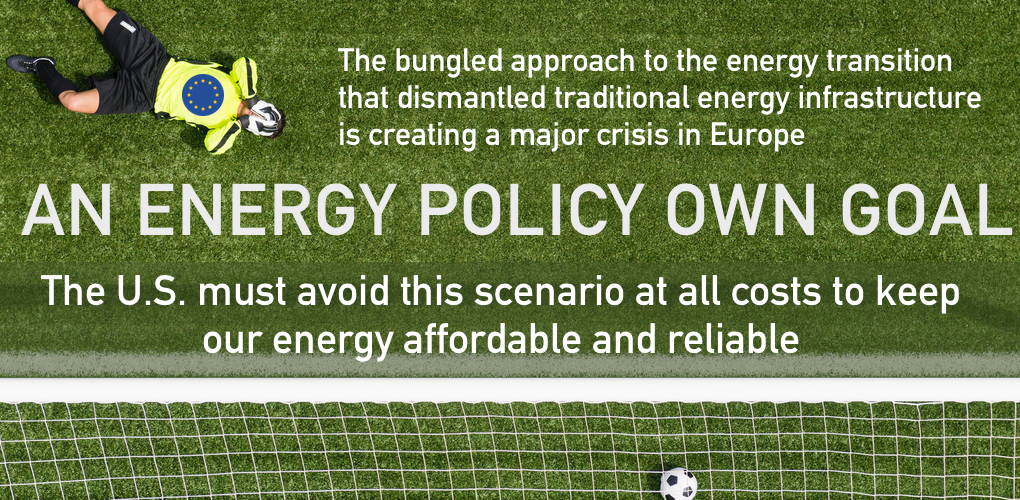 Europe's energy crisis is threatening to jump across the Atlantic with affordable and reliable energy, the very foundation for economic recovery, hanging in the balance.
Supply chain disruptions have already provided troubling inflationary pressure on the economy; now, rising energy prices threaten to push a tenuous situation over the edge. The world – especially Europe – appears to have entered the first major energy crisis of the energy transition.
Energy prices in Europe have gone through the roof and continue to climb. European natural gas prices have jumped 400% since the start of the year, cascading into electricity markets. European governments are scrambling to soften the blow that is already wreaking havoc on industry and households.
The alarming situation is leaving no corner of the continent unscathed. U.K. electricity prices have reached record levels. Wholesale electricity prices in Spain and Portugal have tripled from where they were just six months ago. Household electricity prices in Italy are poised to jump nearly 30% this quarter and that comes after billions in government assistance to mute the rise.
Driven by soaring energy costs, Euro zone inflation hit its highest level in 13 years in September, reaching 3.4%. In Germany, consumer prices rose 4.1% in September, the highest level in almost 30 years.
"The pain hitting Europe is an ominous sign of the types of shocks that could strike more of the globe," warned reporting from Bloomberg. "The consequences will likely range from periods of energy-driven inflation, exacerbating income inequalities, to the looming threat of power outages and lost economic growth and production."
This is the very crisis and scenario the U.S. must avoid at all costs. What is happening in Europe is a perfect storm of failed energy policy—a bungled approach to the energy transition. European governments have boasted of dismantling traditional energy infrastructure, of curbing investment in fossil fuel production and pushing all their chips onto a renewable energy future bridged by an increasingly volatile natural gas market. It's a strategy unravelling before our very eyes – stunningly it's the very trajectory the U.S. appears to be taking.
Europe's Energy Crisis is Becoming America's
While the U.S. is not facing the same record-setting natural gas prices that have Europe in a vise, American consumers will be paying more to heat and power their homes this winter. Ever-growing volumes of U.S. natural gas exports mean that the U.S. gas market is no longer an island. Market pressure from overseas is now beginning to shape U.S. gas and power bills.
The Center for Strategic and International Studies' Nikos Tsafos recently pointed out that up until now, rising U.S. gas exports have not moved the needle on domestic prices but that appears to have changed. He observed that over the past quarter, "there was strong evidence that exports are the primary demand driver for U.S. gas and thus the increase in prices."
U.S. natural gas prices have more than doubled in a year, racing over $6.31/MMBtu, a level not seen in a decade. The era of shale-fueled cheap gas has come to an abrupt end, and natural gas price volatility – long the mainstay of the U.S. gas market – appears to have returned.
U.S. energy policy is at a perilous crossroads. Rising gas prices mean U.S. consumers will be paying more to heat and power their homes this winter with many unfortunately facing sticker shock. Energy-driven inflation now threatens to derail economic recovery and place the heaviest burden on consumers who can least afford it. The electricity grid is also groaning under shrinking reserve margins and ever-greater reliance on intermittent power.
Is this global energy crisis the wakeup call the American energy policy debate so desperately needs? Will the U.S. finally recognize the urgent need to preserve dispatchable fuel diversity as an essential insurance policy for a carefully managed energy transition? Or are we bound to only double down – even incentivize – the dismantling of our own grid reliability and affordability? We're soon to find out.