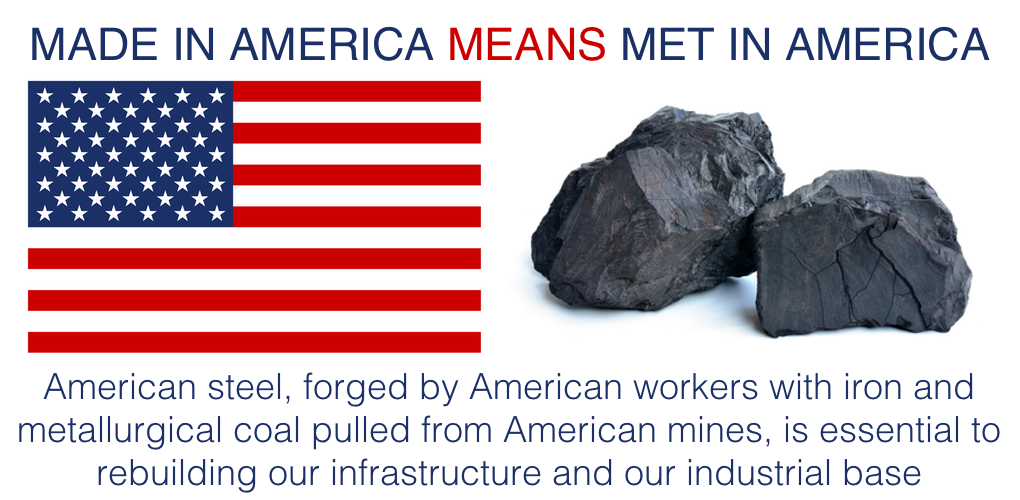 Infrastructure week was a dream so fragile you could only whisper it for fear saying the words would mark its undoing. But long odds aside, it has arrived and none too soon. The nation's roads, bridges, dams, water systems and electricity grid – just some examples of the breadth of our critically important and diverse infrastructure – are in desperate need of reinvestment and modernization. And with investment finally coming, so too will come soaring demand for the materials that will make it all happen.
Perhaps no material is more important to our built world than steel, forged from iron and metallurgical coal pulled from American mines. And perhaps no piece of American infrastructure is more iconic and more visually indicative of the irreplaceable role of steel than San Francisco's Golden Gate Bridge. Completed in 1937, it used 88,000 tons of steel and to this day remains a measuring stick for steel inputs into infrastructure of all kinds. In fact, Bloomberg New Energy Finance, a research group, recently estimated that global efforts to build out renewable energy systems to achieve emissions reduction targets by midcentury will require more than 40,000 Golden Gate Bridge's worth of steel.
The energy components alone of the American infrastructure deal are going to require a tremendous amount of steel and America's met mines and steel industry are ready to answer the call. With made-in-America a key focus of the infrastructure effort, the nation's 175 met mines, directly employing 13,000 miners, are sure to be on the front lines of the great rebuild.
One consultancy estimates that $1 trillion of infrastructure spending could require an additional 6 million tons of steel annually. Energy components of the plan – from wind turbines to transmission towers – are going to be key drivers of that demand. Just one high-voltage transmission tower requires about 40,000 to 60,000 pounds of steel. Those towers add up. A high-voltage transmission line proposed to run 720 miles from Oklahoma to Memphis, Tennessee was projected to require enough steel for four aircraft carriers.
The coming surge in solar and wind power development will also require tremendous amounts of steel. Each new MW of solar power requires between 35 to 45 tons of steel and each new MW of wind power requires 120 to 180 tons of steel, with massive offshore wind turbines requiring even more. The Biden Administration is aiming for 30,000 MW of offshore wind capacity by 2030. Massive turbines, towers and undersea cables will drive steel demand, but so too will the equipment needed for installation. A new wind turbine installation vessel under construction in Texas is using 10,000 tons of Alabama and West Virginia steel. All in all, the Biden administration forecasts seven million tons of steel demand from the offshore wind push, equivalent to four years of production from a typical steel mill.
There's no meeting the demand now on our doorstep without new steel produced with met coal and iron in domestic blast furnaces. And with global steel demand soaring, American met products will be needed to meet overseas demand as well, helping build the cities, roads, bridges and energy infrastructure of tomorrow. It's finally time to reinvest and rebuild. Don't overlook the essential role played by America's coal miners in making it happen.