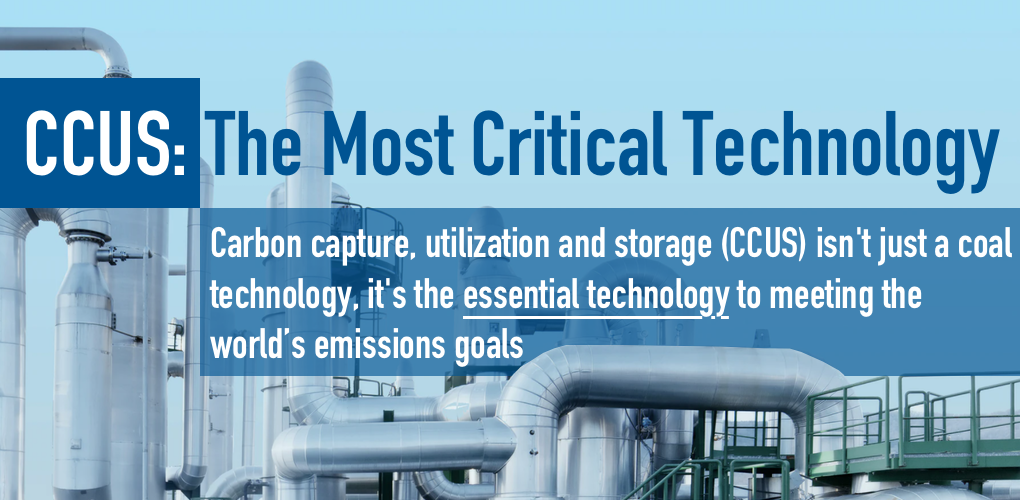 For years, carbon capture, utilization and storage (CCUS) was seen as just a coal technology, dismissed by environmentalists as little more than a talking point, an unnecessary or false solution to addressing emissions.
Today, energy and climate experts – from Dr. Fatih Birol, the executive director of the International Energy Agency, to John Kerry, the president's special envoy for climate – view CCUS as essential to the global climate effort. Dr. Birol has, in fact, called it the most critical technology to meeting the world's emissions goals. And the CCUS landscape has expanded dramatically—it's no longer just a coal technology, instead now viewed as essential to reducing emissions from all fossil power generation and from heavy industry.
In one regard, a much-expanded CCUS universe is a welcome development. Every CCUS project – whether at a gas plant, cement plant, petrochemical facility or coal plant – helps advance the technology and offers important lessons. Embracing this suite of technologies and pushing it forward under a range of applications is an unequivocally good and necessary development. And advancing the regulatory framework for CCUS and the infrastructure needed for regional storage and utilization hubs helps every fuel.
However, should U.S. leadership on CCUS relegate coal applications – including retrofit technology at existing plants – to a second tier of importance, that would be a grave mistake that potentially undercuts U.S. leadership where it's needed most.
Innovate Locally While Thinking Globally

Simply put, America's energy landscape and electricity generating fleet are hardly representative of the world's. Cheap natural gas in the U.S. is a global anomaly and so is America's shrinking coal fleet, now at roughly 220 GW of capacity.
In contrast, coal remains the world's leading fuel for electricity generation, and Asia's coal capacity – all 1,648 GW of it – is young and growing. China alone brought nearly 40 GW of new coal capacity into operation in 2020 and has nearly 250 GW of coal capacity in planning or development. The average age of a coal plant in China's 1,000 GW fleet is only 13 years. More than 60% of the Chinese coal fleet is just a decade old or younger.
The story is much the same across Asia. Asia's coal capacity is here to stay—a foundation for the addition of renewable power, not something easily or soon to be replaced. Soaring electricity demand driven by urbanization, rising per capita energy use and rapid economic growth is only expected to accelerate as electrification of transportation moves from niche to mainstream.
If the U.S. is serious about climate leadership and producing globally replicable emissions solutions, it's hard not to see coal technology and coal CCUS applications as a priority. Not only does our own energy future call for it but China needs our help.
Despite leading the world in the development of CCUS pilot projects, China has yet to deploy CCUS at scale. If there has ever been a place for collaboration between the world's two largest economies and energy users, CCUS is it.
There is strong bipartisan support in Washington to ramp up research, development and deployment of a range of CCUS technologies and applications. But as we throw our weight behind the energy innovation moonshot, let's not forget where U.S. leadership remains most urgent and can be most impactful.