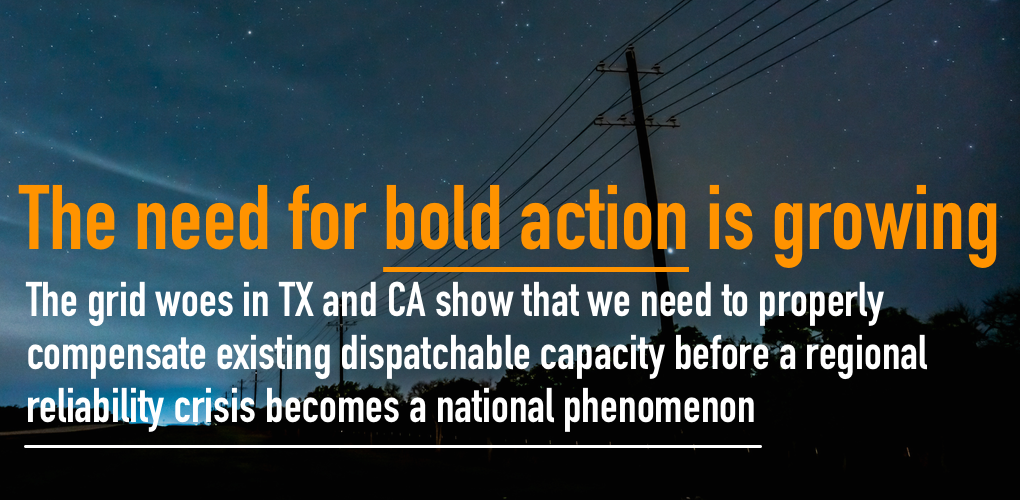 Summer hasn't even officially started but the Texas grid is already facing another electricity reliability crisis. Warning of potentially inadequate generating capacity, the Electric Reliability Council of Texas (ERCOT) is once again begging Texans to reduce electricity use.
Texans have every right to worry that the grid may not hold up this summer. This week's warnings are the third time ERCOT has been forced to issue inadequate capacity alerts this year. And, of course, the brutal heat of high summer remains on the horizon. June isn't supposed to push the grid to the brink.
Excitement about 4th of July fireworks and long days at the pool is beginning to be replaced with dread the grid won't hold up as temperatures climb towards summer highs. These aren't concerns about inconvenience or a few hours of discomfort – they are well-founded fears about life-threatening situations. February's grid catastrophe due to an unusual coal snap killed at least of 151 Texans, but the danger of an overwhelmed grid during cripplingly high heat – the type that tends to persist during Texas summers – could be far worse.
Just weeks ago, the Texas legislature passed two bills aimed at ensuring February's disaster isn't repeated. Signing the law, Gov. Abbott lauded the effort, saying, Texas lawmakers kept their promise to "secure the Texas power system to ensure it never fails again." But even as Gov. Abbott put pen to paper, experts were warning reform didn't go nearly far enough, failing to touch the fundamental structure of the Texas power market.

Need for Fundamental Market Reform

Texas' deregulated market relies on scarcity pricing – in other words, surging power prices – to incentivize generators to provide additional power when demand surges or supply begins to falter. In February, that scarcity pricing led to astronomical power prices but it failed to ensure reliability. According to the Wall Street Journal, the Lone Star state spent more than $46 billion buying electricity in a single week, more than five times what it spent on electricity in all of 2020.
Ed Hirs, Energy Fellow at the University of Houston, and a long-time critic of ERCOT's market design, said of the reform effort, "This bill really doesn't do anything except apply a few obvious Band-Aids to the situation." He continued, "They did not address the central issues facing the grid here in Texas, which is a reliable supply of electricity. We know from ERCOT's own capacity report — reserve report — you know, they think we've got enough. But… they also published scenarios where if the wind doesn't blow and there's cloud cover, we're going to be short."
And before summer's full arrival, Texas is short. Hirs believes the Texas grid is being run into the ground through gross underinvestment in the resources needed to maintain reliability, particularly dispatchable capacity. He noted in a tweet that ERCOT's own Independent Market Monitor has warned that in eight of the last 10 years average revenues to generators do not cover total costs. In other words, plant owners aren't able to make the investments needed to ensure capacity is available when it's needed, invest in new dispatchable capacity or keep existing plants in the market. For example, more than 5,000 MW of desperately needed coal capacity was recently forced into early retirement.
The kind of fundamental market change that many energy experts would like to see is the introduction of a capacity market to better value existing dispatchable generation like coal, gas and nuclear capacity, and to expand the state's reserve margin to ensure the tight – or potentially catastrophic – operating conditions that have plagued the state can be put firmly in the rearview mirror.
While Texas' grid and market are unique, electricity markets across the country need to carefully consider the addition of robust capacity markets or reliability payments to ensure the dispatchable capacity that is central to grid reliability isn't pushed aside before responsible alternatives are in place. A massive buildout of grid-scale energy storage and new high-voltage infrastructure – deemed critical to integrating more intermittent power – remains aspirational at best.
Properly compensating existing dispatchable capacity to ensure its availability is the insurance policy electricity markets across the country need as we manage the energy transition. As Texas and California's grid failures and near misses show, the need for bold action is growing; without it, the ongoing Texas reliability crisis could become a national phenomenon.