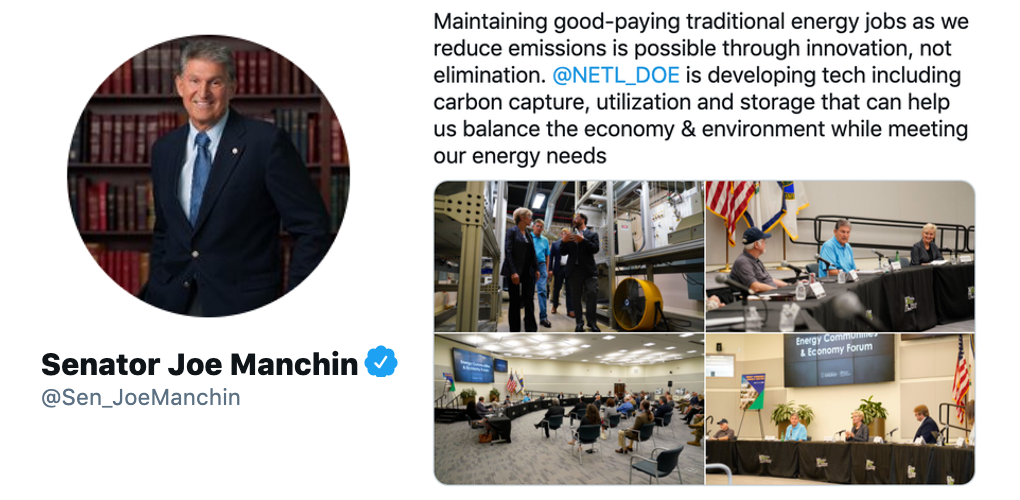 When Senator Manchin talks, or tweets, Washington listens. And last week when he took Secretary of Energy Jennifer Granholm to see West Virginia's energy industry up close, he made clear his vision for coal in the energy transition. He tweeted, "Maintaining good-paying traditional energy jobs as we reduce emissions is possible through innovation, not elimination. @NETL_DOE [the National Energy Technology Laboratory] is developing tech including carbon capture, utilization and storage that can help us balance the economy & environment while meeting our energy needs."
Whether it's using coal for advanced materials, extracting rare earth elements from coal waste, or developing and deploying the next-generation of emissions-free coal plant in West Virginia, Senator Manchin is determined to ensure the state's long history of meeting the nation's energy needs is entering a new, positive chapter.
He views the bipartisan infrastructure effort – where he's playing a leading role – as "a golden opportunity" to have the U.S. further assert itself as a leader on energy but he won't do it at the expense of coal. "I have said this before, you cannot eliminate your way to a cleaner climate, you can innovate your way, but not eliminate your way," he recently told reporters. That stance is just the globally replicable and effective approach to emissions reductions that energy experts tell us we must pursue.
As the Senator knows well, the energy transition and the move away from traditional fuels is hardly happening in parallel overseas. Not only do fossil fuels continue to meet the vast majority of the world's energy needs but coal remains the world's leading fuel for electricity generation.
China alone brought nearly 40 gigawatts of new coal-fired power capacity into operation in 2020, more than four times the amount of coal capacity that was retired in the U.S. last year. China now has nearly 250 gigawatts of coal capacity in planning or development. And while China certainly dominates the global coal story, it's hardly alone in leaning on a fuel that remains synonymous with affordable, reliable and secure energy. According to a new report, the world's coal producers are planning more than 432 new mines with 2.28 billion tonnes of annual production capacity. Australia, India, Russia and China account for more than three quarters of the new projects.
U.S. Climate Leadership Begins with Advanced Coal Technology
The data is clear: coal will remain a centerpiece of the global energy equation well into the future. It remains essential to providing affordable and reliable power here at home. Recognizing that reality means that U.S. leadership on emissions runs through coal country and coal technology, not around it.
Wrapping up his two-day tour with Secretary Granholm, Senator Manchin expressed as much, saying, "A lot of people think fossil fuel is done; you can't use coal any more, or gas. Coal and gas are going to be the future building products for America if they're used in the proper form and carbon-free. That's what we're learning and that's what we know can be done."
And to her credit, Secretary Granholm understands and embraces the importance of advancing U.S. leadership on emissions-free fossil fuel technology. She has called the race to advance and deploy clean energy technology "our generation's moonshot" and has been outspoken in her support of CCUS, recently saying, "We need fearless innovation to bring down the costs of batteries, to commercialize carbon capture, to make blue and green hydrogen market ready…."
Deputy Secretary of Energy, David Turk, has echoed that vision, calling carbon capture an "incredibly important tool" to achieving the country's climate ambitions. "Given the urgency and the scale on the climate change front, and the huge opportunity and need for [carbon capture, utilization and storage], we all need to do more. This is really a make-it-or-break-it opportunity and window on the CCUS front," he said.
There's not a moment to lose to get this moonshot into orbit. Doubling down on the development, deployment and commercialization of advanced coal technology is both the climate leadership the world needs, and a tremendous opportunity to ensure traditional energy-producing states, like West Virginia, can help achieve of our energy future.