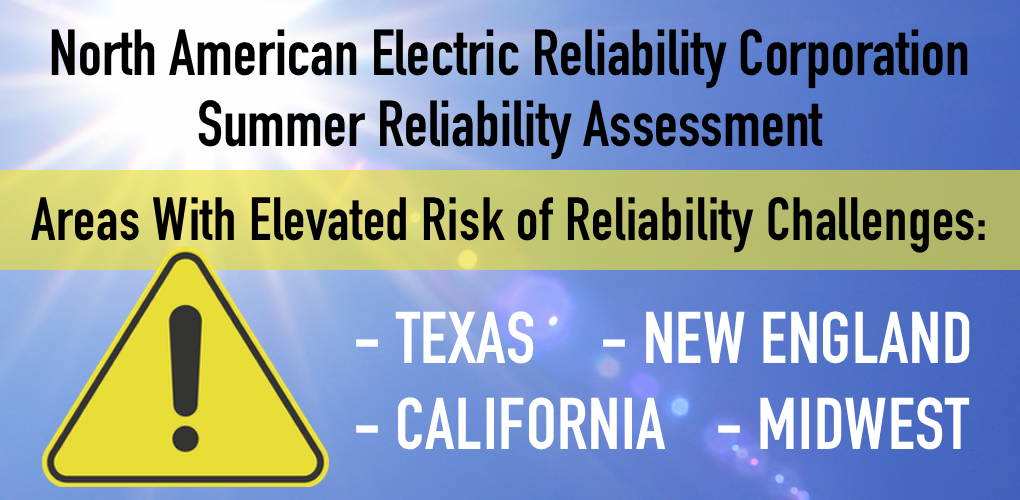 Back in the summer of 2019, Jim Robb, the president and CEO of the North American Electric Reliability Corporation (NERC), said that when most engineers look at the Texas grid, they conclude that "there's no way in hell they can keep the lights on. And yet they do."
Robb, speaking to the Federal Energy Regulatory Commission, also spoke of his amazement at how New England and California were managing to keep the lights on despite immensely challenging circumstances, including shrinking reserve margins and the loss of dispatchable fuel diversity. Those remarks have since proved painfully prescient. Two of the three grids Robb flagged have since experienced blackouts, leaving millions in the dark.
If Robb and his team are reliability oracles, it's certainly worth listening when they raise new concerns. And just a few days ago, that's precisely what they did. Previewing NERC's 2021 Summer Reliability Assessment, Robb warned that Texas and California along with parts of the Midwest and New England face "elevated risk" of reliability challenges.
California is of the "greatest concern." NERC projects that a staggering 11 GW of energy imports could be needed to meet late afternoon peak demand during tight operating conditions. And those are imports that might not be available.
As the Western Electricity Coordinating Council (WECC) recently warned, if high heat stretches across California into neighboring Western states, there won't be excess capacity to import. WECC noted that not even one of its subregions generates enough power during periods of high demand to meet its own needs – every single region is dependent on imports. Faced with a region-wide heatwave and spiking demand, rolling blackouts might be the only option to keep the Western grid from collapsing.
"We can't take our eye off the ball"

NERC's concerns about tight reserve margins have now been coupled with a new, troubling dimension – the shocking vulnerability of the nation's pipeline system to cyber threats.
"The Colonial pipeline attack underscores the interconnectedness of electricity with other infrastructures and is the reason we must redouble our focus on the reliability of the pipeline system that delivers essential fuel," said Robb. "If this had happened to a major natural gas line serving electricity generators under extreme cold weather conditions, the results could have been catastrophic," he concluded.
Even with better cybersecurity standards, it's likely not a matter of if a major natural gas pipeline goes down, but when. The grid's growing dependence on just-in-time fuel delivery is increasingly viewed as a glaring fuel security vulnerability.
The grid and the nation's energy delivery systems need resilience. They need fuel diversity and increased – not reduced – reserve margins to account for the emerging threats and complexities of the energy transition. As an important bridge to the future, the grid needs the fuel security and insurance provided by the coal fleet.
NERC concluded its reliability warning by speaking to just how prophetic its previous concerns have been. "We have consistently signaled the need to be cognizant of reliability issues as we navigate this transition to a cleaner energy future and the need to manage the pace of change," Robb said. "We can't take our eye off the ball as the resource situation continues to become more complicated and more dependent on other critical infrastructures and weather conditions."
And yet, it's hard not to feel that the pace of change, the loss of fuel diversity and the ever-greater reliance on just-in-time fuel delivery, are far outpacing regulators' capacity to manage the situation. NERC has been warning for years of emerging problems. Will policymakers and market operators finally begin to listen, or will it take more blackouts and another self-imposed crisis to affect change? We'll soon find out.