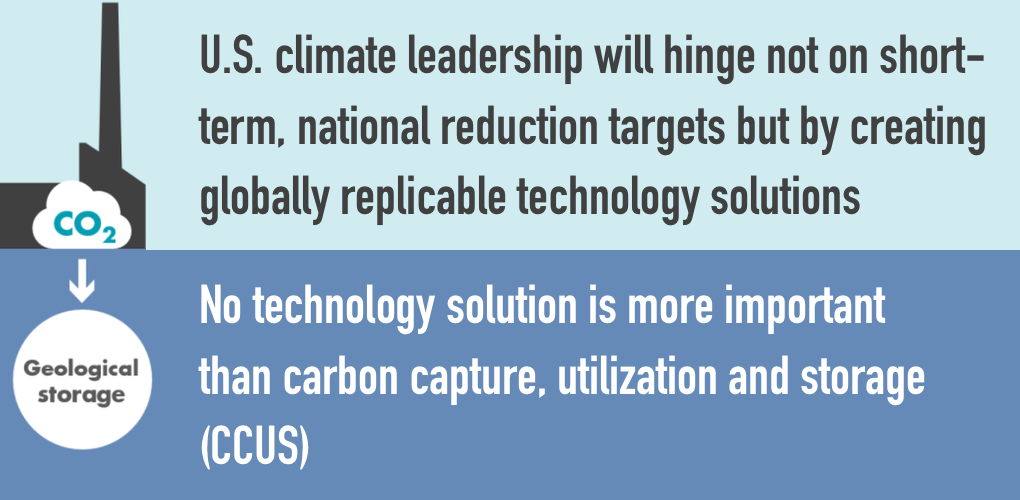 For all of the momentum building towards tackling the climate challenge, a sobering reality remains: according to the International Energy Agency, fully half of the key technologies needed to produce globally effective solutions need significant support to bring to full maturity and market use. Or as Bill Gates quipped last week, "using today's technology, it will be virtually impossible to meet our goals."
Lasting U.S. climate leadership will hinge not on short-term, national reduction targets but rather on creating globally replicable technology solutions. And no suite of technologies is more important than carbon capture, utilization and storage (CCUS) technology. It's CCUS that will not only provide the means to decarbonize on-demand power generation from coal and natural gas but also heavy industrial processes like the production of cement, steel and chemicals.
The Biden administration, along with bipartisan backers in Congress, fortunately recognizes the essential role CCUS must play in reducing emissions from the power sector and from heavy industry. Jennifer Granholm, the U.S. energy secretary, recently remarked that clean technology development and deployment is "our generation's moonshot" and that her department would be announcing new goals for "leaps in next generation technologies," such as carbon capture, energy storage and industrial fuels.
Her remarks and emphasis on CCUS have been backed by other Biden officials. As E&E News reported last week, David Livingston, senior adviser to climate envoy John Kerry, said carbon capture is a "recurring focus of this administration" and highlighted the Biden administration's plan to establish 10 "pioneer" facilities to demonstrate carbon capture retrofits across the steel, cement and chemical production sectors.
"I am confident that these down payments the government is making in carbon capture and storage … will not only drive down emissions at home, but will create tools, business models and services in carbon management that will see increasing global demand for decades to come," he said.
At the same event, David Turk, deputy secretary at the Energy Department, called carbon capture an "incredibly important tool" to achieving the country's climate ambitions. "Given the urgency and the scale on the climate change front, and the huge opportunity and need for [carbon capture, utilization and storage], we all need to do more," Turk said. "This is really a make-it-or-break-it opportunity and window on the CCUS front."
"A multi-billion-dollar investment opportunity"
There are three key considerations on U.S. leadership with CCUS. First, it's all but impossible to achieve emissions reduction targets at home and abroad without great leaps forward in the technology. Second, advancing these technologies is critical to responsibly managing the energy transition, both in ensuring a reliable supply of energy but also for providing the good union jobs in the nation's industrial heartland that are threatened by the pivot away from traditional fuels. And third, there is considerable economic opportunity to be had from deploying these technologies at scale domestically and then gaining a leg up in a potentially enormous global market.
The Rhodium Group, an energy research consultancy, in fact just concluded that CCUS retrofits at existing U.S. facilities – both power plants and industrial sites – have the potential to create up to 64,000 jobs over the next 15 years with an additional 43,000 jobs created from the operation of these facilities. This effort includes the retrofit of 62 coal plants. As Rhodium concludes, CCUS is a multi-billion-dollar investment opportunity. Over the longer-term, when viewed through a global lens, it's likely a multi-trillion-dollar opportunity. We know it's a climate solution necessity.
As Bill Gates recently said, "in the U.S., we're not just innovating for own citizens, we're also innovating on behalf of everyone else." Now is the time to lead a with an energy technology moonshot. Advancing and deploying CCUS technologies at scale for the fuels and processes that remain the backbone of the world's energy and industrial systems is an imperative. Spearheading that effort in American coal country, using American workers and lifting up American coal communities, should be an obvious choice.