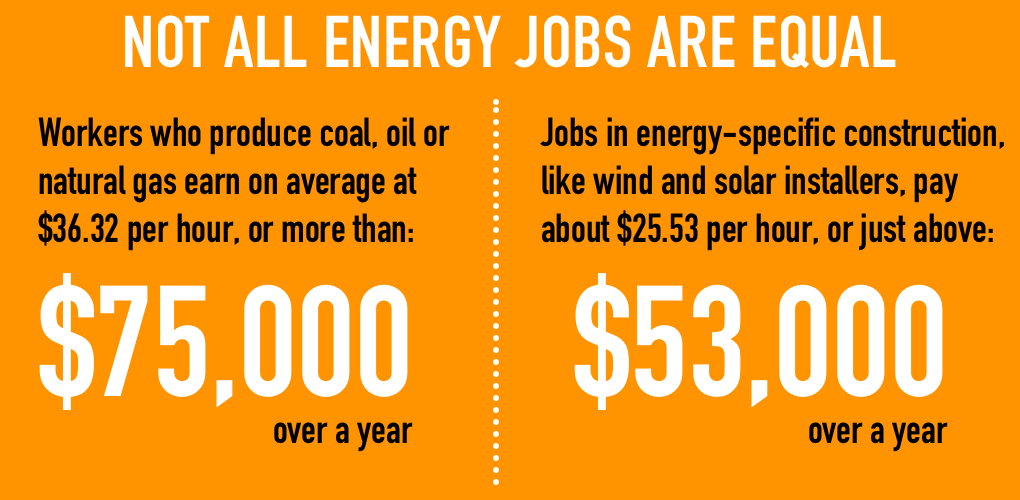 How we manage the energy transition will have huge implications for the reliability and affordability of our energy supply and for the millions of workers that are the foundation of our current energy system. While there are strong voices – including from labor – calling for caution during the transition, the Biden administration has now made clear it wants to hit the accelerator. And to many observers, the administration is making promises about jobs it can't keep.
The crux of the problem is that wind and solar jobs don't compare to mining jobs or the pipefitting jobs so essential to existing energy infrastructure. "When you're talking about the transition to the new green economy, the first question has got to be how are people going to make a horizontal economic move," Sean McGarvey, the president of North America's Building Trades Unions, told The New York Times. "I can tell you that in the onshore wind and solar industry, for my members we're talking in some cases a 75 percent pay cut and they're losing benefits."
Shawn Steffee, a leader of the Boilermakers Local 154 in Pittsburgh, told The Times, "They keep saying, 'We're going to transition you into solar jobs.' That's not how it works. We build power plants, petrochemical plants and maintain steel mills. Would you ask Tom Brady to play middle linebacker just because he's a football player?"
These anecdotes are backed up by hard numbers. Former Energy Secretary Ernest Moniz's think tank, the Energy Futures Initiative, found that workers employed by solar and wind power companies earn significantly less than those who mine coal or drill for natural gas. Workers who produce coal, oil or natural gas earn on average at $36.32 per hour, or more than $75,500 over a year. Jobs in energy-specific construction, like wind and solar installers, pay about $25.53 per hour, or just above $53,000 for the year.
Community-Supporting Jobs
According to the U.S. Bureau of Labor Statistics, the average salary of a coal miner is $89,000 per year. These aren't just good jobs, they're community-supporting jobs often in places where similar employment opportunities are rare. Coal mining continues to support 116,000 direct jobs and another 289,000 indirect jobs.
In West Virginia alone, in 2019 the coal mining industry spent more than $2.1 billion on wages and generated about $9.1 billion in economic activity according to the West Virginia University Bureau for Business and Economic Research. When coal electricity generation is factored in, the economic impact in 2019 totaled nearly $14 billion, supporting nearly 33,000 jobs, or about 17 percent of the state's total economic output.
That's an employment and wage base that will be nearly impossible to replace and yet U.S. energy policy seems determined to dismantle that economic engine with only vague promises of new industries to take its place.
In December, a coalition of energy labor unions, including the International Brotherhood of Electrical Workers, United Mine Workers of America and the International Brotherhood of Teamsters, expressed their concern that, "proposals to decarbonize the electric generation sector by 2035 are premature, and may have adverse consequences for near-term unemployment of hundreds of thousands of union workers." They continued, "we estimate that a net zero carbon standard for electric generators in 2035 would displace nearly 1.5 million direct and indirect jobs in the coal, natural gas, railroad, and electric utility sectors. These jobs contribute more than $80 billion annually in direct and indirect wages for the families and communities of affected workers."
These are stunning numbers. Numbers that represent real people, in real communities who see their livelihoods on the line because of policy decisions.
In most cases, "jobs plans" typically aim to create good union jobs, not dismantle them. A mounting and well-founded fear is that we are pulling apart industries and communities far faster than we are creating opportunities to lift them up. There are troubling parallels with how we're treating grid reliability and affordability. We're closing plants and putting end dates on fuels far faster than we're creating solutions to take their place or improve them. What's the jobs equivalent to February's Texas grid disaster? Unfortunately, it's a question that may be answered in the not-too-distant future.