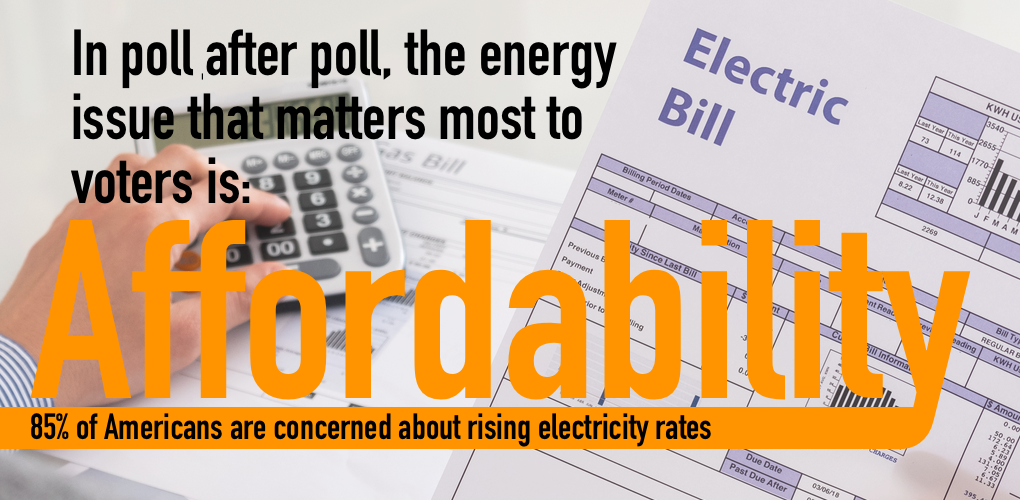 With less than a week to the election, it's worth reminding the candidates – and ourselves – what voters really think about energy issues. Despite the rhetoric about energy mixes of the future or what will and will not be banned, the issue that matters most to voters is affordability. Time and again, in poll after poll, Americans come back to being able to pay the bills.
Perhaps that's not surprising in the midst of a pandemic with the economy turned upside down and millions of Americans struggling to get by, but that was even the case before the world was reshaped by COVID.
In June of 2019, a Reuters/Ipsos poll found that nearly 70% of Americans, including a majority of Republicans, wanted the United States to take "aggressive" action to combat climate change. But just a third would support an extra tax of $100 a year to help.
Fast forward to July of this year, and a Morning Consult poll found that 85% of Americans are concerned about rising electricity rates. And a majority of Americans reported being unwilling to pay a dime more to support a move away from fossil fuels to achieve emissions-free power.
An even more recent poll from Morning Consult, conducted in mid-September, found that 71% of voters would like to see utilities carefully consider the cost of the transition to renewables before closing well operating existing power plants. Just 14% of voters disagreed. The same poll found that 67% of voters feel that adding $50 more per month to ratepayer bills is too much to ask to facilitate a move to renewable power.
While reducing emissions has become a significant voter concern, maintaining an affordable, reliable mix of energy remains the top priority for Democrats and Republicans alike.
In the midst of the pandemic, the overlooked challenge of energy affordability has become a crisis. In July, nearly half of Americans reported that the pandemic had increased their concern about paying household bills, such as electricity bills. That's concern that has likely grown even more acute in the months since.
Unfortunately, being able to make ends meet and pay energy bills is not a new challenge for millions of American families. The Department of Energy found in 2015 that one in three U.S. households struggled paying energy bills, with minorities most affected.
Regardless of who wins on November 3rd, it's this reality – one where energy affordability is a daily, pressing issue for tens-of-millions of families – that must inform energy policy.
Coal remains the workhorse fuel for states across the country. In fact, an examination of the states with higher percentages of coal generation and a diverse mix of fuels shows that states that are home to balanced power mixes anchored by coal generation have some of the lowest electricity costs. Policy that dismisses that affordability, or dismisses voter concerns about rising electricity rates, is a political dead-end.
Bitter cold is already beginning to descend across much of the country and coal generation will be coming to the rescue to ensure the affordable and reliable power consumers count on. In poll after poll, voters have made it clear that while they want to pursue environmental progress and reduce emissions, they don't want to pay more to do so. That's a message elected officials would be very wise to remember when the races are over and the hard work of creating and implementing policy resumes.