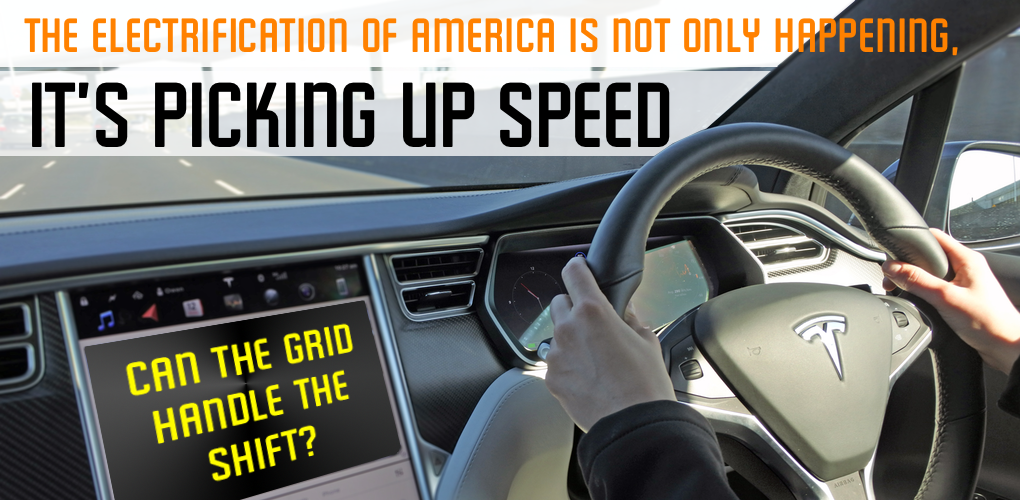 The electrification of America is not only happening, it's picking up speed. Just last week, Tesla announced its ambition to slash the cost of lithium-ion batteries and produce a $25,000 mass-market electric vehicle (EV). Two days later Gov. Gavin Newsom announced that California will mandate a shift to EVs and the phase out of internal combustion engine sales by 2035
This move towards an electric future is no longer just happening in the margins; automakers of all stripes are leaning into the shift as well. For example, Ford is electrifying both the Mustang and its top-seller, the F-150 truck, a vehicle so heartland America you almost expect a verse about it in the national anthem.
Whether home is San Francisco or the cornfields of Iowa, many of us could be trading the pump for the plug in the not too distant future. Policy will have something to say for how soon, but the question is beginning to feel like when, not if.
There are a number of significant hurdles left to overcome – charging infrastructure, cost and range all remain sticking points for many consumers. But a new and increasingly prescient question is whether the grid can handle the shift? California, never terribly interested in letting practical concerns get in the way of ambition, is going to be a fascinating case study.
As the Wall Street Journal observed, "energy consultants and academics say converting all passenger cars and trucks to run on electricity in California could raise power demand by as much as 25%. That poses a major challenge for a state already facing periodic rolling blackouts as it rapidly transitions to renewable energy."
On multiple occasions this summer, California's grid operator was forced to institute rolling blackouts during a heatwave to keep both the state's grid and the entire grid for the Western U.S. from collapsing.
California's headlong rush to renewable sources of power, and away from dispatchable generation, is already causing significant reliability and affordability concerns. Unless the state chooses to embrace a more pragmatic energy policy, adding surging electricity demand on top of its renewable dream could be catastrophic.
The rapid shift away from dispatchable, fuel-secure power to intermittent alternatives, in California and numerous other states, is a crying out for a rethink.
Flat or falling electricity demand in markets across the country has been used to dismiss reliability concerns or warnings about shrinking reserve margins as much of the nation's coal fleet has been pushed into retirement.
But should the pivot to EVs accelerate and other states follow California's lead, the days of flat demand will be long gone. According to a 2018 study from the U.S. Department of Energy's National Renewable Energy Laboratory, a rapid pivot to EVs could drive up U.S. electricity demand by nearly 40% by 2050. That rapid pivot is now on the horizon.

Even in a reduced national role, coal capacity remains essential in many states and it's capacity that will be desperately needed to ensure balance, affordability and reliability when electricity demand begins to soar in an electrified future.
As coal retirements continue to mount, the window for action to better value the balance and security provided by coal capacity is closing. Once that capacity is gone, it won't be there to ensure the lights stay on during the next polar vortex or heat wave, nor will it be there to hold down costs for consumers during the next natural gas price spike.
The era of flat electricity demand is coming to an abrupt end. Is energy policy ready to respond to that shift? Now – not years later amid a national reliability crisis – is when utilities, policymakers and regulators need to plan for that change. Ensuring electricity markets properly value the security provided by existing baseload coal capacity is just the place to start.