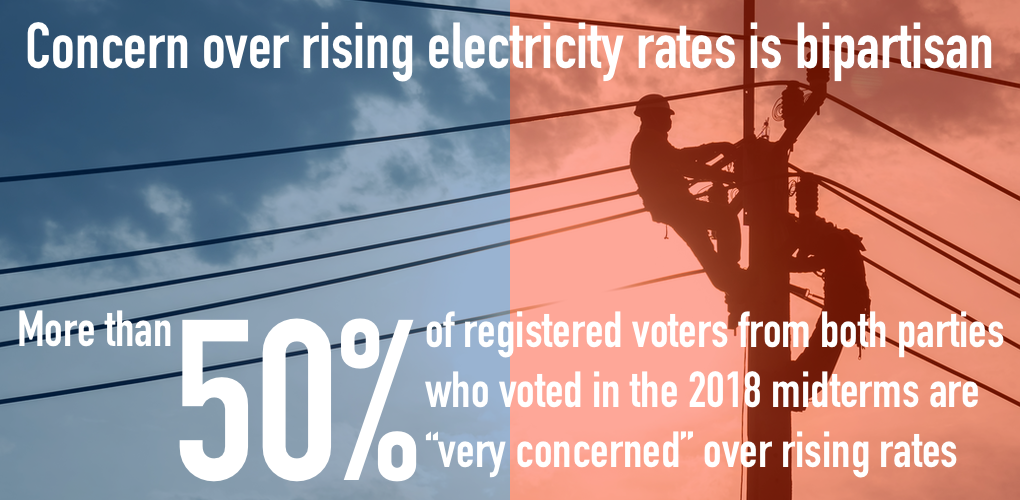 The numbers couldn't be clearer. In recent polling conducted by Morning Consult, an overwhelming majority of Americans – 85 percent of registered voters – expressed concern at rising electricity prices.
According to the most recent Energy Information Administration data, the largest number of regulated utilities filed to change rates in 2018 since 1983. More Americans are facing rate increases than at any time in the past 30 years. Of course, utilities' spending spree – and the corresponding increased burden on consumers – couldn't be coming at a worse time for millions of families already struggling to pay the bills.
The upheaval of the pandemic has elevated economic concerns for all Americans. The polling found that the concern over rising electricity rates is shared across gender, race and party affiliation – just about every way you can look at the numbers. More than 50 percent of registered voters from both parties who voted in the 2018 midterms were "very concerned" over rising rates. That bipartisan concern – in a moment when voters are seemingly split on everything – should grab policymakers' attention.
"Americans are clearly concerned about electricity affordability in the midst of so much economic uncertainty," said Rich Nolan, NMA president and CEO, responding to the polling. "There is growing frustration that energy affordability and reliability are being given a backseat by utilities and policymakers when voters continue to say they are top priorities."
One poll after another on energy issues is showing a clear divide between the policies being pushed on the campaign trail and in Washington and those that voters want. Additional polling from Morning Consult found that a majority of voters aren't willing to pay more in their electricity bills to support an aggressive energy transition agenda.
The crisis not being talked about in Washington is the energy affordability crisis, one that is a daily reality for a stunning number of American families. Recent reporting from NPR described a "tidal wave" of power shut-offs looming over the nation as families struggle with mid-summer heat and the devastating financial effects of the pandemic.
A nationwide survey conducted in May by the O'Neill School of Public and Environmental Affairs at Indiana University found that 22 percent of respondents had to reduce or forgo other basic needs, like food or medicine, to pay their energy bill in April. A full seventeen percent of those surveyed weren't able to pay their energy bill at all. As the economic turmoil of the pandemic has continued and as temperatures have gone up, the electricity affordability crisis has almost certainly grown more acute.
While change is a constant for the nation's electricity mix, never has it come so quickly and never has it raised such troubling questions about both the reliability and the affordability of the nation's electricity supply. The pivot away from reliable, efficient baseload power plants – particularly the nation's coal plants – is coming with ever-building costs. These are costs voters can't afford and simply don't want to pay. With electricity affordability now critical to economic recovery and to seeing struggling families through this financial storm, now is the moment to carefully reconsider the policy path forward.
Instead of mandating more expensive power, turning hostile to well-operating plants and eroding the fuel security of the grid, it's past time to reprioritize affordability and balance. Poll after poll tells us that's the measured approach voters want.