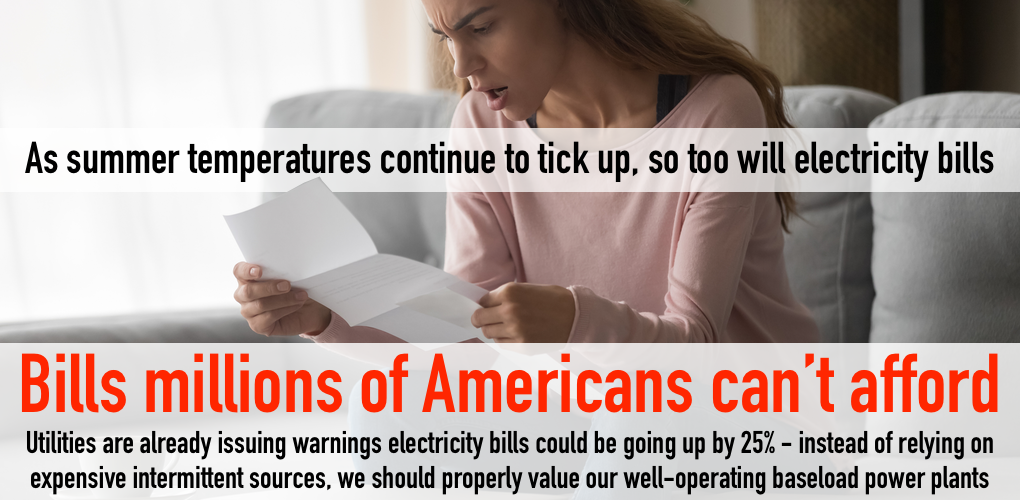 The dog days of summer have arrived. And as the temperature continues to tick up, so too will electricity bills – bills millions of Americans can't afford. As Bloomberg recently reported, "millions of people already reeling from the coronavirus's economic fallout are about to face sharp increases in electric bills that may drive some to the brink of financial ruin."
Some 20 million Americans are out of work, stuck at home, with many now forced to run air conditioners 24-7. Utilities are already issuing warnings that as the temperature rises electricity bills could be going up by 25%.
According to the Energy Information Administration (EIA), some 50 million Americans – one in three households – already struggle to pay their energy bills. The unholy trinity of soaring temps, increased home electricity use and millions out of work may be the straw that breaks the camel's back for far too many families struggling to stay afloat.
Even in May, polling conducted by Morning Consult found that nearly half of all registered voters (47%) reported that the pandemic had increased their concerns about paying their household bills, including electricity bills. With temperatures rising and the pandemic still raging, that concern has likely only increased.
It begs the question: are we focusing enough – or at all – on energy affordability? The answer seems to be a startling no.
Energy policy has become de facto climate policy with affordability and reliability now taking a back seat. In renewable mandates and emissions targets, utilities see an opportunity to pump up capital expenditures, pass additional costs onto consumers and deliver higher returns to investors. Just a year ago, the EIA reported that the number of utilities filing rate cases, the vehicle used by regulated utilities to change rates with public service commissions, is now at its highest number since 1983. Of the 89 utilities filing rate cases in 2018, 78 proposed rate increases.
The economic turmoil of the pandemic is offering a stark warning: the onward march towards higher energy prices must stop. Affordable and reliable power are going to be more important than ever – not only to the recovery but to simply help tens-of-millions of families keep their heads above water.
Sindy Benavides, chief executive officer of the League of United Latin American Citizens, a civil rights group, told Bloomberg, "There will be people faced with figuring out whether to pay their bill or put food on the table. It's a storm waiting to happen."
Utilities should pump the brakes on rate cases and that means on retiring and replacing well operating plants. If they don't reconsider their plans, public service commissions need to ask some very tough questions.
The costs of pivoting away from well-operating baseload power plants to increased reliance on intermittent sources of power may often be hidden – in new transmission projects or reduced efficiency of the remaining fleet – but those costs all end up on rate payers' bills. California is a stark warning for what's coming to other states.
Between 2013 and 2018, electricity rates in California jumped 25% as the state rushed ahead with ever-more ambitious renewable energy targets. California's electricity costs 50% more per KWh than the national average. That's a premium Americans can't afford to pay.
Conversely, states with a higher percentage of coal generation, with a diverse mix of dispatchable fuels, have some of the lowest prices per kWh. Turning our collective back on that affordability and reliability was a misguided choice a few months ago; it's nearly criminal now. For the 50 million Americans, and counting, struggling to pay their energy bills, affordability has never mattered more.