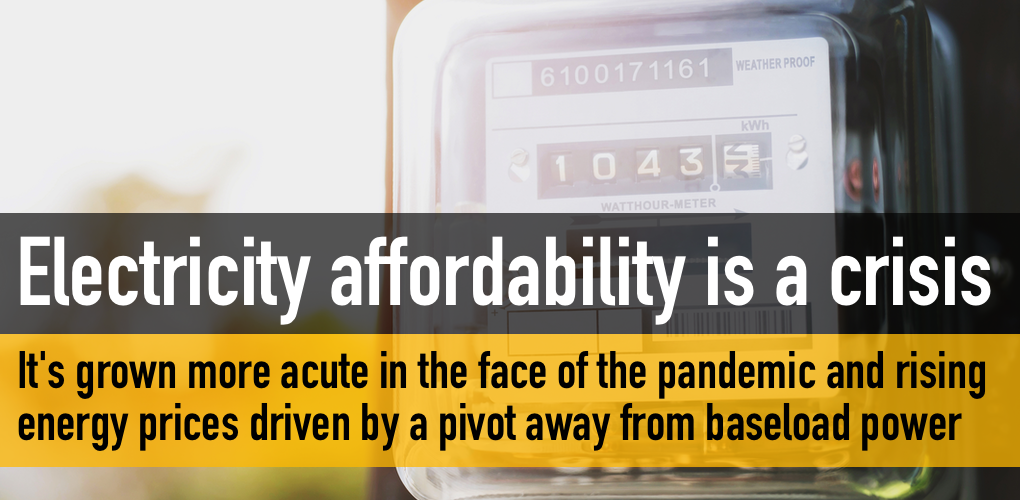 A "tidal wave" of power shut-offs is looming over the nation as families struggle with mid-summer heat and the devastating financial effects of the pandemic. That is how NPR recently described a heartbreaking situation where millions of families are choosing between paying power bills and putting food on the table or buying essential medication.
New polling conducted by Morning Consult confirms the scale of the problem. Nearly half of Americans say that the pandemic has increased their concern about paying household bills, like electricity bills. Concern about being able to afford to keep the lights on or a house cool isn't new for far too many families but it has jumped since the arrival of the pandemic. The Department of Energy found in 2015 that one in three U.S. households struggled paying energy bills, with minorities most affected. The surge in concern seen in the past few months should be setting off alarms.
Affordability is a crisis. And it's a crisis grown more acute in the face of the pandemic and rising energy prices driven by a pivot away from baseload power.
And yet, while this affordability crisis builds towards a crescendo, one climate and energy plan after another threatens to raise energy prices further – an agenda far out-of-synch with voter preferences. In fact, the same polling from Morning Consult also found that 56 percent of Americans say they are unwilling to pay more in their electricity bills to support energy and climate plans that have been debated in the presidential race.
"The unprecedented circumstances stemming from the pandemic have created heightened financial stress for many American families that simply didn't exist just months ago," said Rich Nolan, NMA president and CEO, in response to the Morning Consult poll. "While paying the bills may not have been high on the list of voter concerns six months ago, the world is now markedly different. As summer heat broils across the country and with more Americans increasingly finding themselves at home, keeping families safe and cool costs more than ever. Coal generation not only plays an outsized role in propping up the grid and providing reliability during extreme weather, but it underpins affordability."
While coal doesn't play the same national role it once did, it remains essential and irreplaceable in many states and in several of the nation's regional grids. For example, during baking summer heat, coal remains the leading source of power on the MISO grid which stretches up and down 15 states in the American heartland. That coal generation is still the linchpin in providing reliable, affordable power.
In fact, an examination of the states with higher percentages of coal generation and a diverse mix of fuels shows that balanced power mixes anchored by coal generation have some of the lowest prices per kilowatt hour for retail electricity.
A failure to properly value this generation, much less efforts to push it into early retirement, is eroding fuel security on the grid, posing serious questions about reliability and increasingly undermining affordability. Even absent new energy or climate proposals that would abandon fossil generation, Americans are already feeling the effects of the pivot away from low-cost existing generation to more expensive alternatives. More Americans are facing increases in their electricity bills than at any time in the last 30 years.
The perverse incentive for utilities to turn hostile to their own well-operating assets to chase higher investor returns on new builds is having just the effect one might assume. The push for new rate cases is nearly unprecedented at precisely the moment ratepayers can least afford it. The most recent information from the U.S. Energy Information Agency shows that nearly half of all major U.S. electric utilities filed to change electricity rates in 2018, the largest number since 1983.
Instead of accelerating in the wrong direction, thoughtful policy will recognize that affordable, reliable power is more important than ever and tread very carefully in managing a changing electricity mix. Americans can't afford to, and have made it clear they won't, support policies that drive up energy prices. The last thing millions of Americans struggling to keep the lights on need is for misguided policy to turn electricity into a luxury good.