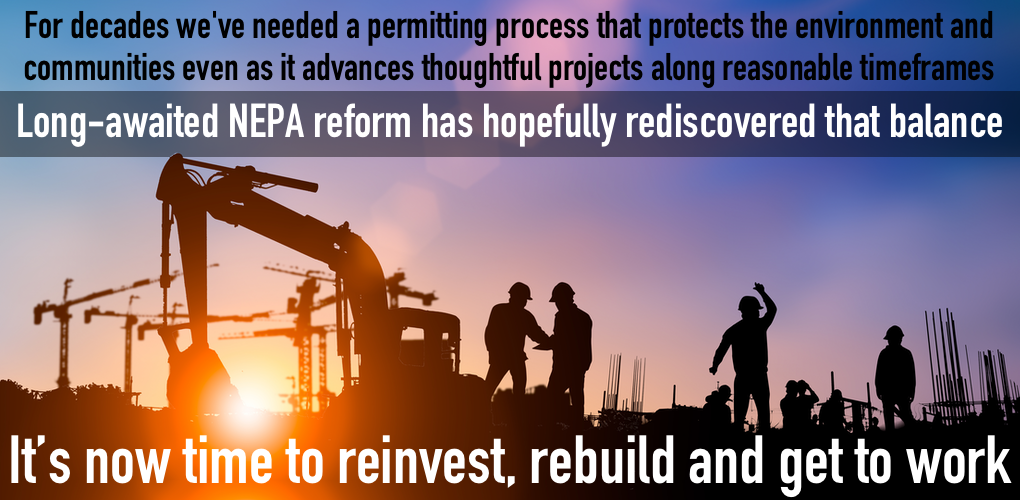 Americans are ready to rebuild our infrastructure, to modernize, to move forward. But some of the nation's tallest hurdles to reinvesting, to rebuilding better than before have been self-imposed. The National Environmental Policy Act, or NEPA, is the perfect example. Fortunately, 40 years after its inception, it has now gotten a long overdue update.
When NEPA was enacted in the late 1970s, it was supposed to encourage smart environmental analysis and transparency in decision making about infrastructure and energy projects. In other words, it was supposed to create a clear, structured process to review the environmental merits of proposed projects. But over the years, its intended purpose has taken a back seat. Instead of encouraging decision making, it has become a tool of obstruction that has needlessly locked up reinvestment and modernization.
Today's long-awaited update to NEPA will hopefully get it back on track and remove the thicket of bureaucratic barriers that have accumulated over the past four decades. Rich Nolan, President and CEO of the National Mining Association, said, "these reforms will better align NEPA with its intended purpose: to balance societal needs with world-leading environmental protections. The mining industry – the very front end of the nation's material supply chains – has long suffered from a broken permitting process that can largely be linked back to NEPA's well-documented historical problems. These overdue reforms improve a process that has become a barrier to rebuilding and modernizing essential infrastructure of all kinds."
All kinds is right. From mines to transmission lines, export terminals to pipelines and highways, permitting decisions for all these vital pieces of infrastructure now take years. New highway projects, for example, take an average of seven years to permit. Permitting woes are so common and so absurd they're almost hard to believe. No project should require seven years of review just to get a "yes" or "no." And yet, that's exactly what has come to pass.
In 1981, the Council on Environmental Quality (CEQ) provided guidance that federal agencies should review environmental impact statements, even the most complex, in a year or less. Today, according to CEQ, those reviews are on average taking four and a half years. For too many vital projects in the mining sector, the wait is far longer.
Reform couldn't come soon enough. The revised NEPA regulations now come with some obvious improvements. There are page limits and timeframes to ensure expedient reviews, more focused reviews, as well as synchronizing of decisions involving multiple agencies. These commonsense improvements, part of a suite of updates, will usher in a new era of certainty and transparent decision making that will hopefully jumpstart the essential work of rebuilding and modernizing the nation's infrastructure.
The goal is to create a permitting process that protects the environment and communities even as it advances thoughtful projects along reasonable timeframes. Long-awaited NEPA reform has hopefully rediscovered that balance. It's now time to reinvest, rebuild and get to work.