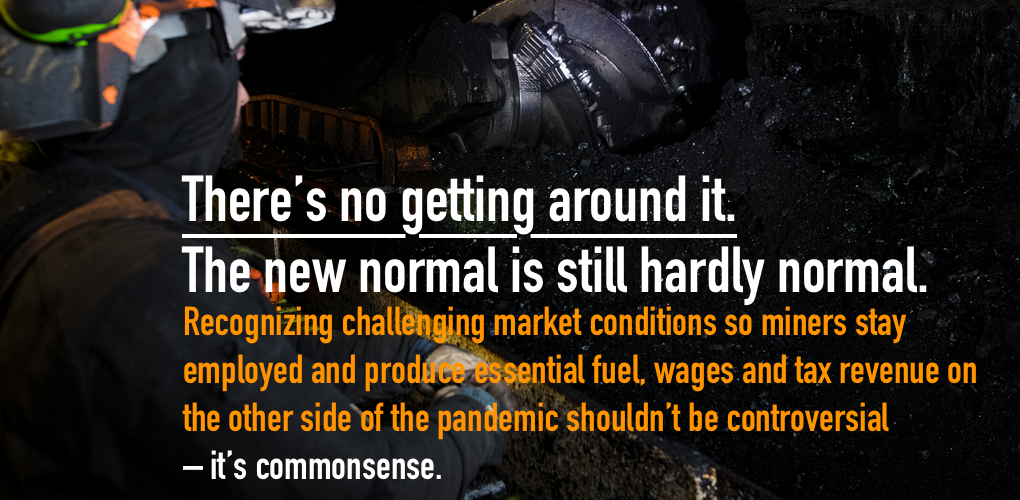 This week Congress set its sights on COVID-19's impact on the energy industry. Committees in both the House and Senate heard expert testimony on a sector that has felt the pain of economic upheaval just as acutely as any dimension of the economy.
While the coal industry was recognized as an essential industry by the Department of Homeland Security and directed to maintain operations during the pandemic to ensure reliable power, it too has felt the economic pain inflicted by the virus. Depressed short-term electricity demand has forced some mines to close and some operations to reduce their staffs. Coal employment has fallen by 10 percent from this time last year and belt tightening is happening across the industry to weather the storm.
While every piece of the energy industry has shouldered the economic impact of the virus differently, energy is a sector that is essential to recovery. That's certainly true of the coal industry and the affordable, reliable power and fuel security it provides to the grid.
Congress' aim this week was not only to better understand the job losses and challenges facing the energy sector but to think through what can be done to provide flexibility and relief for industries facing unique near-term challenges and market conditions that shouldn't be allowed to dictate the longevity of essential power plants, mines or workforces.
For the coal industry, flexibility and targeted support remain vital to ensuring the nation's mines and miners can get through this unique moment. In a hearing in the Senate Committee on Energy and Natural Resources, Senators Barrasso of Wyoming and Daines of Montana further urged the Department of Interior to provide royalty relief to operators on federal lands. Measures like these would provide targeted relief and flexibility necessary to seeing the industry through this challenging period.
Ensuring certainty for companies, recognizing challenging market conditions, and providing flexibility so that companies can keep miners employed and be there to produce essential fuel, wages and tax revenue on the other side of the pandemic shouldn't be controversial; in fact, it's commonsense.
There's no getting around it. The new normal is still hardly normal. And it will remain sometime before all the gears of our economy are clicking again as they were just a few short months ago. The U.S. Energy Information Administration (EIA) reports that coal demand is down this year, but it expects a recovery next year. Ensuring essential industries and essential infrastructure can get to next year, and be there to underpin recovery, is exactly what smart policy should aim to accomplish.
What government should not do is let the foundation for affordable and reliable power slip away in market conditions that in no way reflect any sense of normalcy. Americans are already deeply concerned about making ends meet. Recent polling by Morning Consult found that half of registered voters report the pandemic has increased their concern about paying their household bills, including electricity bills.
If the nation's baseload capacity continues to be undervalued and our balanced, fuel-secure electricity mix is allowed to further erode, jeopardizing affordability, an electricity price spike could make recovery doubly difficult.
Even before the pandemic and ensuing economic shock, the EIA warned that one in three American households already faced challenges affording their energy needs. Affordable, reliable power – built upon, well-operating existing baseload power plants – must be a policy priority.
Coal continues to play an essential role on the U.S. grid, and in a many states – such as Indiana, Kentucky, Missouri, Montana, Nebraska, North Dakota, Utah, West Virginia and Wyoming – it provides the vast majority of electricity generation. The balance, fuel security and inherent reliability afforded by the nation's coal fleet can't be easily replaced, nor should it.