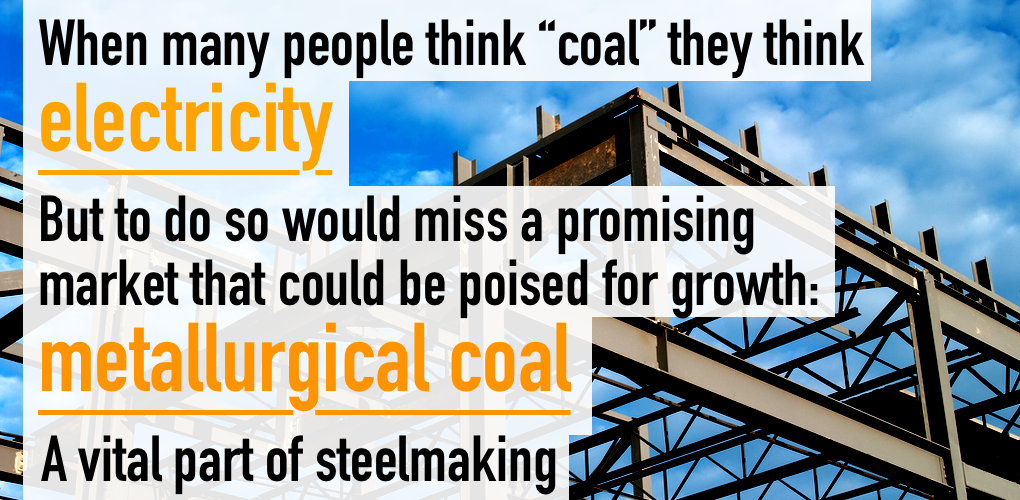 The COVID-19 pandemic has sent shockwaves through the global economy. Energy markets have been in disarray. And when many people think "coal" they think electricity. But to do so would miss a promising market that could be poised for growth as the world looks towards recovery: the market for metallurgical coal used to produce nearly 70 percent of the world's steel.
When considering steel, think China, home to more than half of global production. China was hit with the virus first in December but it's also where economic recovery is coming first. Chinese industry is beginning to roar back to life, and it appears that China's economic recovery will be built upon new infrastructure spending.
To prepare for the coming infrastructure stimulus, China's steelmakers are going into overdrive to supply the expected building boom. As the world's dominant steel producer, this soaring steel production in China is underpinning rising global demand for metallurgical coal, a significant amount of which comes from U.S. mines.
U.S. producers – deemed an essential industry during the pandemic – are ready for China's big build and what's likely to be a surge in global infrastructure spending as nations look to put people back to work and get the wheels of the global economy moving in the right direction again.
Paul Lang, the CEO and president of Arch Resources Inc., recently said, "In combination with iron ore, our metallurgical products are indispensable in the primary production of steel. We expect steel to play an essential role in the revitalization of the global economy as it recovers from the disruption of the COVID-19 pandemic, and in the construction of a new economy supported by mass transit systems, wind turbines and electric vehicles."
Whether the demand is coming from new bridges or dams, or renewable energy systems and subways, the world needs steel and it needs metallurgical production. Nearly 1 billion tons of metallurgical coal is used each year to feed the world's voracious appetite for steel, an appetite only expected to grow. Urbanization – a trend only accelerating – is driving immense demand for steel all over the world.
As Bill Gates observed, when thinking about a global population racing towards 10 billion, "the world's building stock will double in area by 2060. That's like adding another New York City every month for 40 years."
That urbanization – that building and investment in infrastructure – means steel demand is likely to be 1.5 times higher than it is today by midcentury.
It should be no surprise then that metallurgical production remains a growth area in the United States. Warrior Met Coal, based in Alabama, recently announced the construction of a new barge facility to move its growing production to market. In February, the company announced a new $578 million investment in an underground mine that will create 371 jobs.
The U.S. metallurgical industry, like so many other industries, is working to weather the economic shock of the pandemic but it remains a foundational piece of our economy with rock-solid prospects. The nation's more than 175 metallurgical mines directly employ more than 13,000 Americans, providing a key ingredient to build the infrastructure, cities and innovative technologies of today and tomorrow.
As the U.S. and the world get to work on the economic recovery, expect worldwide infrastructure stimulus. And as increased attention is provided to bringing home vital industries to the U.S., like the steel industry, domestic met production will only become increasingly important to meet both domestic and overseas demand. The U.S. met industry is ready to provide the foundation for economic recovery.