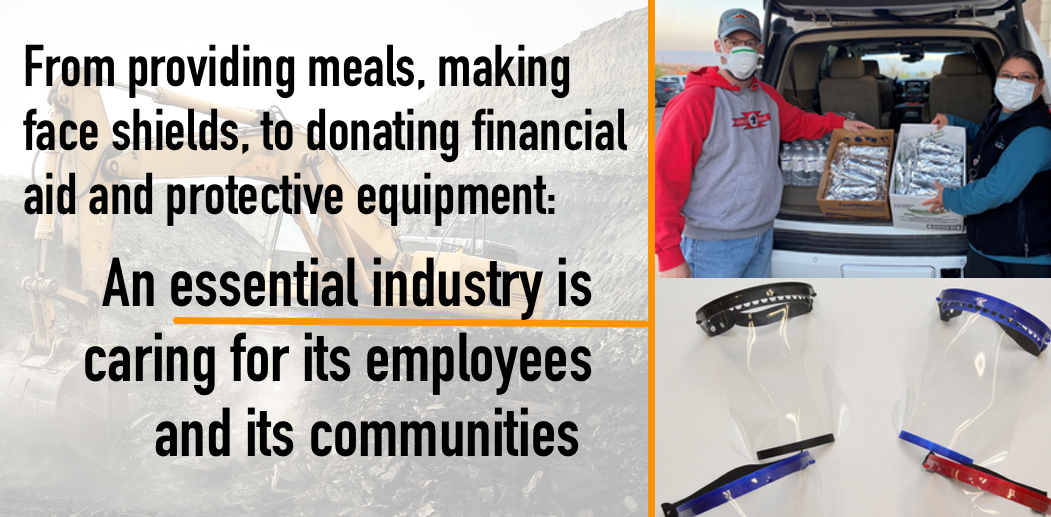 The COVID-19 crisis is requiring herculean efforts from healthcare workers and first responders, sacrifices from every American, and it has turned the global economy upside down. But for those in essential industries, like mining, the work goes on in this "new normal" to provide the fuel, materials and equipment needed to keep the country going.
National Mining Association members are striving to balance their responsibility as an essential industry with the duty to protect those who tirelessly serve, and to lend a hand in their communities where and when they can. Companies whose operations continue have implemented new practices to protect their employees and are coming together to share innovative approaches to operating in particularly trying conditions.
NMA members aren't just following government guidelines – with distancing measures being taken, increased cleaning schedules in-place, and limits on gatherings of groups – but companies are going further to tailor their operations to their unique circumstances. Whether it's limiting the number of people in elevators and marking proper distance spacing in the workplace, staggering shifts to limit contacts or providing hands-free check-in/check-out systems, each company is adjusting to safeguard their most valuable asset: their people. And along with taking care of their workforce, mining companies are stepping up to support relief efforts across the country.
Below are examples of the many efforts NMA member companies are engaged in as the entire industry pulls together to join the fight.
Alliance Coal subsidiary Matrix Design has been producing face shields using 3D-printing technology and providing them to medical professionals. Learn more here.
Caterpillar Foundation, the philanthropic arm of Caterpillar Inc., announced it is committing $8.5 million to support global communities, including underserved populations, who are affected by the virus. The Foundation's investment will support nonprofit organizations who are working to help prevent, detect and respond to the pandemic; providing resources to hospitals, medical staff and patients; addressing food insecurity; and enabling online STEM and coding education for youth impacted by school closures. Click here for more.
Navajo Transitional Energy Company is providing meals to healthcare workers and donating emergency coal to communities in Apache County and across the Navajo Nation to keep people home, safe and warm. Learn more here.
Peabody is actively supporting the communities in which it works and has donated personal protective equipment to local healthcare providers. Learn more about the company's overall sustainability efforts here.
Usibelli Coal Mine is offering a range of support to its local communities, donating N95 masks to Fairbanks hospital, eye protection to the Tri-Valley Volunteer Fire Department, delivering meals to senior citizens, and providing meals for both healthcare workers and volunteers. Learn more here.
These are just a few of the many examples of how the industry is coming together to support communities far and wide during this incredibly challenging moment. Whether it's financial assistance, fuel or PPE, companies are committed to not only keeping their employees safe but lending hand a hand in the communities in which they operate. For more information about how the mining industry is responding to the COVID-19 crisis, visit NMA's website.