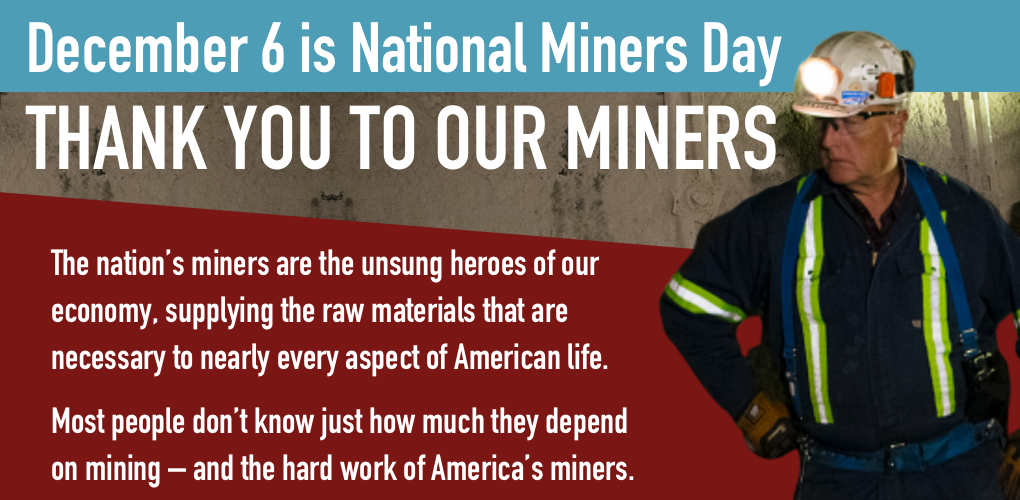 Every December 6 marks National Miners Day, an important opportunity to recognize the contribution of the nation's miners and the significance of mining to everyday life. National Miners Day shines a spotlight on the exceptional contributions and sacrifices of the nation's miners.
More than 300,000 Americans are directly employed as miners, and another 1 million more Americans are indirectly employed in jobs supporting mining. Miners are the irreplaceable foundation of our economy and our resource security. Coal mining alone supports nearly 400,000 direct and indirect American jobs.
As Rich Nolan, president and CEO of the National Mining Association, said earlier this week, "National Miners Day provides an opportunity to thank our nation's miners, who contribute to nearly every aspect of American life. In many ways miners are the unsung heroes of our economy, supplying the raw materials that are necessary for everything from smart phones to F-35s, electricity to the infrastructure that carries it to your home. As technologies advance, our need for the products of mining increases and our miners continue to deliver. Surprisingly, most people don't know just how much they depend on mining – and the hard work of America's miners."
While America's mining communities are well aware of the importance of our miners, their ingenuity, work ethic and sacrifice, many Americans don't connect the dots between the power that keeps the lights on and our homes warm, and the men and women who make it happen.
In fact, according to recent polling just three in 10 Americans identified mining as important to their daily lives. But when reminded of all the industries and technologies that rely on the products of mining – be they materials or fuel – that number jumped to 72 percent.
Unfortunately, too often our policymakers treat mining and miners as a problem to be solved instead of understanding and appreciating the value of an industry that has long proven essential to the nation's prosperity. The truth – whether some politicians recognize it or not – is that mining and miners are more important than ever before. The good news is that this administration understands that and has worked to rebalance the regulatory environment to encourage mining instead of pushing it to the margins.
Just this week, incoming energy secretary, Dan Brouillette, said, "There's a bright future for coal, we're just going to continue to develop it as it goes along."
A bright future for coal means a bright future for our coal miners. This December 6, National Miners Day, make sure you take a moment to thank them for their hard work and dedication. And to do them the greatest honor, don't take the reliable and affordable power, or the materials that make our lives possible, for granted.